The weather may not be fully cooperating yet, but spring is in full swing with our 12 things to do in Michigan in April 2022. Whether you're more excited about Easter fun, dance parties, or beer at the ballpark, there's something for you.
It took a little while to get there this year, but it's almost time to play ball. The Tigers will be battling the White Sox for this year's opener. Tickets can be hard to come by, but fun is not. The city comes alive with tailgate parties, beer tents, and all kinds of fanfare. No matter the temperature, Detroit heats up with spring fever on opening day. Things tend to be especially lively around the ballpark, in Corktown, and Eastern Market.
Most towns wait for the warmth of June or July for street fests, but not in the U.P. When you endure 300 inches of snow, you're more than ready to celebrate spring as soon as it arrives. This party features 3 stages of live music and performances. Plus, there's a bevy of food trucks. Four bars lead the party with over 30 taps of Superior-sourced suds. Look for an arsenal of barrel-aged beer, limited releases and ceremonial tappings. Gates on Spring Street open at 3pm.
Sip, savor, and shop in the supremely unique venue of Journeyman Distillery. This former Featherbone Corset Factory has tons of character, and it will be amplified by the presence of art and products made by some of Southwest Michigan's most talented artists and creators. Enjoy a craft cocktail and peruse locally-sourced gourmet foods, personal care items, handcrafted décor, and jewelry.
Weekends are always fun at Eastern Market, where opportunities to eat and shop abound. During All Things Detroit Day, you'll find even more unique goods available for purchase from 10am-4pm. Patronize local businesses, creatives, artists, crafters, artisans, food trucks and more, all dedicated to providing a memorable day of shopping, entertainment and fun for the entire family. Beat the crowd tickets may be purchased online for $15 each and include advance shopping opportunities at 9:30am. Save time to take advantage of the nearby Dequindre Cut, before or after, for a leisurely walk or bike ride to the riverfront.
April 15-16 Bunnyville – Royal OAK
If it's Easter fun you seek, then the Detroit Zoo is waiting for you to hop on over for its annual Bunnyville. This springtime celebration, is included with regular Zoo admission. It features "ed-zoo-cation stations," habitat chats, spring-themed animal enrichments, complimentary bunny ears, live entertainment and exclusive photo opportunities. Returning this year is the fan-favorite Golden Egg Hunt, where children can search for one of 150 eggs hidden throughout the Zoo each day. One egg per visitor group may be redeemed for one prize.
You know spring has officially arrived when Greenfield Village reopens its doors. There is an exclusive member preview on April 15, and then the general public is invited to come on in on April 16. This year, guests can enjoy a first look at the historic Detroit Central Market, which is opening that weekend. The building will be fully accessible, with curator-led walking tours every 30 minutes.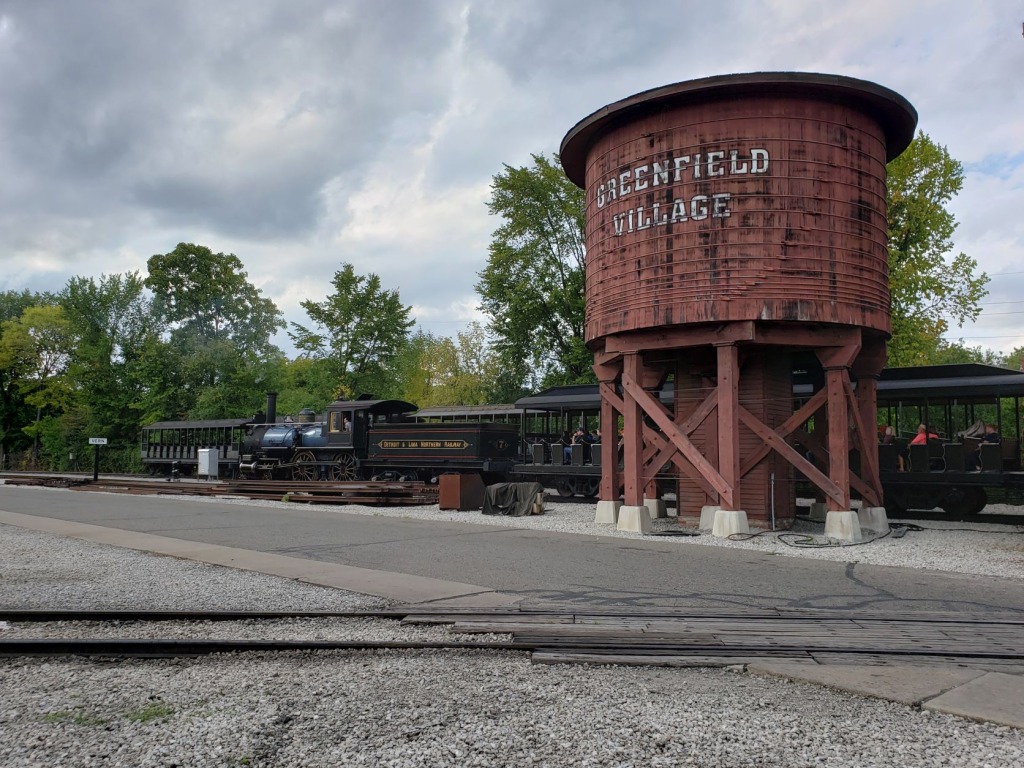 Considering the focal point of this town is a giant Trout Fountain, it should come as no surprise that this year marks the 85th time that Kalkaska has hosted anglers and the community for a celebration of these incredible fish. Festivities begin at the aforementioned fountain for an introduction of this year's Grand Marshall, and crowning of the King and Queen, followed by live jazz. Highlights the rest of the weekend include carnival rides, a mobile zoo, flea market, classic car show, and a kids fishing competition. What a great way to welcome trout season.
For some of us, the 1980s feel like yesterday, for others it's a foreign period of time that's filled with bad fashion, but great music. Whether you prefer to dance to a Jackson or a Prince, Madonna or The Police, you'll get your chance at this annual Frankenmuth bash. This year's event includes a Retro Rec Room filled with toys, games, trends, electronics, clothes and even a DeLorean from that decade on display. Gamers can go old school with Nintendo, Atari, and Sega. Sport a costume that suits the era and have the time of your life. Tickets are $15 and proceeds support cancer-related causes. Drink tickets are sold separately. The fun runs 6pm-Midnight both nights.
This is a wonderful time of year to get out and enjoy Michigan's original agricultural product, and if it's an ideal setting you seek, look no further. This is the state's original maple syrup festival, dating back to about 1940, when local syrup producers gathered in a barber shop to discuss a way to sell their product. Each year now they place themselves throughout the village to sell syrup, candies, crème, and other treats like the ever-popular maple syrup cotton candy. Boy has this party grown! That little idea now also includes carnival rides, a talent show, arts and crafts, a flea market, two parades, a petting zoo, a princess pageant, games, entertainment, a pancake derby, and even arm wrestling.
April 29-30 Earth Fair – Wales Township
Home to Earth Day (April 22), this month is an excellent time to learn about, and make plans to improve, our environment. Stopping by this event is an excellent wat to get started. It began in 2003 with no more than a handful of visitors and eight vendors barely taking up space in one building at Goodells County Park. Today, it has grown to thousands of visitors and over 70 vendors spread across six buildings. More than just a passing fad, Earth Fair has become a destination and is quickly growing to be one of Michigan's largest and liveliest Earth Day celebrations.
The tiny town of Bellaire will be hopping once again, as the talented team at Short's celebrates their annibrewsary. They'll be closing the street and rocking the block with food trucks, live music, and a host of beers and ciders you won't find anywhere else in the universe. As always, proceeds go towards local community development projects. Get your tickets, and come see the new Mart, Party Pavilion, and plenty of smiling faces.
If you love your brews, but won't be near Bellaire, then our capitol city has another option. Jackson Field, home of the Lugnuts, will once again play host to a celebration of the sport's favorite beverage. This outdoor event gives attendees the opportunity to taste their choice of over 300 craft beers from 50 Michigan breweries, in addition to some hard ciders, seltzers, meads, spirits, or wine. Kick back and relax with live music, and snack on popular concessions like burgers, pizza, and BBQ. Tickets start at $30 and include 10 tasting tickets good for a 3-oz pour per ticket. Regular admission is $35 in advance or $40 at the door. Your ticket includes entry to the festival, a souvenir glass, and 10 tasting tickets. Each tasting ticket is redeemable for a 3-oz pour. There are also designated driver, VIP, and Rare Beer VIP tickets available.
Join us on social media for ongoing discussions about Michigan travel destinations. Tweet @BuyMichiganNow or tag us in a picture on Instagram when you make it to one of our 12 things to do in Michigan in April 2022. For next month's event highlights, or to get ideas for your local bucket list, be sure to visit our Michigan Tourism page regularly.