Kids are getting out of school, boats are filling our waterways, blue skies are becoming a common occurrence again. Let's get out there and enjoy the summer we've been waiting for, starting with our 12 things to do in Michigan in June 2023.
If you never had the chance to experience the engine roar of a Grand Prix through the downtown streets, then this is a weekend you've been waiting for. The race returns to its original home on the streets of Downtown Detroit, bringing a dynamic street-festival atmosphere with it. The new Grand Prix will feature three full days of activities and celebration on some of Detroit's most popular and active Downtown areas, including racing on a new 1.7-mile, nine-turn street circuit along Jefferson Avenue, Bates Street, Atwater Street, St. Antoine, Franklin Street and Rivard. Enjoy unprecedented access, with more than half of the event's footprint along Jefferson Avenue and the beautiful Detroit Riverfront open to the public, free of charge. Grand Prix visitors will be able to enjoy complimentary access to the main fan activation areas at the event, including Spirit Plaza, Hart Plaza as well as the Riverwalk.
Named Best Cultural Festival by USA TODAY 10 Best Readers' Choice Awards, this unique opportunity is coming to Martindale Beach this year. The uplifting experience is incredibly memorable for attendees, as thousands of personalized lanterns will illuminate the water in a magical display. Check-in opens at 6pm for ticketed guests, with lantern design beginning at 8pm. The event caps off with the magical lantern launch. Guests will enjoy live music, specialty vendors and a variety of food truck offerings throughout the whole evening. Tickets, which include a floating lantern kit, LED candle, commemorative drawstring bag, marker, playing cards, conversation cards, and lantern clean-up are $35.99. A portion of the proceeds benefits Water.org and its mission of providing safe water to millions of people around the world.
Set on the historic riverfront, which is the site of the state's very first art fair, attendees will be surrounded by beautiful historic architecture, popular local businesses, and colorful murals. This juried fine arts fair gives established and aspiring artists the opportunity to show their work. While in town, check out the Marshall M. Fredericks Sculpture Museum and the serene Japanese Cultural Center.
As food fests go, this has to be one of the more unusual. It is in fact a celebration of gizzards, but also a whole lot more. You can enjoy live music and even take line dancing lessons. If you're sports-minded then jump into the 5k, or enter the softball or cornhole tournaments. For the less athletic-minded competitor, there is a gizzard eating contest. Kids will love the carnival rides, parade, and fireworks. Of course no visit to Potterville would be complete without a stop at Joe's Gizzard City, an iconic local eatery since 1960.
What started out as a marketing idea for a landlocked little town, has grown into one of the state's largest tourist destinations. Embracing the Bavarian heritage of its earliest residents with food and décor, has truly put Frankenmuth on the map. There may be no better time to visit, than this annual event. Highlights include the raising of the Maypole on Thursday and the Friday Night Street Party with bands, beverages, games and a zip line. Saturday's fun includes the Kindertag Parade, Cornhole Tournament and the RADTour Bike Ride. On Sunday, the tents close so that everyone can enjoy the big parade. Of course, the entire weekend is filled with Bavarian food, beverages, music, and dance. Admission is just $10 per person, and kids 12 and under are free.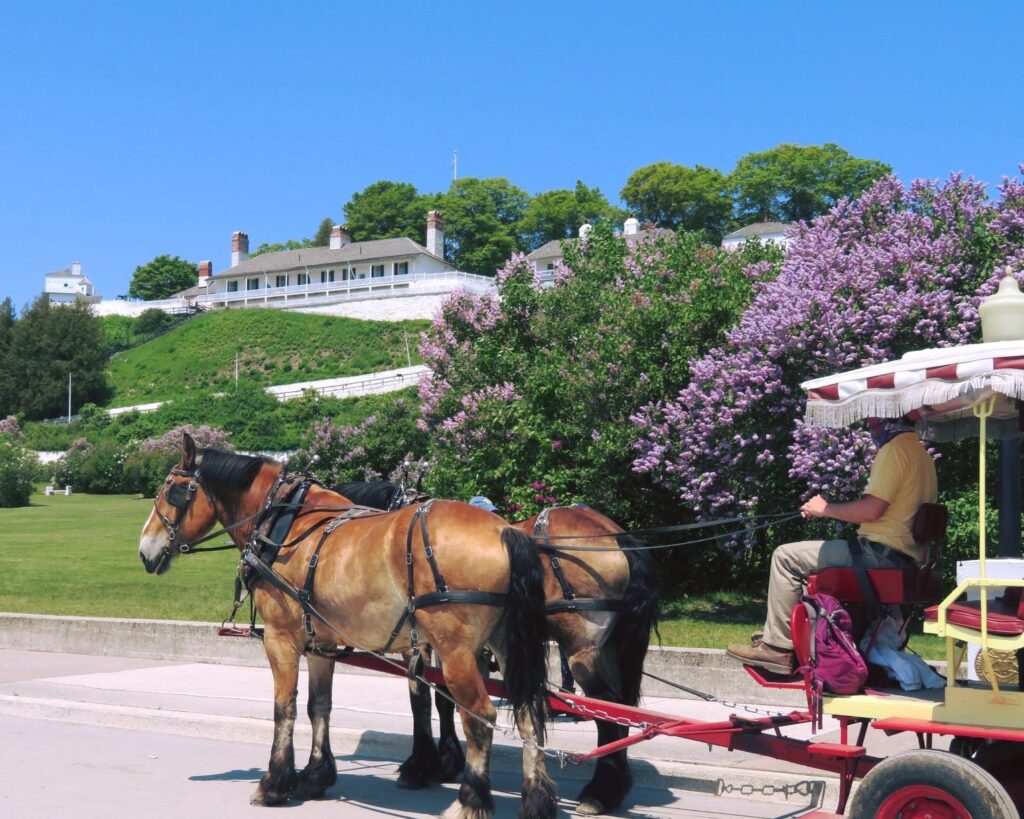 It's hard to believe, but this year marks the 75th Annual Mackinac Island Lilac Festival. Did you know this is the largest and most historic festival on Mackinac Island? It includes, a Lilac Queen coronation, official poster reveal, a 10K, lilac walking tours, lilac planting seminars, bounce houses, a Michigan Cornhole tournament, live music, the Grand Parade, and of course all the delights of lilacs in bloom. This year the Grand Parade is returning too. While downstate, they bloom sooner, in mid-June, lilacs are abundant all over Mackinac Island. The biggest concentration is in Marquette Park. Some of the oldest lilacs are in front of Harbour View Inn. Also, be sure to check out the twisted lilac trunks along the boardwalk from Windermere Point to Mackinac Island Public School.
If you haven't explored REO Town in Lansing, then this is a great day to do it. The outdoor beer festival will feature 20+ Michigan Breweries and 100 craft beers, as well as some ciders and spirits. Like most great beer events it will also feature live music and food trucks. Plus, you can wander through this cool, artsy part of our state's capital. Shop for vinyl at The Record Lounge. Explore Vintage Junkies, a recycled bohemian boutique that also offers custom woodworking. Discover talented local artist through UnHinged Artz. Stroll, sip, savor, and shop your Saturday away.
We may not have as many cowboys and cowgirls as other states, but we sure do have some competitive ones. You can see them in action during this exciting weekend. Treat dad for Father's Day, or bring a crew with you. Watching these experts try to ride a bull or bucking horse will get your adrenaline flowing for sure. Rodeo clowns will be on hand for laughs, and occasionally some necessary distractions. Camping on the grounds is available. While in the area, head about a half hour north and enjoy some frivolity and frosty beverages in Marquette at Black Rocks Brewery or Barrel + Beam.
There is something so relaxing about spending a day by the water, soaking up some rays and the Blues. The line-up for the 19th edition of this popular sunrise side event includes: Downriver Dan, Broken Arrow Blues Band, Ray Fuller and the Blues Rockers, and The Smokin 455. While in town, pop into Thunder Bay Winery downtown for a tasting, or quench your thirst on the outskirts at Austin Brothers Beer Co. You can also explore shipwrecks at Thunder Bay, and find wonderful local art at Art in the Loft.
There's nothing cheesy about a town that has a dairy product named after it! In 1915, Daniel Horn developed a new Colby-like cheese on his farm at the northeast corner of  Mount Forest and Mackinaw Roads. Today, you can still buy it, and that seems reason alone to have a fest to celebrate. Games and races help attendees work off all that cheese! There's also a craft show, parade, fireworks, and more. Most important of all, be sure to stock up on locally-made goodness while traversing Michigan's cheesiest trail.
June 24 Porch Fest – Port Austin
This is the kind of event that just might make you feel like you've gone down south for the day. Well over thirty musical acts scatter about town playing a wide range of genres. Pack up your lawn chairs or picnic blanket and get ready for some great summer fun. Be sure to visit the Farmers Market between 9am-1pm as well. For an incredible farm to table dining experience while in the area, visit the aptly-named Farm Restaurant. If you want a little exercise and adventure with your excursion, come into town early and kayak to Turnip Rock.
There's nothing quite like a sky filled with giant, colorful balloons. In Howell, that sight has become a tradition at the end of every June. Weather permitting, dozens of pilots will fly into the launch site on Saturday and Sunday mornings between 6-8am.The balloons launch between 6-8pm on Friday, Saturday and Sunday. In between flights, there will be carnival rides, and open air market, John Park Comedy Juggling shows, Ben the Lego Man, an agility course, fitness classes, a Neverland Princess Tea Party, and tons of other activities for your whole crew to enjoy. The Balloons & Brews fundraiser is back for its second year on Saturday, June 24. Partake in this beer tasting event that benefits the Fantasy of Lights, a downtown Howell annual event.
Join us on social media for ongoing discussions about Michigan travel destinations. Tweet @BuyMichiganNow or tag us in a picture on Instagram of Facebook when you make it to one of our 12 things to do in Michigan in June 2023. For next month's event highlights, or to get ideas for your local bucket list, be sure to visit our Michigan Tourism page regularly.