Our state has reopened and many of our favorite events are back. Summer hits full swing this month with fireworks, parades, and plenty of beach time. Here are our 12 things to do in Michigan in July 2021.
It's lavender season and it smells so good! Take a tranquility break and spend a little time relaxing at Blake's. Stroll through the orchards. Then wander through an outdoor marketplace which features products from over 150 Michigan artisans. Learn something new about natural wellness, aromatherapy, farming, gardening, or the benefits of local honey. Then attend a make and take workshop with real lavender. Alternatively, you can head out into the field and pick your own lavender or fruit. Don't forget to sip on a refreshing lavender lemonade coupled with a homemade lavender treat. It's Blake's so of course there are plenty of delicious cider and beer options worth trying. In particular, check out the limited, seasonal lavender-infused hard cider and beer. Admission is $10 per person.
Many people have only visited Windmill Island during Tulip Time. Naturally, with the emphasis on those magnificent rows of blooms, it's easy to forget that there is so much water nearby. However, the Macatawa Water Festival aims to change that. It is designed to get families and children engaged with Lake Macatawa, local waterways, and the Macatawa Watershed. The festival features over two dozen hands-on activities and educational exhibits. There are plenty of chances to get active too.Try paddling in a Voyageur canoe (Gabagouache). You can also kayak, bike, fish, and enjoy other water-related activities. While in Holland, check out these other adventures worth pursuing.
This Alpine-inspired celebration honors the city's heritage. This five-day event is filled with good eats and good times. It features carnival rides, a singing competition, a 5k run, and family trivia competitions. There's also juggling, magic, and lots of live music. It's been a rough year. So, if you're still struggling with some challenges, come on out for Tuesday night's cathartic Burning of the Boogg. You can put your troubles down on piece of paper. Then slip them inside the Boogg and watch them go up in smoke. While in the area, don't forget to pop by Elk Park in the evening to spot the herd. You might also want to get a good meal and a cold beer at Big Buck Brewery or a famous turkey dinner with all the fixings at Gobblers.
Want to feel like a jetsetter? Then why not head to a music fest that you can only access via plane or boat? Beaver Island, affectionately known as America's Emerald Isle, awaits your arrival. You can get there by ferry or plane from Charlevoix. Buy individual tickets to the festival, or for $270, a 3-day festival pass that includes 3 fest meal tickets and your roundtrip airfare. The celebration takes place in a serene woodsy setting. Combine nature, renewable energies, music, and artwork for a fun escape. Camping is available on the island, along with a variety of lodging options.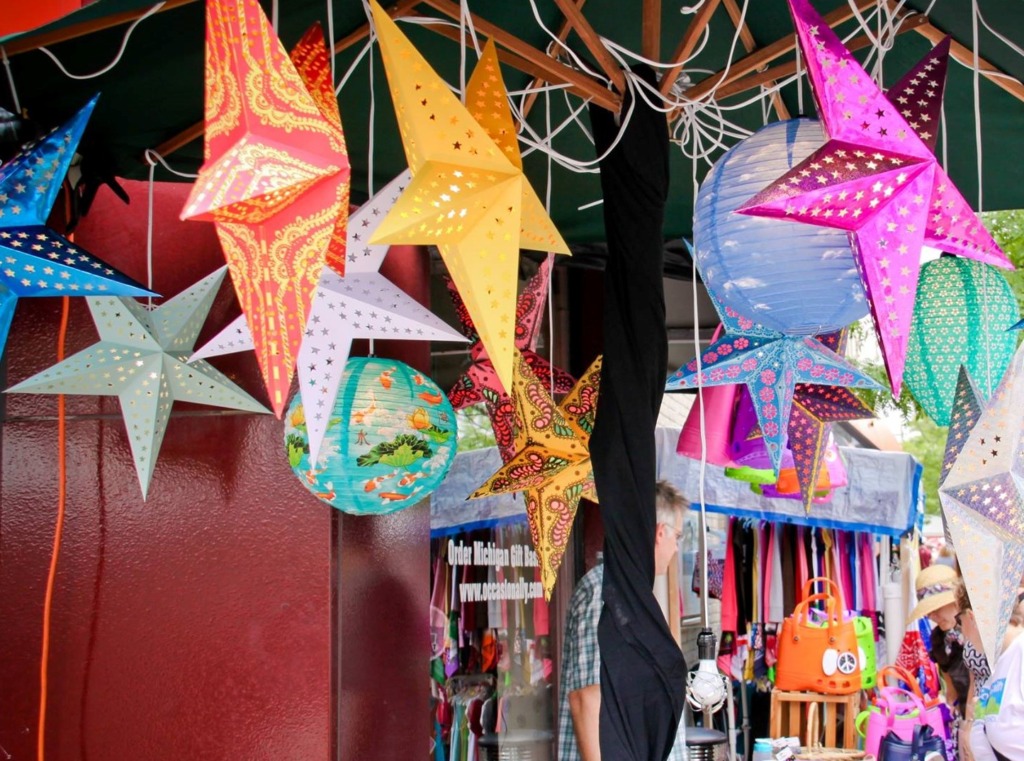 The pandemic had this legendary event on again and off again, but we're delighted to say that artists will once again gather in Ann Arbor this summer to showcase their talent and sell their wares. While the event is somewhat smaller in scale this year, the quality of the art is still top rate. You'll find work in all kinds of media ranging from clay to wood, fibers to furniture, photography to painting, jewelry to printmaking, and more. Find what you've been searching for to fill that empty space in your home, or get inspired on the spot and make space for something new. Artists can really use our support this year!
Back on the mainland, one of the first large-scale music festivals to return to our state in 2021 is this infamous country music extravaganza at Michigan International Speedway. Faster Horses has quickly become one of America's premier country music festivals, attracting big name talent. This year's lineup includes Carly Pierce, Jon Pardi, Luke Combs, Kelsea Ballerini, Thomas Rhett, Riley Green, Tracy Lawrence, and Jason Aldean. Come for the day or camp for the weekend.
What began in 1931 as a candlelit boat parade in Charlevoix's picturesque harbor, has now become an eight-day summer celebration complete with concerts, fireworks, a carnival, street parade, athletic events, beachfront activities, street vendors, buskers, and of course, a boat parade. Appropriately enough, the theme for this year's watery parade on Saturday, July 24, is The Roaring 20s. The boat spectacle will be immediately followed by a spectacular fireworks display on Round Lake.
Whether you are a collector, or just love to read, this celebration of the pen and page is chock full of titles to explore. It takes place 10am-4pm in Shed 5 at Eastern Market, and admission is free. In addition to books ranging from antiquarian to ephemera, you'll also find vinyl records, comic books, creative arts, and even vintage board games. While in the area, drop by Bea's for a luscious lemonade and some special events in honor of the fest. You can cap off your day with a nice cold beer at Eastern Marketing Brewing Company or a scrumptious craft cocktail at nearby Detroit City Distillery.
Even when you don't make a plan to go yourself, it's hard not to enjoy the fruits of a hot air balloon fest if you are standing beneath the neighboring sky. Ella Sharp Park in Jackson plays host to one of our state's best ballooning events, presented by our friends at America 1 Credit Union. Weather permitting, the balloons will launch on Friday morning and evening, Saturday morning and evening and again on Sunday morning. The jubilee is free to attend, with a $10 parking fee to be inside the park, proceeds of which help support the jubilee. There's also a Kid's Kingdom, classic car show, vendors, food, and live music for plenty of family fun even after the balloons take flight.
This impressive event is known to many as a rabaska race. A rabaska was once a large canoe made of bark that the Algonquin people used to navigate waterways. Athletes will take to the river for a variety of battles, the most prestigious of which is the marathon. The AuSable River Canoe Marathon is considered to be North America's toughest nonstop canoe race, and part of the sport's Triple Crown. It goes from Grayling to Oscoda on the famed AuSable River. Amateur paddlers need not apply for this grueling event, but are more than welcome to cheer paddlers on throughout the night. In some cases, it's a step back in time to the days when Algonquin rabaskas explored our waterways, as fans have to seek out access to the river in total darkness, hoping to spot their favorite crews.
Before French, English, Dutch, Irish, and German settlers chose the land between the Great Lakes to start their new lives, it was already home to several different tribes, each with its own rich heritage and customs, like those of the Ojibwa. Hear the sounds of drums, see the expressive dances, and taste the traditions that were literally hundreds of years in the making – all at this one incredible event. The smell of sacred medicines, the feel of birch bark, porcupine quills and other materials used for both function and artistry are also part of the experience. The event is held on the grounds of the Museum of Ojibwa Culture and festival activities are free to all visitors.
A tradition that dates back to 1925, Bayview's Port Huron to Mac race is the premier sailboat competition in the state, and one of the longest freshwater races in the world. The start of which, is a great reason to get up early, grab a chair, and settle in to watch the yachts and a bevy of other boats, parade out of the harbor. Then enjoy some time exploring Port Huron. Grab a coffee and some scrumptious fresh food at Kate's Downtown or a meal with a view of the Blue Water Bridge at Freighters. If you find yourself at the tip o' the mitt, you can enjoy the party as the captains arrive at Mackinac.
Join us on social media for ongoing discussions about Michigan travel destinations. Tweet @BuyMichiganNow to tell us about your favorite places or questions you have. We'd especially love to know if you make it out to one of our 12 things to do in Michigan in July 2021. For next month's events, or to get ideas for your local bucket list, be sure to visit our Michigan Tourism page.