2022 Father's Day Gift Guide
Presented by Golden Key Realty of Northville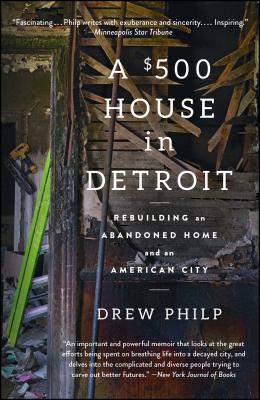 By Drew Philp of Detroit
Drew Philp's work has been published both nationally and internationally in BuzzFeed, The Detroit Free Press, Metrotimes, Corp! Magazine, the Bakersfield Californian, and the Michigan Daily. Shortly after graduating from college, Drew Philp bought a house in Detroit for $500, and thus the quest began. See the Product Description below for details about this book. Please buy all of your books directly from the author or an independent Michigan bookstore.
Product Description
Drew Philp, an idealistic college student from a working-class Michigan family, decides to live where he can make a difference. He sets his sights on Detroit, the failed metropolis of abandoned buildings, widespread poverty, and rampant crime. Arriving with no job, no friends, and no money, Philp buys a ramshackle house for five hundred dollars in the east side neighborhood known as Poletown. The roomy Queen Anne he now owns is little more than a clapboard shell on a crumbling brick foundation, missing windows, heat, water, electricity, and a functional roof.
Throughout this book he describes his effort to rebuild the house, solidify his identity, become part of his new community, and take part in the city's revitalization. He delves in Detroit's vibrant history, conversations about gentrification, racial tensions, and class warfare.