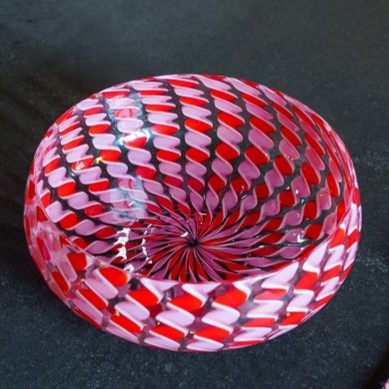 By The Henry Ford of Dearborn
One of the greatest ways to spend some time in Metro Detroit is with a visit to The Henry Ford in Dearborn. The museum is open year-round with an outstanding historic and innovative collection. Neighboring Greenfield Village is open all summer and also plays host to an incredible Christmas tradition known as Holiday Nights. It transports visitors back to the holidays of yesteryear, with roasted chestnuts, bonfires, Victorian carolers, Santa, fireworks, and more. Meanwhile, throughout the year, artisans at Greenfield Village produce unique products including glass, pottery, printmaking, and textiles. See Product Description below for details about this specific gift suggestion.
Product Description
Designed by the glass artisans in Greenfield Village, the 2023 Candy Cane collection features red, white and pink ribbons of glass twisted together to form a signature design. This elegant bowl is sure to become a keepsake handed down for generations. However, if you like the design, but want a less expensive gift, you can also opt for a $30 glass candy cane. There are also a multitude of ornaments in both glass and clay, all made by the talented team at Greenfield Village.