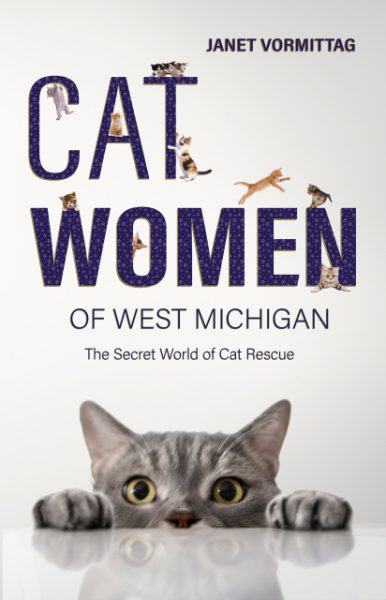 By Janet Vormittag of Jenison
Passionate about animals, Janet Vormittag has authored books featuring cats, dogs, cows, and even whitetail deer. See the Product Description below for more details about this book. Please buy all of your books directly from the author or an independent Michigan bookstore.
Product Description
Cat Women of West Michigan: The Secret World of Cat Rescues is collection of short stories about women who devote their spare time, sometimes their entire lives, to helping cats. In West Michigan, every cat rescue is headed by a woman. Women also work the frontline—they live-trap cats, transport them for spay/neuter surgeries, provide foster homes, do adoptions, fund-raise, and answer the calls for injured cats, strays and unwanted litters of kittens. Meet the women. Be inspired. Get involved. Become part of the solution to cat overpopulation.