2022 Father's Day Gift Guide
Presented by Golden Key Realty of Northville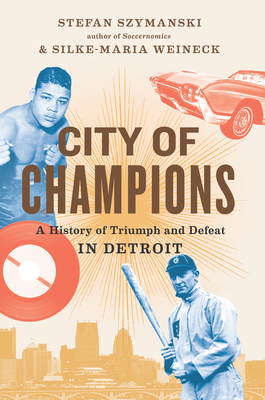 By Stefan Szymanski & Silke-Maria Weineck
It may be hard to believe now, but Detroit was once known far and wide as the "City of Champions" when the Tigers won the World Series in 1935, the Lions (yes, the Lions) won the NFL championship that same year, and the Red Wings won the Stanley Cup in 1936. This book shares the title and looks at how sports is entangled with the city.  See the Product Description below for more details about this book. Please buy all of your books directly from the author or an independent Michigan bookstore.
Buy this book and/or more from Literati Bookstore in Ann Arbor.
Product Description
From Ty Cobb and Hank Greenberg to the Bad Boys, from Joe Louis and Gordie Howe to the Malice at the Palace, City of Champions explores the history of Detroit through the stories of its most gifted athletes and most celebrated teams. It links iconic events in the history of Motown sports to the city's shifting fortunes.
In an era when many teams have left rustbelt cities to relocate elsewhere, Detroit has held on to its franchises, and there is currently great hope in the revival of the city focused on its downtown sports complexes–but to whose benefit? Szymanski and Weineck show how the fate of the teams in Detroit's stadiums, gyms, and fields is echoed in the rise and fall of the car industry, political upheavals ushered in by the depression, World War II, the 1967 uprising, and its recent bankruptcy and renewal.
Driven by the conviction that sports not only mirror society but also have a special power to create both community and enduring narratives that help define a city's sense of self, City of Champions is a unique history of the most American of cities.