Classic Reuben Sandwich Kit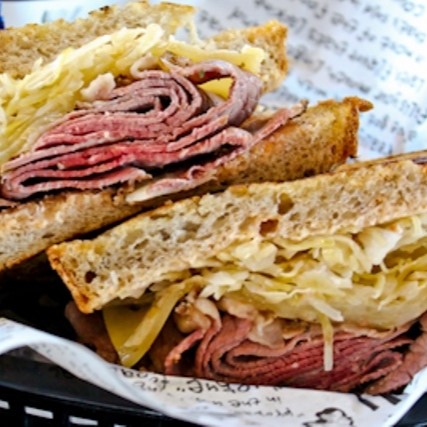 By Zingerman's of Ann Arbor
No trip to Ann Arbor is truly complete without popping into Zingerman's to get a bite to eat or some delectibles to take home. The company has a bakery, creamery, confectionary, coffee roasting operation, and more. See the Product Description below for details about this specific gift suggestion.
Buy gift or more from Zingerman's
Product Description
As Oprah once said, "Zingerman's sandwiches are an 11 on a scale of 1 to 5." Wolverines will weep upon receipt of this perfect lunch from A2's iconic deli. President Barack Obama famously noted, "the Reuben is killer," and Mindy Kaling quipped, "Their reubens are so good, I became that tedious person talking to my family about them in detail on the phone." Included in the Reuben kit are: Jewish Rye (Pumpernickel in Brooklyn Reuben), corned beef, freshly sliced Emmentaler Swiss cheese, Zingerman's potato chips, coleslaw, Sauerkraut, Russian dressing, garlicky pickles, and Magic Brownie Bites. The kit even includes professional instructions on how to put the sandwich together. It serves 3-4. There is also an option for a larger kit that serves 6-8.