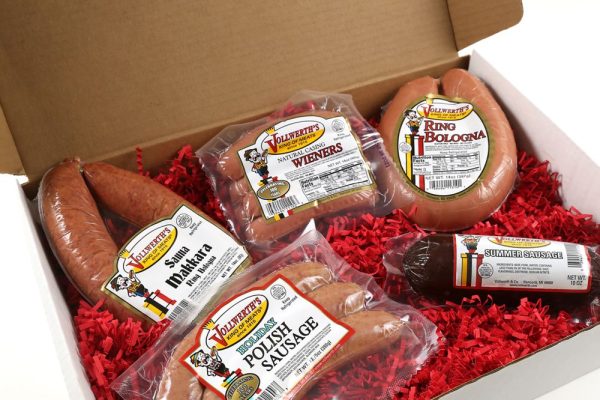 By Vollwerth's in Hancock
Vollwerth & Co. was started in 1915 by a German immigrant by the name of Richard Vollwerth. The company's quite humble beginning, in the basement of a Hancock home in Michigan's Upper Peninsula, had one very important outcome in mind- to make great, quality sausage. Now, 100 years after Richard Vollwerth started the company, there are currently 3rd, 4th, and 5th generation family members involved with the company in various positions. See the Product Description below for details about this specific gift suggestion.
Product Description
Let's face it, this gift has dad or grandpa written all over it, especially if he hails from the Upper Peninsula, where Vollwerth's is an institution. He'll get to fire up the grill and gather his favorite sandwich makings to take full advantage of this box. Perhaps, he'll even try his hand at a making a charcuterie board with their popular Summer Sausage.