Detroit: An Illustrated Timeline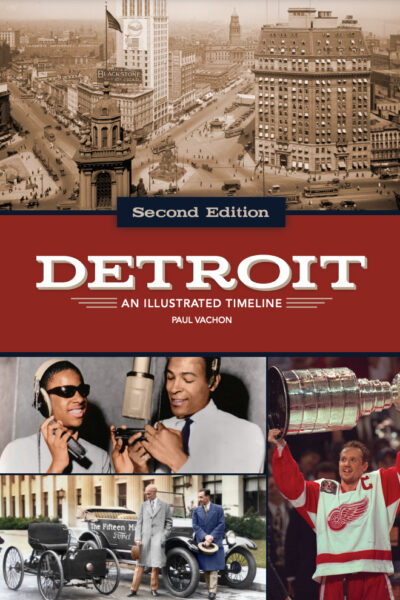 By Paul Vachon
Author Paul Vachon focuses on the history of the Detroit area as his area of special interest. He also works as a freelance writer covering Michigan travel, business, and popular culture. See the Product Description below for details about this book. Please buy all of your books directly from the author or an independent Michigan bookstore.
Product Description
Fans of Detroit and history buffs will love this deep dive into the city's storied past. Detroit: An Illustrated Timeline invites the curious reader along the chronological path that is Detroit's past and present. Along the journey a myriad of fascinating events took place: the city's fall to the British during the War of 1812, the existence of slavery in Detroit as late as the 1820s, and Mayor Hazen Pingree's aggressive advocacy for the everyday citizen against corporate interests.
Twentieth century entries include Detroit's underappreciated architectural heritage, the development of its notable cultural institutions, as well as the exploits of assorted scoundrels, such as the Black Legion, the Purple Gang, Harry Bennett, and Father Charles Coughlin. Not to be omitted are the history of the Detroit Police Department's Red Squad, and the city's newspaper strike of 1967-68. The book ends on a high note by drawing attention to some recent milestones—the reopening of the Book Cadillac Hotel, the restoration of the Michigan Central Station as a center for automotive research, and Detroit's selection as a UNESCO City of Design.
Local author Paul Vachon brings more than 300 years of Detroit history, facts, and photos together in a collection that will enlighten even longtime residents of the city.