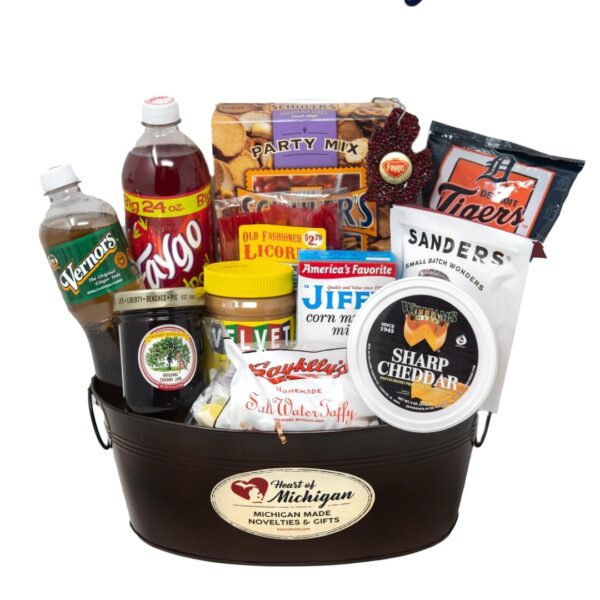 By Heart of Michigan in Howell
Nestled right in the center of town, this charming store is chock full of Michigan-made products. It also serves up piping hot pasties. One of the shop's specialties is curating and shipping gift baskets all year long.
Product Description
They call this tin iconic for a reason. Every brand represented has grown a tremendously dedicated following, and most have been around for decades. From products in Metro Detroit, to the tip of the mitt, and even the Yoop, this gift will truly provide a taste of Michigan. It includes Germack Tigers Peanuts, Velvet Creamy Peanut Butter, Jiffy Corn Muffin Mix, Better Made Licorice, Faygo Redpop, Vernors, Sayklly's Salt Water Taffy, Win Schuler's Party Mix Snack Chips, Williams Sharp Cheddar Cheese Spread, Sanders Dark Chocolate Sea Salt Caramel Thins, Cherry Republic Cherry Jam, and a Faygo Rock & Rye Air Freshener. The items are packaged together in a handsome gift tin with a bow and a note.