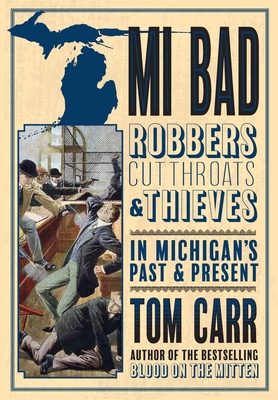 By Tom Carr of Mesick
Tom Carr is the son of a writer for the The Detroit News, so perhaps his future as an author was sealed from the get-go. Following in the footsteps of his father, he completed an undergraduate degree in Journalism at Michigan State University and worked as a reporter in Detroit before landing at the Record Eagle in Traverse City. He's seen a thing or two, which led to his Michigan Mayhem series. See the Product Description below for details about this book. Please buy all of your books directly from the author or an independent Michigan bookstore.
Product Description
Train robberies, stage-coach holdups, posses, breakouts and shoot-em-ups step out of the darker pages of Michigan's past and spring to life in Tom Carr's MI Bad: Robbers, Cutthroats and Thieves in Michigan's Past and Present.
The Great Lakes State has seen more than its share of sensational crimes in the last couple of centuries. MI Bad shines a searchlight on several of the most jaw-dropping capers and rogues, including:
– A couple of 1880s prostitution procurers who roll drunken lumberjacks for their wages in a whorehouse and bury bodies in shallow graves. The two die drunk and destitute in a freezing shack.
– Baby Face Nelson gets his big-time career start — with an actual baby — in a bank holdup in Depression-era Grand Haven.
– A 1970s, cinema-esque escape from Jackson State Prison that falls apart quickly once outside the razor wire.
– Train robbing brothers who get away with fortunes all over the Midwest, until one of them puts a bullet in the head of a well-liked Grand Rapids cop.
Plus many more blood-and-money tales of Great Lakes State intrigue, suspense or just plain awfulness.