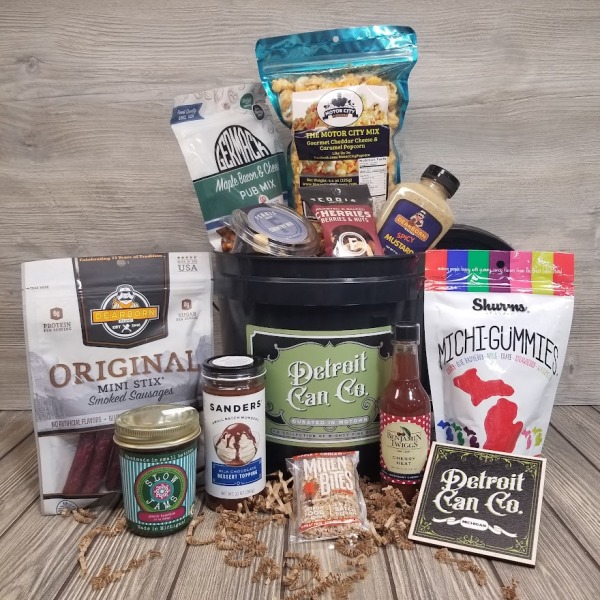 From Detroit Can Company of Farmington
The team at Detroit Can Company carefully curates unique and wonderful items, then puts them together in wonderful collections. Each group is encased in a decorative paint can for a lovely presentation. See the Product Description below for details about this specific gift suggestion.
Product Description
The 2 Gallon Michi-Can Collection is double the size of the company's other cans because there are so many scrumptious products made here in Michigan. This is a snack lovers dream. Each can is carefully curated with delectable delights procured from around the state. It contains Ferris Nut Company Deluxe Mixed Nuts and Blueberry Banana Nut Mix, as well as Germack's Maple Bacon & Cheese Pub Mix. There's also Dearborn Brand Mini Sticks 8-Pack Original, complemented by their Spicy Mustard. The collection also features Street Eatzz 313 Hot Sauce, Gus & Grey Hand-Crafted Jam, Sanders Milk Chocolate Topping, Motor City Popcorn, Shurms Michigummies, and Small Batch Detroit Mitten Bite. To top it all off, they'll find a Detroit Can Company custom wood coaster, as well as the reusable can so that the gift keeps on giving, long after the snacks have disappeared.