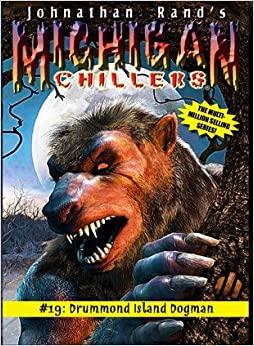 By Jonathan Rand of Topinabee
When in Indian River, check out Chillermania. These horror books by Jonathan Rand have become so popular that they spawned an actual tourist destination. See the Product Description below for details about this book. Please buy all of your books directly from the author or an independent Michigan bookstore.
Product Description
This is a gift that will keep on giving, and encourage a kid you love to escape into books. The set includes all of the books in Jonathan Rand's famous Michigan Chillers series from #1 Mayhem on Mackinac Island to #20 Lair of the Lansing Leprechauns. If the set is a bigger gift than you're aiming for, start them out with a single book. With additional chillers set in Traverse City, Petoskey, Alpena, Gaylord, St. Ignace, Kalamazoo, Detroit, Saginaw, Mackinaw City, the Great Lakes, Au Sable, Grand Rapids, Bay City, Calumet, Caseville, Grand Haven, Sault Ste. Marie, and Drummond Island, you're sure to find one that hits close to home. You may even be able to get an autographed copy.