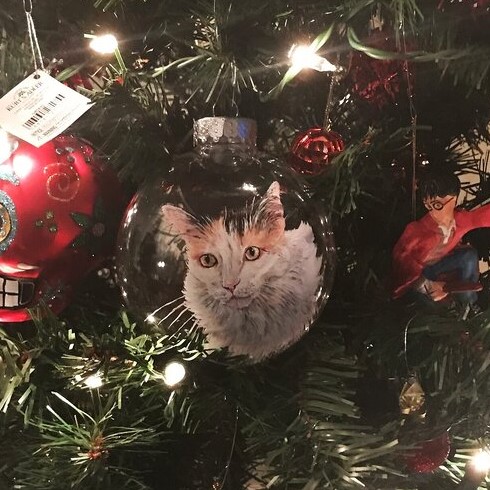 By Sajeev Visweswaran of Ann Arbor
Artist Sajeev Visweswaran works in many media and styles, yet drawing always comes at the center of his work. He has maintained a focus on minimalist lines and measures etchings throughout his repertoire. In addition to his work as a practicing artist, he teaches courses in drawing and printmaking at a variety of Indian and American institutions. He creates cards, prints, jewelry and other unique pieces. See the Product Description below for details about this specific gift suggestion.
Product Description
Admittedly, this gift is less about the pet and much more about its human counterpart. Any pet owner will adore a custom-painted ornament of their best bud. You supply a photo and the artist will paint the animal's likeness on an ornament. The artist typically ships the finished ornament within 5-7 days of receiving the photo. This may be an exceptionally sweet way to honor the loss of a beloved pet, as well as those who are still an essential art of the family on a daily basis.