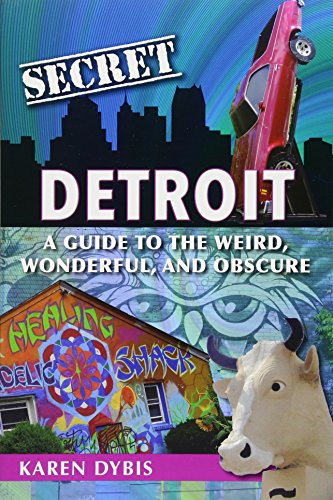 By Karen Dybis of Metro Detroit
Karen Dybis is a veteran reporter who has worked for The Daily Telegram, The Oakland Press, The Detroit News and Corp! magazine. She has also contributed to Time magazine, U.S. News and World Report, and The Hollywood Reporter, and is an author of several local history books. See the Product Description below for details about this book. Signed copies of Karen's books may be requested through her website. Please buy all of your books directly from the author or an independent Michigan bookstore.
Product Description
Even a seasoned lover of Detroit is likely to uncover surprising information, and even new destinations worthy of exploration, after reading Secret: Detroit: A Guide to the Weird, Wonderful, and Obscure. Afterall, the city has more than three hundred years of history. There's the Michigan Theatre, the ornate movie house turned parking garage with a grand stage looming over its cars. Picturesque Alfred Brush Ford Park once stored nuclear missiles among its playgrounds and fishing spots. Then there are incredible landmarks like Detroit's massive salt mines and a monument to urban graffiti known as the Dequindre Cut. How about a Quonset hut community with a yoga studio and AirBnB? There is so much to discover about the city that put America on wheels, and this veritable cornucopia of trivia and travel, will delight the fans who love it most.