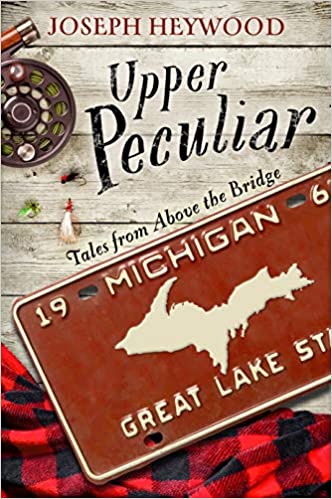 By Joseph Heywood of Portage
Joseph Heywood is a painter, photographer, poet, and author who is primarily known for his Woods Cop Mystery series. See the Product Description below for more details about this book. Please buy all of your books directly from the author or an independent Michigan store.
Product Description
Upper Peculiar is a quirky collection of stories about life in the Upper Peninsula. Heywood offers a glimpse into the world his best loved characters come from. From the early 1900s to present day, Heywood shows the roots of Yoopers and how their influence has spread across the peninsula. Readers will meet Didit Dave and hear about his sudden and unexpected promotion to police chief. How about a dead man who doesn't make it to heaven but instead to an old bar in Kate's Bay? This collection wouldn't be complete without a couple classic Heywood mysteries featuring Tribal police chief John Clash and Houghton County Sheriff Nayar Sekhar. One thing is for certain, the characters in this collection could only come from one place.