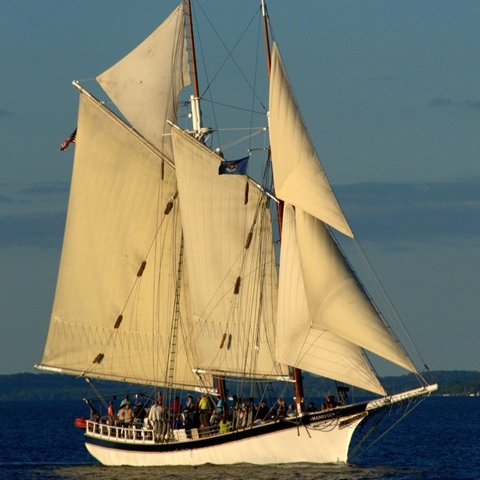 By Traverse Tall Ship Co. of Traverse City
Sailing out of Traverse City, Tall Ship Manitou is a replica of an 1800s "coasting" cargo schooner, similar to those that sailed the Great Lakes and the Atlantic Ocean. This ship is specifically designed for passenger service, and offers several excursions. See the Product Description below for details about this specific gift suggestion.
Product Description
What can be better than a leisurely brunch? How about brunch for two while sailing the bay? Spice up their morning with a tasty beverage, a savory home cooked meal and a glorious sail back in time. They'll greet the day on the bay with a full brunch, prepared right aboard ship on a wood-fired stove. Complement it with a tasty morning eye opening beverage. Options include a spicy Bloody Mary, Mimosa, Screwdriver or non-alcoholic option to wash down that delicious fare. The first drink is included with the ticket price, and additional beverages may be purchased from the ship's bar. Tickets are $75 each. Give a pair to a couple. Get a pair and let your recipient set sail with someone else they love. Best of all, buy two and be the one who joins in on this 2-hour cruise out of Traverse City.