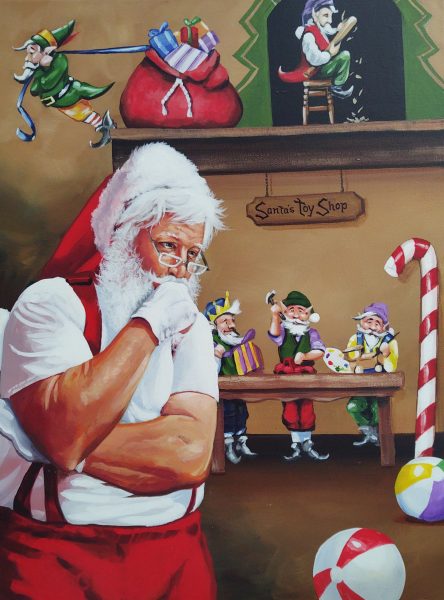 By Mike McMath of Midland
Mike McMath is an acclaimed artist and musician. He primarily works in Venetian plaster and encaustics, but has also completed countless mural, faux finish, gold leaf and trompe l'oeil projects across the United States while producing a steady stream of commission and gallery artwork. In 2006 Mike, along with his twin brother, decided to do performance art and named it Empty Canvas. Mike completes a canvas painting in two hours while singing along with his brother Scott on guitar. See the Product Description below for details about this gift.
Product Description
Artist and musician, Mike McMath was inspired by his then 1st grade daughter's short story, to write a song. Santa's Looking for His Hat, turned out to not only be a fun ditty, but also the perfect fit for a children's book. Mike spent two years creating 16 canvas illustrations that visually tell the story. This charming limited edition version of one of those illustrations measures 18×24 inches. It takes a while to build up a wonderful, nostalgic collection of holiday decor. That makes this a fantastic gift, not only for any Christmas lover, but for young couples and new home owners.