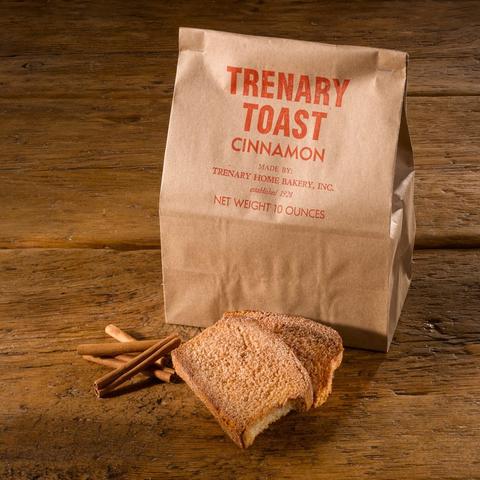 By Trenary Home Bakery of Trenary
For over 90 years Trenary Home Bakery has been a staple in its community. They bake bread, sell other Upper Peninsula products, and of course, serve up the famous Trenary Toast. See the Product Description below for details about this specific gift suggestion.
Product Description
Whether they grew up on this dish, discovered it on vacation, or just love to try new things, this wealth of goodness will be a hit. Trenary Home Bakery specializes in the production of Finnish Korppu, a crunchy bread snack, that has put this tiny hamlet on the proverbial foodie-lover map. The most commonly found form of Trenary Toast is coated in a signature blend of cinnamon and sugar. You can ship a bag of that, or any flavor. However, why not give them a gift that keeps on giving and is full of flavorful choices like Cinnamon, Cinnamon Raisin, Cardamom, Vanilla, Plain and Sugar? Each 10-oz bag comes with 16 slices. The toast is made daily in the Upper Peninsula of Michigan, but can be sent to friends near or far. All Trenary Toast products have a shelf life of 365 days from the date of manufacture, and they contain no artificial ingredients or preservatives. They'll be thinking of you and thanking you for months after Christmas.