While there were certainly home brewers since settlements began, most of Michigan's early commercial beer history can be traced back to the 1800s, particularly in what are now some of the state's best-known beer towns.
The city that would later come to be known as "Beer City USA," appears to have gotten its brewing start with a single barrel brewery, which was opened in 1836 by Englishman John Pannell. As Grand Rapids grew, so did the breweries, with new ones cropping up in many neighborhoods. German immigrant Christoph Kusterer partnered with Pannell on a brewery in 1844. A few years later, the two parted ways when Kusterer bought out Pannell and formed Kusterer's City Brewery. He then moved the brewery to Michigan and Ionia streets. On January 1, 1893, six local breweries joined forces and opened Grand Rapids Brewing Company on that site.
Down the road, things had begun brewing in another frontier village. By 1837, Kalamazoo had grown from a tiny settlement of log huts into a bustling town with at least one established commercial brewery according to historians. The exact location of that first brewery and the identity of its owner are unconfirmed. Based on old articles in the Kalamazoo Gazette, many think the original proprietor was a German named Jacob Harlan. Alternatively, it may have been have been connected with William Thomas Clark & Son, who ran the first local distillery near the Kalamazoo River. Regardless, Kalamazoo's massive impact on the local beer industry would not really come for another hundred years or so.
Meanwhile, a tad later and further to the east, the Michigan Territory was about to become familiar with a name that would hold a large place in the state's and even the nation's brewing history. Taught the trade by his father, Bernhard Stroh emigrated to the United States and established a brewery in Detroit in 1850 to produce Bohemian-style pilsner.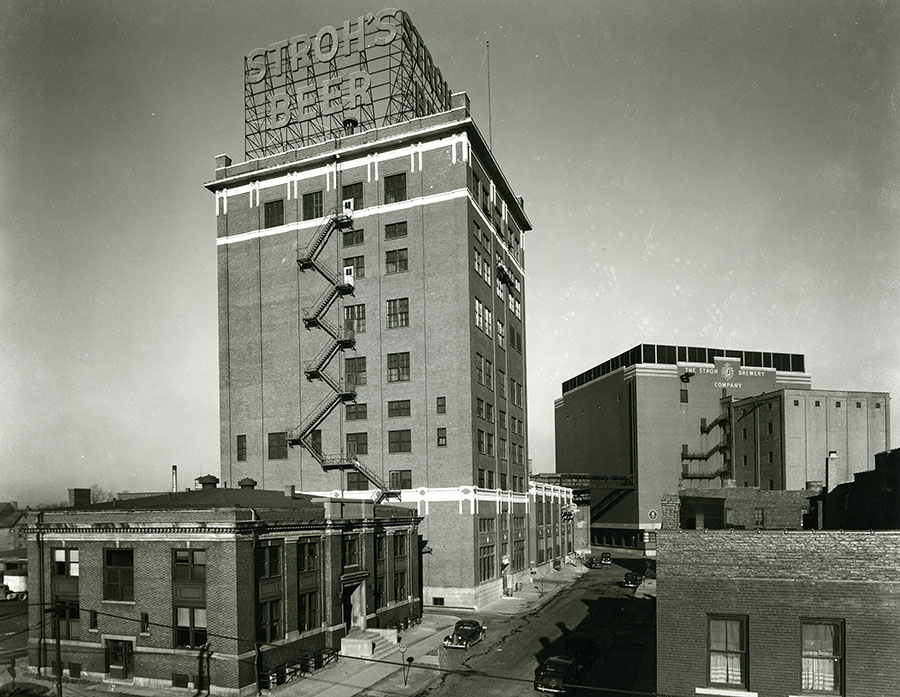 Around the same time, John Matthias Falliers became the first man to brew beer commercially in Frankenmuth. He and his wife had a tin shop, yet he recognized the opportunity presented by an absence of beer for sale, so he opened the Frankenmuth Brewery in 1857. Like many of Michigan's early settlers, and not surprisingly in Frankenmuth, he had come from Bavaria and created German-style bier. The brewery ceased operations in 1864. Mr. Falliers died just two years later, but the brewery's name lives on in its current incarnation, though the location is actually the site of what was once the neighboring Cass River Brewery.
The Cass River Brewery is said to be Frankenmuth's first really successful commercial brewing operation. It was started by cousins William Knaust and Martin Heubush in 1862, and was located just a couple of lots away from Fallier's brewery. The cousins sold their business to John G. Geyer in 1874. The Geyer family would own this operation, renamed Geyer Brothers Brewing Company for almost a century.
Many of the state's breweries fell on hard times during the Civil War, but the peace that followed seemed to spark a surge of family-owned operations in various towns. It's important to remember that at that time, the late 1860s, horse-drawn carriages were used to make deliveries. In most cases, the journey to or from the more densely-populated Detroit would take a week to ten days. Since products in wooden barrels were susceptible to the effects of heat, light, and motion, brewers were restricted to local sales, so consequently many more towns desired a brewery of their own.
Meanwhile at Stroh's, another tradition continued. Like his father before him, the family trade would fall to his son, as Bernhard Stroh passed away, leaving his junior namesake to take over in 1882. Times were also changing, and with the introduction of pasteurization and refrigerated rail cars, Bernard Stroh, Jr. was able to ship some of his beer as far as Florida and Massachusetts. The company's name was changed to The Stroh Brewery Company in 1902, and six years later, Julius Stroh took over. Things were booming, until he had the great misfortune of having to keep the company alive during Prohibition.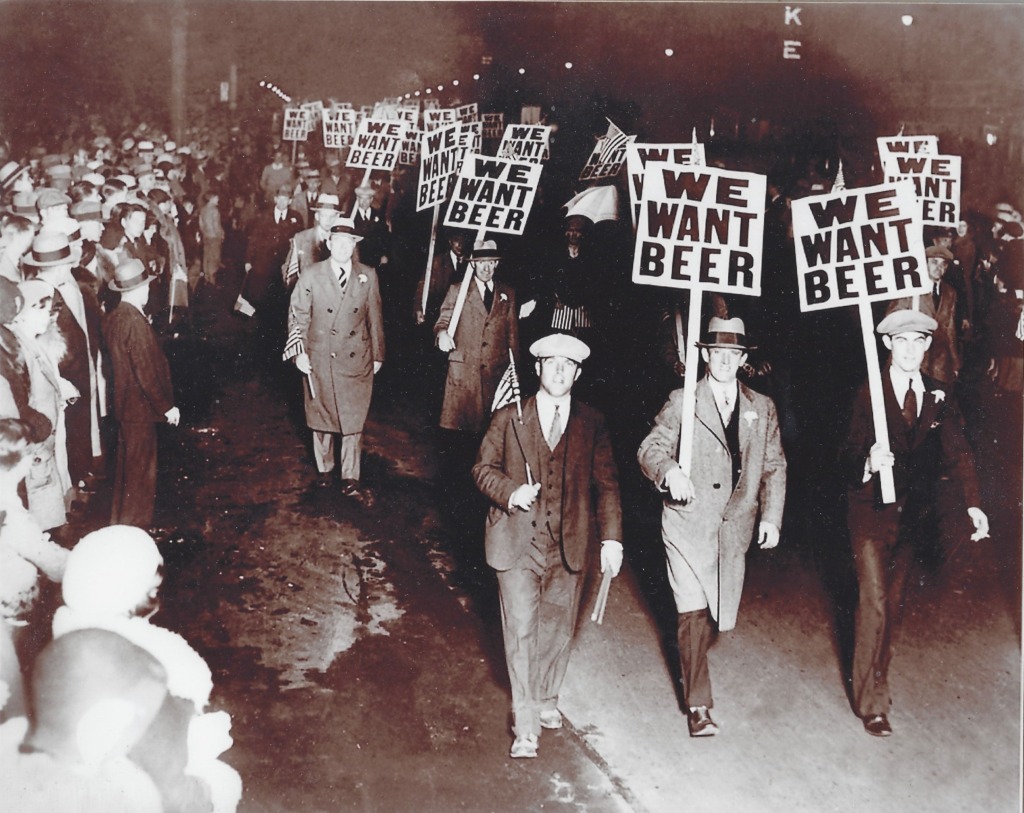 Due to a local vote, Prohibition started in Michigan in 1918, nearly a year and a half earlier than the rest of the country. Julius changed the name to The Stroh Products Company, and began making nonalcoholic "near beer," birch beer, soft drinks, malt products, ice cream, and ice, in order to survive. Though production of most of these items ceased when Prohibition ended in 1933, a special unit of the brewery continued to make Stroh's ice cream in Michigan for decades.
Other brewery's attempted similar new directions to survive the dry period, while many more simply folded. Alas, in 1933, the 18th Amendment was repealed and breweries were free to make and sell beer again.
Another well-known Detroit brewery, which had closed during Prohibition, was reorganized in anticipation of the repeal and started brewing again in 1934. Goebel Brewing Company hired Otto Rosenbusch, the retired brewmaster from Stroh's was to help compete with the rival company. Goebel managed to gain some national attention, but in 1964 it was purchased by Stroh's. It would be one of a series of acquisitions the company made to raise production levels.  In 1982, Stroh's purchased the Schlitz Brewing Company, becoming the third largest brewing enterprise in America, but the country's taste in beer was changing.
On February 8, 1985, Stroh's announced that it would close its 135-year-old brewery on Detroit's east side, citing the facility as being outdated. The company had also taken on heavy debt to finance the Schlitz acquisition, yet found itself unable to compete nationally with the likes of Anheuser-Busch, Miller, and Coors. Around the same time, craft brewers began to pop up around the nation, providing robust, flavorful alternatives to the traditionally light and golden American beers.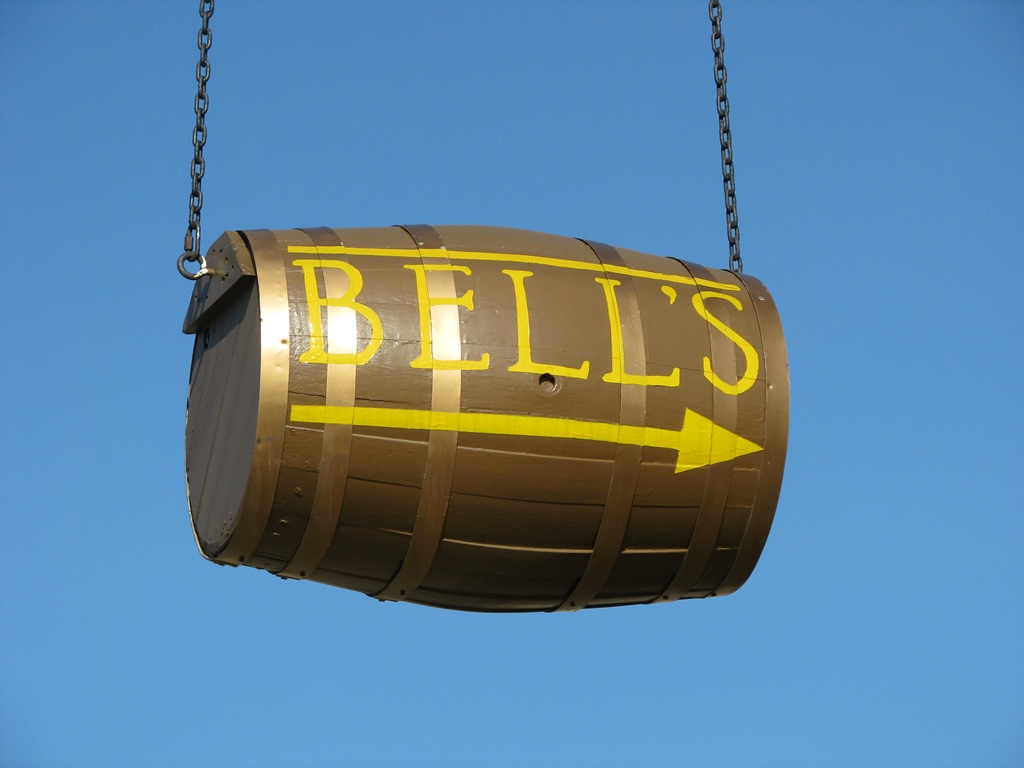 Enter Ben Edwards and Larry Bell. Edwards, who was passionate about a rising trend known as "farm-to-table," owned Traffic Jam & Snug in Detroit. He found it only natural to want to complement his locally-made breads and cheeses with locally-brewed beer, but the Michigan Liquor Control Commission (MLCC) denied his application for a brewer's license. At that time the Michigan Liquor Control Act forbid a brewer from having an interest in a retailer. While brewpubs were popping up in other states around the country, they were forbidden by law in Michigan. Finally on December 18, 1992, Michigan became the last Midwest state to enact a brewpub law. After a battle that lasted more than ten years, Traffic Jam became the state's first brewpub.
Meanwhile, across the state, home brewer Larry Bell decided to try his hand at building a brewery in Kalamazoo. Brewing with a 15-gallon soup pot, Larry sold his first commercial beer on September 19, 1985. By 1989, Bell's Brewery was shipping more than 500 barrels annually and assigned its first wholesaler, Ann Arbor-based Rave Associates, to further establish itself across the state. Today Bell's is one of the top-ten craft beer producers in the country. Moreover, Edwards and Bell carved the path that has earned our nickname as the Great Beer State.
Early Michigan beer had a heavy German influence. Since then tastes have changed and now we find more IPAs, stouts, and wheats on the menu. Michigan's abundance of fresh water, flourishing crops of hops throughout both peninsulas, and other locally-grown ingredients make for a wide variety of brewing options. Using their own recipes, processes and aromatics, each brewing company has made their unique stamp, inspired by Michigan flavors and a local consumer-base that is eager to sample new options.
Michigan is currently home to hundreds of brewpubs and products from Atwater, Bell's Founders, Keweenaw, Jolly Pumpkin, Short's, and many more, can now be found on tap and on store shelves across the state, and in some cases across the country. There are tasting rooms all over the state so you can settle in for a flight and find out what style of beer most delights your palate.