According to accounts from French explorers, grapes were growing abundantly along what is now the Detroit River when they first encountered that shoreline in the late 1600s, so they made wine from the wild grapes. When Fort Ponchartrain du Détroit was founded by Antoine de la Mothe Cadillac in 1701, a planted vineyard soon followed. In fact, Cadillac would later face charges from the French government for abuse of power. Among the sins for which he was accused, was the trading of wine and brandy for fur pelts among the native tribes. Though perhaps not lawful in the eyes of France, the practice could arguably be described as the first economic impact of wine in Michigan.
The state's first true wine region was established near Monroe. The River Raisin flows for almost 139 miles in that area, and there were so many grapes growing naturally along its banks when French settlers arrived in the 1780s that they named it after the sun-dried fruit. By the mid-1800s, a viable wine industry had been established in Monroe County.
One of the state's most notable early winemakers is Joseph M. Sterling. He was the first to plant a vineyard for the purpose of making wine commercially. In 1863, he planted his first two-and-a-half acres of vines. By 1868 he had planted at least twelve acres and decided to partner with William A. Noble, Caleb Ives, and Samuel P. Williams to open Pointe Aux Peaux Wine Company.
Their commercial winery eventually produced 5,000 gallons of wine annually. They entered their wines in the 1872 Michigan State Fair to raves, and were honored for presenting the best collection of wines. From there, the reputation of the winery grew, inspiring others to follow suit.
Several wineries cropped up in Monroe and a few other regions across the state. In a move well ahead of his time, A.B. Jones planted several hundred vines in Van Buren County in southwest Michigan in 1968, and aptly named his farm, "Pioneer Vineyards." While his business has not survived across the centuries, the region he chose to plant in became one of the state's most viable areas. One of the key components to the region's survival was becoming a source of fruit for Welch's Grape Juice Company, when Prohibition hit.
Sadly, Monroe would not fair as well. Grape rot seeped into the vineyards in the late 1800s. Between that and Prohibition, most of the vineyards in that area were abandoned.
With the repeal in 1933, winemaking once again became a booming industry in Michigan. Several wineries opened in that time including: Bronte Champagne and Wine Company, Chateau Wines Corp., Frontenac Vineyards, Lapeer Winery, La Salle Wines and Champagne Inc., Meconi Wines, Michigan Wineries, Milan Wineries Company, Paw Paw Wine Company, Puritan Wine Company, and Risdon Wines and Champagne Inc.
La Salle Wines and Champagne Inc., became the largest winery of that era, and even third largest in the United States. Within a short period, Michigan once again became one of the nation's top wine-producing states. Two of those wineries still exist in some form today.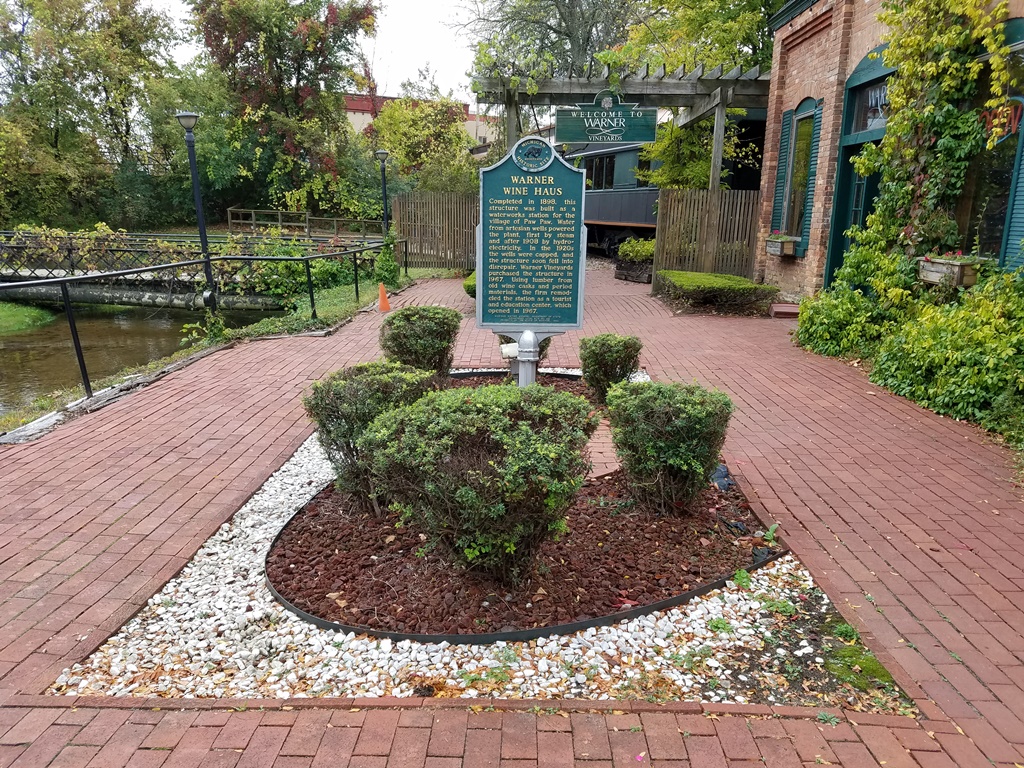 William Houppert bought the Lawton Vineyards Co. building in 1933, and established his namesake winery. He did so by securing a mortgage from John Turner for $55,000 and installing casks formerly owned by Al Capone. By 1939, the winery was a big hit. Unfortunately, rebuilding after a devastating fire in 1940 took its toll, and the business collapsed in 1943. Mortgage-holder John Turner and his partner, Andy Murch, who had founded Michigan Wineries in Paw Paw in 1938, assumed ownership and absorbed it into their own business. That wine company was later known as Warner Vineyards, and it's the second oldest wine business in the state.
Meanwhile, in 1921, Mariano Meconi founded The Meconi Wine Company in Canada. After Prohibition's repeal, he moved the operation to Detroit and renamed it the Italian Wine Company. In 1936 it was moved to the heart of that period's grape-growing country, Paw Paw, where the name changed to St. Julian Wine Co. It remains Michigan's oldest, continually operating winery.
Meconi Wines, Michigan Wineries, La Salle Wines and the other post-prohibition wineries formed the Michigan Wine Institute in 1939 to be a cohesive voice for the industry. Meconi was the institute's forst president. For nearly 50 years it was instrumental in supporting area growers and pursuing legislation that benefitted the industry
Initially, Michigan winemakers were limited to producing wines with 16 percent alcohol or less due to a prohibitive license fee and a state law requiring wines above 16 percent to be sold as spirits and only in liquor stores. Additional legislation levied a 50-cent-a-gallon tax on table wines produced elsewhere, but only a four-cent-a-gallon tax on Michigan wines, providing they consist of at least 75 percent Michigan grapes. The latter of these rules helped the local industry to gain a market share.
In 1950, a new law enabled Michigan winemakers to produce higher alcohol wines without the fee, as well as allowing those wines to be distributed along with the traditionally lower alcohol wines. The law change helps local winemakers to dominate the state market with its sweet wines throughout the decade.
By the late-1960s, Michigan wineries begin to rethink the grapes used for wine production and the styles of wine preferred by consumers. Warner Vineyards planted French-American hybrid varietals, and St. Julian followed in the early 1970s. The adjustment led to the survival of both companies.
Elsewhere, in 1965, Bernie Rink planted northern Michigan's first modern-day vineyard with French-American hybrid varietals on Leelanau Peninsula. The area would later become one of the state's predominant wine regions.
Back down in the southwest, in 1968, Carl Banholzer and Leonard Olson opened Tabor Hill Winery in Buchanan. They initially planted Vidal Blanc and Aurora Blanc in their vineyard. Then in 1969, they introduced the state's first documented European vinifera grape varietals, Chardonnay and Riesling.
In 1972, the State of Michigan changed a law increasing the amount wineries had to pay farmers for grapes to receive a tax break. The change shut down operations for a handful of Michigan wineries established in the 1930s, while others struggled for a time before closing in the 1980s.
In the mid-1970s, Ed O'Keefe planted European vinifera grapes on Old Mission Peninsula in Traverse City and established Chateau Grand Traverse, one of the state's powerhouse wineries. Shortly thereafter everal new wineries followed including Leelanau Wine Cellars, Fenn Valley Vineyards, L. Mawby Vineyards, and Good Harbor Vineyards.
During the 1980s, four American Viticultural Areas were designated in Michigan: Fennville, Leelanau Peninsula, Lake Michigan Shore and Old Mission Peninsula.
Recognizing the growth potential of the industry, the state organized the Michigan Grape and Wine Industry Council in 1985. The purpose was to provide research, education and promotion for Michigan grapes and wines.
At the time the council was formed, there were only fifteen commercial wineries. Today, there are well over one hundred, as well as 13,700 acres of vineyards. That makes Michigan the fourth largest grape-growing state. Michigan's commercial wineries bottle more than 2.7 million gallons of wine annually, making Michigan fifth in wine production, and the vast majority of that production is from Michigan-grown grapes.