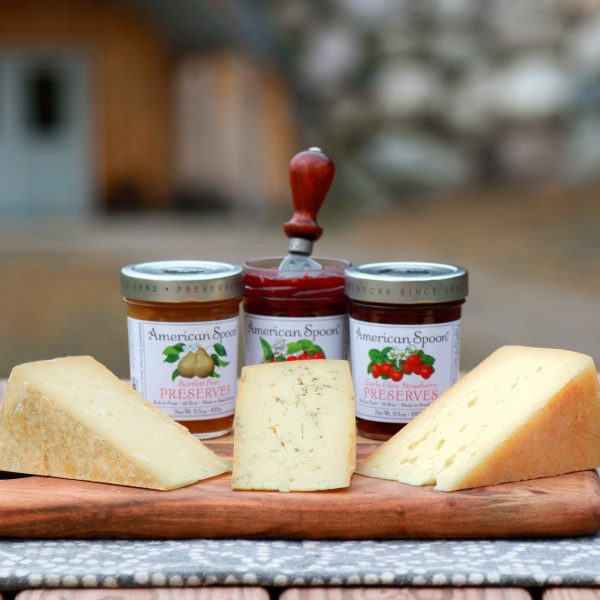 From Leelanau Cheese Company in Suttons Bay
In 1995, John and Anne Hoyt established Leelanau Cheese and, over the course of 25 years, developed a local and international reputation for their cave-aged, award-winning, European style cheeses. In 2021, Gary Smith and Joshua Hall took over, and remain committed to continuing the legacy of exceptional artisanal cheese production. See the Product Description below for details about this specific gift suggestion.
Product Description
Fruits and cheeses have always been wonderful together, so this gift, which combines two phenomenal Michigan food companies, is sure to delight. First, and foremost, there's the cheese. Raclette is a traditional herdsman's cheese, that is being handmade in Leelanau County with local milk. This silky smooth cheese is best savored when melted over our favorite foods, or as a part of a cheese and charcuterie board. This sampler pack includes 3 raclette varieties (1/2 lb. traditional mild, 1/2 lb. rosemary, 1/2 lb. aged). The cheese is paired with jars of cherry, apricot, and raspberry fruit preserves from the culinary geniuses at American Spoon in Petoskey. Whether he loves to entertain, or just loves to eat, this gift is sure to be a palate pleaser.