Summer wouldn't be the same without indulging in some sweet, cold, creamy, decadent treats, but how far would you go to satisfy a craving for creamy, dreamy, greatness? Whether you prefer a cup or a cone, vanilla or chocolate, toppings or plain, these little shops are waiting to delight you, and they are worthy of a road trip.
Browndog Barlor & Restaurant – Northville
Do yourself a favor and head to Browndog for the handcrafted food and cocktails, then stay for the ice cream. It is, after all, a Barlor (bar + ice cream parlor). You can even get a boozy milkshake or ice cream-laden martini. If it's just ice cream you're craving then they have you covered from the scrumptiously ordinary Vanilla Bean to the extraordinary Basil Stracciatella, which is a gluten-free Basil ice cream with flecks of chocolate.
Calder Dairy – Carlton
Imagine a dairy farm that still delivers milk in reusable glass bottles to its customers! If you have little ones, this is a fun destination that is well worth the trip, and even if you don't, the ice cream alone makes it worth it. You can watch the cows being milked daily at 4pm, and see goats run up and down a playscape. The shop is full of lots of Michigan-made goods, and of course their own fresh dairy products. The available flavors change a bit with the seasons (this spot is open year-round), but you can always find about thirty flavors from which to choose. Some of the most unique include Caramel Cappuccino, Holstein Paradise, and Red Velvet Cake.
Captain Sundae – Holland
Whether it's date night in some 80s movie montage or a family outing on Main Street USA, miniature golf and ice cream just seem to go together. At Captain Sundae you can do both, and there's a pirate theme ta boot! This destination serves both soft serve from a local dairy and traditional ice cream from either Hudsonville or Ashby's. There are plenty of flavor options, but what they are perhaps best known for is not a single flavor, but a specialty sundae. The popular Tommy Turtle sundae skyrocketed to fame in 2004, when it was featured on NBC's The Today Show and enjoyed by President George W. Bush on his visit to Holland. Try one, they're delightful.
Guernsey Farms Dairy – Northville
Some of the best chocolate milk you will ever taste is made by Guernsey so it should come as no surprise that the ice cream is incredible too. The company makes 48 flavors, and each is available every day. You can grab a stool at the soda bar, enjoy a cone to go, or pick up a carton to take home and savor later. Guernsey also has a full restaurant next door to the Scoop Shop that features homestyle classics made from scratch like buttermilk chicken, fried bologna sandwiches, pork chops, mac n' cheese, sweet potato fries, and house-made pickles, but don't forget to leave room for dessert.
Hill Top Soda Shoppe – Benzonia
When you place your ice cream shop in such an agriculturally-rich part of the state, you know you can get creative with your flavors. You never know precisely what you'll find at Hill Top, as they've created more than 300 flavors over the years. Each is made with local ingredients, so what's available on any given day, may have much to do with what's in season. Don't be surprised to find a flavor as uncommon as Tomato or as beloved as Chocolate Chocolate Chip. With all the fruit in the area, it's also a great place to find sorbet. You can even purchase pints and quarts to go. Enjoy a scoop or two then float on neighboring Crystal Lake or head north a bit to the beautiful Point Betsie Lighthouse.
House of Flavors – Ludington
When in Ludington, a stop here is an absolute must. As a bonus, the kids can have a real meal before delviing into ice cream, or just go straight for a scoop. There are forty flavors available daily, and some have a very Michigan twist like Bear Claw, Campfire S'mores, Mackinaw Island Fudge, Moosetracks, and the hilarious, but scrumptious Michigan Pot Hole. The décor is festive and fun, as is the town. Take a walk around before heading back to the beach or to the Sandcastles Children's Museum.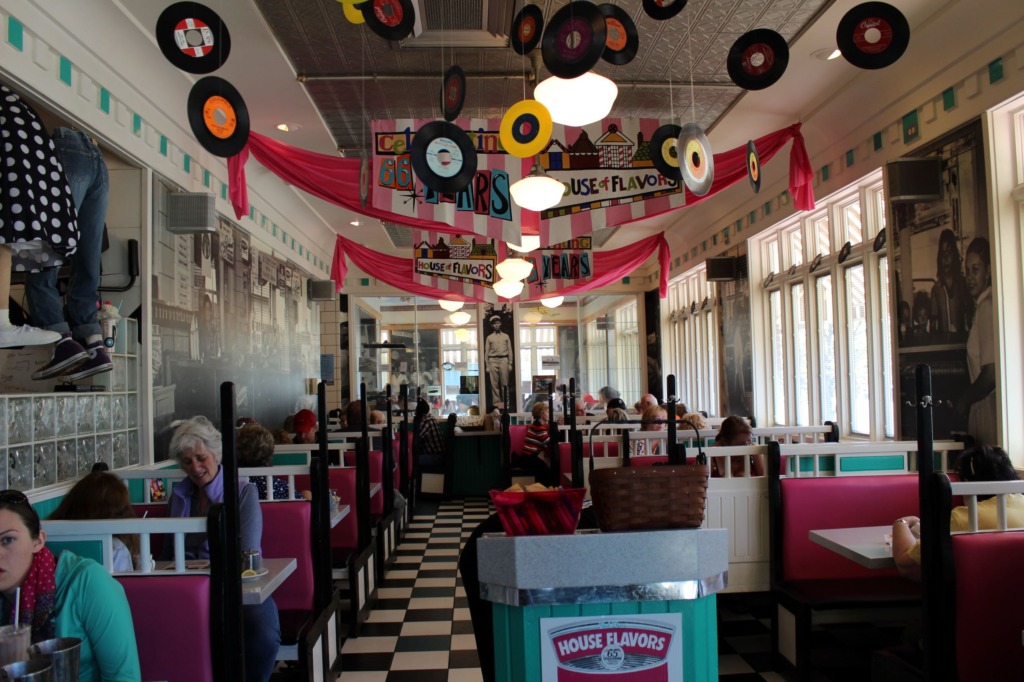 Jersey Junction – East Grand Rapids
The storied history of Jersey Junction makes it one of the few parlors to make this list that doesn't make its own ice cream. Not to worry though, Hudsonville provides the product from just about 30 minutes down the road. Nestled in the Gaslight Village of East Grand Rapids, this parlor is adorable.  Gaslight Village is the area that was once the home to Ramona Park, a popular amusement park in operation from the late 1800s to the early 1950s. Jersey Junction, which opened in 1963, is decorated with many old photos of Ramona Park. It was opened by Doris "Chris" VanAllsburg, who was the mother of author Chris VanAllsburg, who wrote and illustrated many children's books including The Polar Express. The parlor features an autographed model of the train, as well as another replica that runs along the ceiling. Another charming feature are the old fashioned school benches, decorated with names of countless patrons that have come through the doors over the years. Kids will love this spot, not to mention flavors like Bubblegum, Blue Moon, and Chocolate Monster.
Jones Home Made Ice Cream – Baldwin
This little parlor is a Michigan staple, and a little like stepping back in time. They've been serving sweet treats in Baldwin since 1942, smack dab in the middle of WWII. There are only a handful of flavors compared to many of the others on this list, but they make up for it in quality and freshness. The Butter Pecan is outstanding and Lemon Custard is refreshing on a hot summer day. Get a treat and wander around this very cute town for some souvenirs and antiquing.
Moomers – Traverse City
This small family-owned business overlooking the dairy farm has become a bit of a legend in T.C. They make more than 160 flavors of premium ice cream right at the store. Not surprisingly, among the best is the Black Cherry, or if you really want to kick it up a notch, try Cherries Moobilee. That delicious flavor features the Black Cherry as a base with chunks of black sweet cherries and brownies and a chocolate fudge swirl. If your favorite flavor isn't available on the day of your visit, let them know and they'll call you when it's ready.
MOO-ville Creamery – Nashville
There are four locations, but to get the full experience, head to Nashville where you can tour the dairy farm, watch robots milking cows, pet some baby calves, and take a selfie with Jodie the giant cow. They make over 80 hand-dipped flavors at the farm and have 40 rotating through to serve you on any given day. The Butter Pecan and Sea Salt Caramel are deliciously popular, or go for the Baconator, which has a maple ice cream base with chunks of bacon mixed in.
MSU Dairy Store – East Lansing
Mention this shop to any Spartan and you'll likely get a big grin. While the state-of-the-art dairy processing facilities serve as part of the curriculum, for most students and alum the magic is in the scrumptious output. For example, you can pick up some infamous chocolate cheese while you're there.  When it comes to ice cream, the freshly-made flavors are constantly changing. Don't be surprised to find a new flavor named after the opposition on football Saturdays. Get a scoop or two and then walk around one of the nation's prettiest college campuses.
Plainwell Ice Cream Company – Plainwell
Sandwiched between Kalamazoo and Grand Rapids, it's entirely possible that the best thing to ever come out of this little town is this spectacular ice cream. This family-owned gem still makes its ice cream right in the back of the store. More than fifty different flavors are on the menu, though some change seasonally. Interesting options include Caribbean Caramel (an English toffee ice cream with a caramel swirl and chocolate-covered caramel cups), Mud Pie (coffee ice cream with a fudge swirl and cream-filled chocolate sandwich cookies), and Praline Pecan (vanilla with a caramel swirl and sugar-coated pecans). While in the area, I highly recommend a visit to the Gilmore Car Museum, about 20 minutes away in neighboring Hickory Corners.