Wisconsin may be known for as the land of Cheeseheads, but that doesn't mean it's cornered the market on making or selling cheese, glorious cheese. In fact, it should come as no surprise that a state with well over 1,200 dairy farms may have a cheese passion of its own.
If you are a cheese lover, then we have a road trip for you. Michigan's cheesiest trail is on the sunrise side. There you will find whimsical statues of mice and even a cow, freshly-made cheese, imports from around the world, and even the town for which a very popular cheese was named. You may have guessed by now that we are talking about a region with Pinconning, Michigan's Cheese Capital, at the center of it.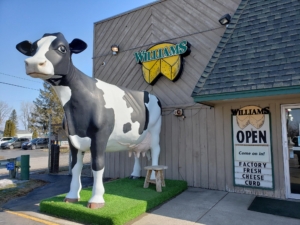 Williams Cheese Company
If you're coming from the south, there is a stop in Linden that you must make first. The Williams Cheese Company prides itself in being a 100% natural producer of cheese. There are amazingly flavorful cheese spreads like Buffalo Blue, Horseradish, and Spicy Cheddar Beer to name a few. The cheese curds are a spectacularly fresh treat. Be forewarned that if you open them in the car, they may never make it home. Perhaps one of the biggest reasons to make this stop is for the trim. When a block of cheese is cut and packaged, you are left with what is called trim. It's sort of like the leftovers, with perhaps an odd shape, but fresh and just as tasty. Depending on what's available on any given day, you may find Colby, Havarti, Pepper Jack, or any number of other flavors. The shop also stocks products from other Michigan companies.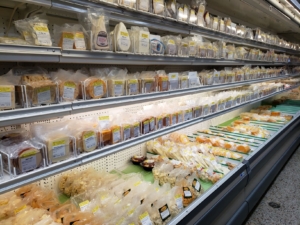 Wilson's Cheese Shoppe
Continuing north on M-13 for a little over six miles, will take you to the state's oldest cheese shop. It was established in 1939, and is of fairly good size. In addition to a gigantic wall of cheese options, you can also find just the right complements like crackers, pretzels, chips, sausages, fudge, and candy, much of which is locally-made. There is also a nice selection of Michigan wines, which is of course the perfect palate partner for cheese. Surprisingly, you can even find non-food items like hand sanitizer and gifts. If you're not sure what to cheese to select, or which wine to pair it with, this is a store where you can really find some expert advice. Kids will love this locale too, not only for the giant mouse statue, but the scrumptious ice cream selection.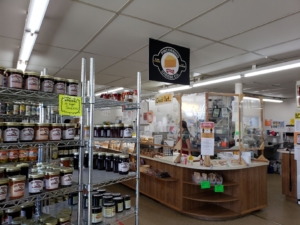 Pinconning Cheese Co. & Fudge Shoppe
If you've never tried chocolate cheese, then this is a good place to give it a go, with or without nuts. That shouldn't come as a surprise considering they include both cheese and fudge in their name. You'll also find lots of smoked cheeses along with spreads, curds, and string cheese. Among the more unique offerings are High Temperature Cheese and Amish Roll Butter. The former of which is specially made so it will not melt when cooked under normal temperatures. While the latter is a silky, hand-churned roll of butter packaged in old fashioned paper wrapping. This shop is also an excellent stop on a hunting trip. They carry an ample supply of sausages and jerky, but also have a deli counter where you can get a sandwich or even a hot beef pastie. Then, of course there's homemade fudge, which is nearly irresistible.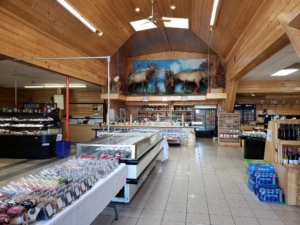 The Cheesehouse
Last, but by no means least, on our cheesy adventure is this rustic looking shop. To get there, head back south on M-13 and then west on Pinconning Road. If it turns out you are headed up north or down south along I-75 with time for only one quick stop then this may be your best option, as it's located right off the highway. The handsome exterior features wooden pillars and attractive stonework with an adorable mouse. Inside is a scene with ginat elk,  and lots of space to house the cheese impressive cheese selection, including Swiss, Brie, Havarti, Gouda, Jarlsburg, Provolone, Legruyere, and even Limberger. Plenty of Michigan-made products abound as well like jerky, sausage, jams, honey, snacks, and a solid selection of wine. This may also be the best place for the kids to capture a mouse selfie too.
Regardless of whether you make it to each store or only one or two, be sure you don't miss out on trying the infamous Pinconning Cheese. It is a Colby-style cheese that was first made by Daniel Horn on his nearby farm in 1915. It is available as cheese curds and in mild or aged many years, to sharpness levels of medium mild, medium sharp, sharp, extra sharp, and super sharp, which has been aged at least ten years.
If you find yourself heading North from this cheese belt, then you can avoid I-75 by staying on M-13 then taking M-23 east to the Lake Huron shore. It's a picturesque drive toward Tawas City where you can visit the lighthouse at Tawas Point State Park. Continue a little further north toward Oscoda and you'll find the eastern entrance to the River Road Scenic Byway, which is full of attractions to round out a day trip.
If, on the other hand, you are headed south, then consider a visit to Frankenmuth, which is less than an hour away. There you will find another superbly cheesy destination in the Frankenmuth Cheese Haus. This half-century old operation moved in recent years to a large and beautiful building featuring the first-ever Figurinespiel in Michigan's Little Bavaria. They have an enormous collection of cheeses from around the world, and closer to home. Be sure to check out their cheese spreads and try some Frankenmuth Cheese. This is also a perfect place to pick up a cookbook by local legend, Dorothy Zehnder.