It's a strange thing to experience cabin fever in the summer, and yet, in this most unusual of years, many people have. If you're among them then perhaps it's time to hit the road. How about exploring one of our state's lesser known scenic byways? The River Road National Scenic Byway is a 22-mile stretch between the Huron-Manistee National Forest and the tiny hamlet of Oscoda on the Huron shore.
Unlike some of our state's other scenic drives, this one involves less looking out the window, and more getting out and exploring. Consequently, while you can drive it in its entirety in under an hour, you can also make a day of it, especially with kids. Though, if you opt to go that route, bring a lunch as there are plenty of nice places to picnic, but not to buy food. It's also optional as to whether you drive east to west or west to east. If you opt for east to west, start early and you can catch the sunrise over Lake Huron in Oscoda. Then grab some coffee and delicious baked goods from the adorable Sunrise Kava Café and head on your way. At the end of the trail, pop over to nearby Rose City and visit the Faull Inn for some of the state's best pizza.
If it's more convenient to drive west to east, you may be able to look forward to a nice sunset from Lumberman's Monument looking out over the Ausable River, or if you get an early start, end your day splashing in Lake Huron. Au Sable, Oscoda and Greenbush have more than 20-miles of pristine, sandy beaches along the shore. The start of the drive is slightly trickier to find on the west end, but marked by a large sign as you turn southeast onto River Road from M-65, just south of Five Channels Dam Pond.
Not surprisingly, the River Road Scenic Byway follows along the Au Sable River, hence the name. The US Department of Agriculture Forest Service has identified thirty different attractions along the way, which are posted on signs or you may download this helpful pdf.  Though you many find not all of them merit a stop, here are four you definitely won't want to miss starting on the west end and heading east.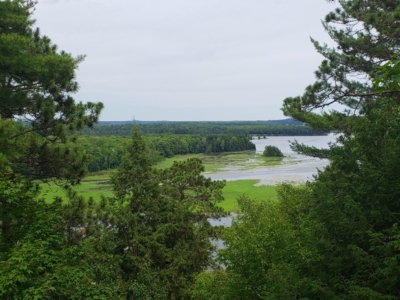 Westgate Overlook
This stop comes up fairly quickly after you get on River Road, and provides the first opportunity for a scenic view of the magnificent river below. The Westgate Welcome Center also introduces visitors to the River Road Scenic Byway, with helpful information of what is to come and where. The viewing decks are just a short walk so it's an excellent opportunity to get out if you, or your companions, are not up for much of a jaunt. They overlook Loud Dam Pond and are a nice spot to watch for a magical array of birds.  For the more adventurous, the nearby picnic area provides access to a hillside trail that reaches the Au Sable River.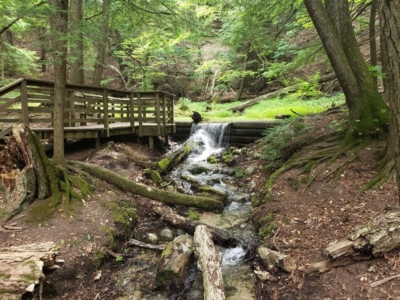 Largo Springs Interpretive Site
This spot is beautiful, with some historic significance. In the 1800s the springs were dammed to provide water to riverside logging camps. Today it is an outdoor education area where visitors can learn about the history, geology, plant and animal life of the area. It also features several viewing decks and a boardwalk path through the springs, which are formed from water that naturally flows up from underground. Down the stairs, there are places to get up close to the springs. The lowest deck provides a breathtaking view of the river. Be forewarned that there are 294 steps down to the bottom, but if you are able, the views are well worth it.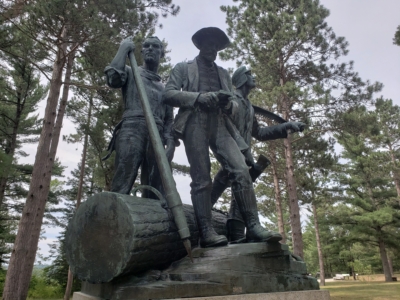 Lumberman's Monument
It's hard to determine which is more stunning here, the 14-foot bronze statue of three lumbermen, or the views overlooking the mighty Au Sable. The monument has been in place since 1932, to honor the incredibly hard-working men of the lumber industry who once built the economy of Northern Michigan. You can also climb through a log jam, use a peavey, cut a wooden cookie with a cross-cut saw, and learn about the life of these lumberjacks through videos and displays. There is even a stairway down to a wanigan, which is a loggers floating kitchen, and a nearby trail that leads to the dune observation deck.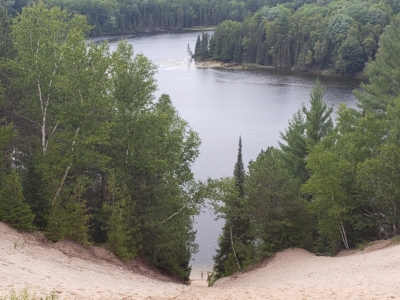 Foote Pond (Eagle's Nest) Overlook
One of the most famous overlooks in the Huron National Forest, the nest here has been used by a pair of bald eagles since 1985. It's not unusual to see eagles soaring over Cooke Pond. Experts say if you're hoping to get a look into the nest, it is best if you bring binoculars of at least six power. Aside from the eagles, this stop provides a spectacular view from the high sand bluffs overlooking Foote Pond. If you have the energy, it's a fun trip down the sand dune to enjoy the water below, like the folks in the adjoining picture. (Can you see them?) Just remember that climbing the sand back up is the only way to return, so you might want to stretch out first.
Along this journey, be sure to enjoy the beauty of the Huron National Forest that surrounds you. Look for deer as well as eagles, and breathe in that fresh woodsy air. While in the area, you'll also find fantastic horseback riding opportunities, swimming spots, tons of hiking trails, and of course some of the best canoeing and kayaking in all of Michigan.