There may be no more spectacular place on earth to soak in the magic of fall than Michigan's Upper Peninsula. There are seemingly endless opportunities to hike or bike through colorful forests. The root beer flowing over Tahquamenon Falls is particularly lovely when set against a palette of autumnal hues. The views from above Pictured Rocks, or from down below aboard a kayak or boat, are stunning. Head further west and you will find yourself at one of the most magical places of all, the National Black River Scenic Byway, also known as Black River Road or CR 513.
This hidden gem begins near Bessemer, just east of Ironwood, and winds its way north through the Ottawa National Forest until it ends approximately fourteen miles later at the gorgeous shore of Lake Superior. The drive alone is absolutely lovely through these deep woods scented by pine, but the truly stunning sights and sounds are provided courtesy of five beautiful waterfalls along the way. Pack a lunch and make a day of this glorious excursion.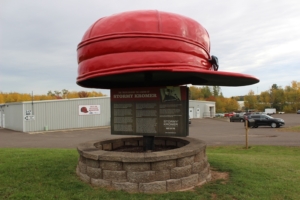 If you're looking for a good place to stay in the area, consider Ironwood. It's a little bit larger of a town so there are quite a few options. It also offers some unique places to explore. The makers of the famous Stormy Kromer caps can be found there. It's a great place to shop for winter gear, but also offers a free factory tour. Downtown Art Place is a really cool gallery showcasing work from local creators. You can typically find unique notecards, ceramics, jewlery, acessories, and home decor. Definitely pop across the street to Contrast Coffee for friendly service and a spectacular cup o' joe. If you want an absolutely scrumptious sweet delight, ask for the SISU, made with espresso, white chocolate, Macadamia nuts, spices, and milk. It will get your day started with a warm hug before heading northeast for your scenic journey.
While Black River Road extends further south to connect with US Highway 2 near Bessemer, the National Forest Scenic Byway designation starts at the intersection of Airport Road, also known as CR 204. It's just west of the Gogebic-Iron County Airport and north of the Big Powderhorn Mountain. Shortly after you turn onto Black River Road, you'll come upon signs for your first waterfall.
There are options to climb steps down along the Black River to gain a closer look at each of the falls, but most can also be viewed from above after a relatively short walk. There are easy to find markers before each trail to let you know how long the walk in is. Gauging the number of steps down and their condition is best done by eye. Fair warning, a rest in between may be helpful if you don't do a lot of climbing, your legs will feel it by the end of the day.
The Black River may not be traversable by kayak or canoe in the area, but it does offer ample fishing and hiking opportunities. Aside from driving to different locations and walking to one waterfall at a time, you can also pick a trail and hike between them up top or down by the river.
First up is Great Conglomerate Falls, followed by Potawatomi, Gorge, Sandstone and Rainbow falls. Great Conglomerate is a very large waterfall, which is divided by a wide rock formation, for which it is named. It drops approximately 30-ft and can be seen after hiking about 3/4 of a mile in.
Next up are Potawatomi and Gorge, which are both accessible from a common road, leading to two different parking lots. If you only have time for one stop, this is a good option to take in at least two different falls in a relatively short period of time. It's also worth noting that a restroom is available here.
Potawatomi is one of the most beautiful waterfalls on the Black River. It is about 1/8 of a mile to the viewing platform. Nearby Gorge, in a canyon with a 34-ft drop is also accessible after about a 15-minute walk. You can easily park in one of the lots and traverse from one site to the other. If you're spending the day, this may be a good lunch locale.
The views along the river, especially in autumn are a sight to behold, even when you aren't near a waterfall. Sandstone Falls pops up in a particularly delightful spot. You can find it meandering over rocks after a trek of about 1/4 of a mile. Last up along this byway is Rainbow Falls. It's absolutely worth the trip in, but is a bit further at a half mile, and the steps down are significant. This is especially true if you have been climbing down to each of the falls along the way.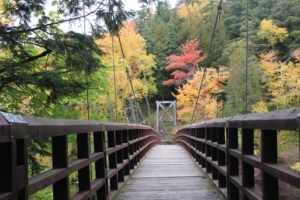 Shortly after Rainbow Falls, the byway journey ends, but with a delightful surprise. The park at the harbor is charming, and in the fall it's filled with yellows, oranges, and reds. It is the only harbor and marina operated by the USDA Forest Service in the lower 48 states.There are picnic tables, restrooms, and some fun trails. The focal point is a 210-ft suspension bridge that leads you across the river out to a path to view Lake Superior. The cool looking bridge was originally built in 1938, with some reconstruction in 1968, and other improvements in 2009. It has stone supports at both ends, steel cables, and 1-ft square timbers reminiscent of old railroad ties. It's not particularly high, and quite sturdy, so it's an easy walk across to take in the view, even for those who aren't typically fond of suspension bridges or heights.
If you are fond of heights, or are at least willing to endure them for a breathtaking view, then there's one more stop you need to make. Either before or after you explore the waterfalls, head over to Copper Peak, the only ski flying hill outside of Europe. It's off of a street that is adjacent to Black River Road and is very easy to locate. There you will find a bucket list-worthy escapade.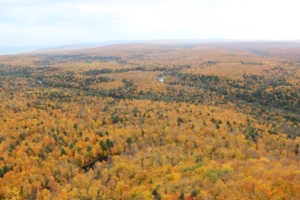 The Copper Peak Adventure Ride lets visitors rise to the same heights as the athletes who have flown down the hill in years past. You can purchase tickets on site, based on availability, though it is a good idea to reserve your spot online in advance. Tickets are $22 per adult, $8 each for ages 5-14, and free for kids under 4.
The fun begins with an 800-foot chair lift ride to the crest of the hill, which is a 360-ft copper-bearing volcanic outcrop. Then you can hop aboard a tiny elevator and travel 18 stories up to the main observation deck. The views from both the crest of the hill and the observation deck are spectacular.
For an extra thrill, climb steps up the additional 8 stories to the starting gate at the very top of the structure. Once at the top, you'll find the highest, most awe-inspiring, unobstructed vista in the Midwest. Overlooking more than 2500 square miles, even Isle Royale, Minnesota, and Canada can be visible on a clear day. Even on a cloudy day, the colors below are astounding.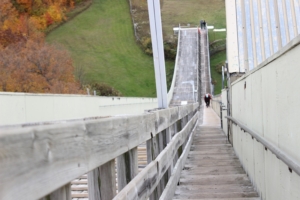 True thrill-seekers can stare down the barrel of the jump, imagining how their heart would race before speeding down on skis. If you're feeling particularly bold, skip the lift, and walk back down the side of the jump to truly grasp the immense bravery it would take to fly down over icy snow for the first time, before going airborne. Make a good shoe choice, though. While I highly recommend the walk down, it's not advisable to do accidentally do it in heels like I did.
Whether you go all the way up to the starting gate, or just take the chair lift to the top of the hill, a visit to Copper Peak in the fall is an experience you will long remember.