Each November, the MSU Product Center, part of Michigan State University's College of Agriculture and Natural Resources, brings together food producers, buyers, and representatives from supporting entities for Making It In Michigan. Part trade show expo and part educational conference, the Lansing event seeks to advance the success of agricultural-related endeavors in the state. The 2018 gathering is now in the books, and we're taking a look back at the highlights of the day.
This year I had the privilege to serve on a panel for one of the conference sessions, but even when I don't have formal responsibilities, I always enjoy coming to this event to discover products I don't yet know about, network, and learn from these entrepreneurs about how our campaign can best serve them.
Part of what makes this event so intriguing is the opportunity to hear so many different stories about how old family recipes made it into commercial production, or ideas that seemed impossible that are now becoming a family's livelihood. Each entrepreneur's story is inspirational, whether you fall in love with the product or not, and in most cases, you do.
Take Cashew Queens, for example. Owner Tee Thompson was on a trip to West Africa when she discovered that the majority of their cashews were being harvested by women, in life-threatening conditions for deplorable wages. Unable to shake the images, Tee took it upon herself to learn more, find a partner in a local tribe, buy a farm, import her nuts, and roast them locally. She made working conditions safe, pays a living wage, and has even helped with educational and medical needs to give the women she employs oversees a bright and productive future, while establishing a new business in Michigan.
While Tee made a dramatic turn in a long career to suddenly become a nut farmer, Brianna MaKaric is just getting her career started. She has embarked onto an entrepreneurial journey, while still a student at MSU. Increasingly aware of the move toward healthy, natural food options, Brianna decided to create a tasty on-the-go source of those ingredients, the likes of which she had not seen anywhere. BRITE bites is an all-natural probiotic snack bite company that is producing three different flavors of round snacks called "bites," which are comprised of nuts, fruits, and ingredients commonly deemed "superfoods."
Aside from great stories, there are also always a host of unique products worth a taste or two or ten. Did someone say sea salt chocolate chunk cookies from Avalon? Have you ever tried popped sorghum? This grain, which can be popped in a manner similar to corn, is popular in Africa, Central America, and South Asia. Still not sure if you want to give it a go? What if I mentioned that these Poplettes from M & R Ventures come in flavors like Bollywood Masala and Cocoa Cinnamon? Consider washing your snacks down with one of the incredibly unique St. Steve's Cordials & Sodas from Mud Lake Farm, which are made from the elderberries and ginger they grow.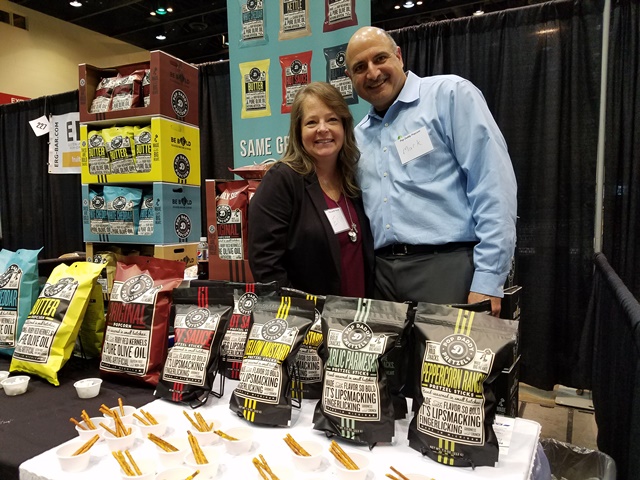 I'm definitely not the only attendee to this annual event that tastes and picks a few favorites. Westborn Markets teams up with the MSU Product Center for the Next SKU Could Be You Contest. Up for grabs are three product placement spots with guaranteed shelf space for a year at all three Michigan Westborn Market locations. I'd like to extend my congratulations to this year's deserving winners: gourmet flavored pretzels from  Pop Daddy Popcorn, small batch granola from Tenera Grains and cheese spread from Oh So Cheesy.
The final highlight of the day belonged to Suzi and Scotty Owens, proprietors of Scotty O'Hotty. The pair was honored as Entrepreneurs of the Year at the 2018 conference. Over a seven-year journey, they have created a recognizable brand, won a wide breadth of quality awards, expanded the line from hot sauces to include salsas, built their own production facility, and extended their market reach to retailers across the country. It's easy to see why they were chosen.
Whether you're growing your own food business, or are just a passionate foodie, this event is a good one to put on the calendar. It will return again to the Lansing Conference Center on November 13, 2019.