After a long winter often filled with gray skies, brown grass, and bare trees, there is something truly spectacular about strolling through a Michigan garden in the spring. While these annual color tours may delight most adults, kids sometimes lose interest part of the way through. That's why we've identified five botanical treasures that will delight your senses, and keep kids entertained.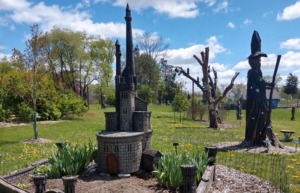 Leila Arboretum – Battle Creek
This West Michigan gem dates back to 1922 when Leila Post Montgomery, widow of cereal magnate C.W. Post, donated 72 acres of land to the city of Battle Creek that had formerly been the site of the Battle Creek Country Club. It took nearly fifty years to develop, but the resulting botanical gardens are now covered with more than 2,000 flowering shrubs and trees. The arboretum's Kaleidoscope Garden is especially popular with children. It is a 1.5-acre enclosed garden and pavilion, offering a variety of educational programs and a perfect location for family picnics or birthday parties. An even newer, and very cool attraction is the Fantasy Forest. Once a grove that was home to about a hundred and fifty Ash trees, this 1-acre space has undergone quite the transformation. Invasive Emerald Ash Borer insects tragically killed the trees, but instead of cutting everything down, the Leila Arboretum Society got creative. They invited artists to create mystical wooden sculptures. Now the area is home to wizards, castles, dragons, and other creatures that will spark imaginations and make for some great photos.
Getting hungry? Head over to Clara's on the River. The eatery is in a repurposed Michigan Central Railroad Depot that was built in 1888. The cool surroundings aren't the only attraction kids will love—so is the menu. They serve up scrumptious burgers, fried chicken, and fajitas, alongside some more sophisticated options that grown-ups will also enjoy.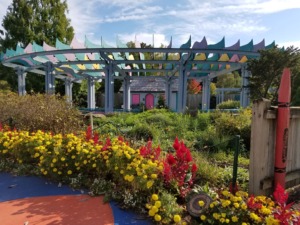 Michigan 4H Children's Gardens – East Lansing
Fans of flora and foliage have often visited the W.J. Beal Botanical Garden at Michigan State University, but many are unaware that across campus there is also a special botanical space created with little ones in mind. Comprised of nearly 100 theme gardens and areas, the 4-H Children's Gardens are a sheer delight. The themes are familiar to kids and designed to make a connection between them and the plants. Examples include: Teddy Bear and Animals, Crayon Color, Train, Storybook, Enchanted, Butterfly, Pizza, Spitting Frogs, and an Alice in Wonderland Maze. There are even some tiny spaces that only little ones can fit into, creating a truly unique experience. Guests are welcome to bring a picnic and dine in the creation station area.
If you prefer a change of scenery, head downtown to see the Capitol and pop into nearby Grand Traverse Pie Company for lunch. You'll find soup, sandwiches, quiche, or mac 'n' cheese. Plus, of course, there's pie!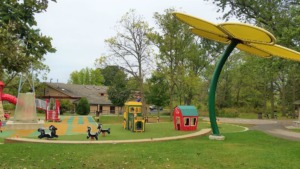 County Farm Park – Ann Arbor
From East Lansing to the east side of the rival town of Ann Arbor, this special space, nestled in a neighborhood, is nearly a secret garden. Once home to a poor house and insane asylum nearly two centuries ago, it is now a space of peace and joy. It includes 120 scenic acres, and is home to rabbits,  woodchucks, skunks, and pheasant, as well as numerous other bird species. You might even see a fox or deer. The whimsical farm-themed playground is an ideal spot for kids to wile the away hours. There are also over three miles of paved paths and other trails to explore, including an 18-station fitness trail where kids and adults alike can test their skills.
After your crew has worked up an appetite, take a little jaunt over to Zingerman's Roadhouse. You'll recognize it from the vintage metal trailer out front, serving up to go orders. Stop here first to pick up a carryout before the park, or drop by after for dining room service. You'll find phenomenal sandwiches, salads, burgers, and BBQ on the menu, and that signature Zingerman's service is always in season.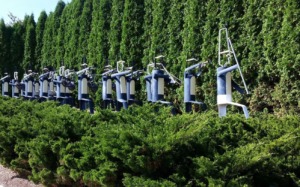 Frederik Meijer Gardens & Sculpture Park – Grand Rapids
If the plants don't hold their attention, the art surely will at this iconic Grand Rapids destination. Three indoor conservatories, including carnivorous, tropical and arid gardens, and several outdoor themed areas, including an elegant Japanese garden and multiple nature trails make up this 158-acre space. The permanent sculpture collection features nearly 300 works both inside and out. The greatest concentration of which are featured in a 30-acre sculpture park. There is something unique to discover around every corner. Of special note for families are the Caterpillar Room, David & Carol Van Andel Children's Gallery and the Lena Meijer Children's Garden.
You can enjoy a bite to eat on site at the James & Shirley Balk Café, with its dazzling glass ceiling sculpture by renowned artist Dale Chihuly, or pop over to nearby Licari's Sicilian Pizza Kitchen, which was once named best pizza in the state by MLive.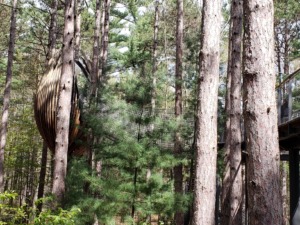 Dow Gardens – Midland
When it comes to family fun at a botanical garden, it is hard to top this dazzling 110-acre display of flowers punctuated by bridges, an award-winning children's garden, towering pines, and water features. Tell the kids to keep an eye out for turtles in or near the water. Whiting Forest is particularly engaging. Step out on the nation's longest canopy walk, which is 1,400-feet, and soars up to 40 feet above the ground. It shoots out in multiple directions, affording a variety views. What's even more entertaining are the attractions attached to the canopy walk. You can lay down on a cargo net and watch how much the pines above you sway, or step into one of the wooden pods and fully feel that movement. Climb cargo nets to test your pirate skills. A nearby playground enhances the experience, as well as trekking through the deep woods.
Afterwards, go enjoy the small town charm of downtown Midland. Visit the Tridge, a unique spot jetting out from the Farmers Market where three bridges are joined together. Shop the unique boutiques, check out Dow Diamond, take a look at the stunningly beautiful courthouse, and partake in a meal at Witchcraft Taproom. Kids can enjoy hot dogs, paninis or a gooey grilled PB&J, and adults can savor one of the area's best selections of Michigan-made beer, cider, wine and spirits.