On the surface, the MSU Product Center's annual Making It In Michigan conference and trade show may seem like an event that is just for people with agricultural-based businesses to attend. Yet, the trade show is actually one of the state's best kept secrets for foodies and entrepreneurs of any ilk. Where else can you get a free meal that's comprised of samples ranging from air fried asparagus nuggets to plant-based chicken curry to plantain chips to nitro-frozen ice cream?
The trade show portion of the Lansing event is open to the public and it's a really cool place to taste the latest food and beverage products that innovative Michiganders are bringing to market. It also presents a unique opportunity to mix and mingle with lots of spirited entrepreneurs and hear their stories. While it's always difficult to narrow them down, six of my favorites this year are a combination of tasty products and cool stories.
Three brothers have blended their unique talents to create a line of unique, handcrafted organic teas. One is a well-traveled former priest, one is a mathematician and organic master gardener, and the other is an entrepreneur and builder. Together they are creating special flavor profiles with high quality ingredients from around the world. They travel to each of their suppliers to get to know them and how they run their businesses, before buying from them. A few examples of some of these special organic blends include Turmeric Ginger Green Tea, Cream Earl Grey Black Tea, and Vanilla Rooibos Tea. The loose leaf teas are even wrapped in Non-GMO compostable sachets to protect our environment.
Yet another tea-lover, created a concept that is refreshing, both in sips and sensibility. Inspired during the pandemic, founder Victoria Zalokar Rieth, also known as Tor, worked to find a way to make a refreshing beverage, that was also restorative. Recognizing that natural supplements can provide a lot of support to our bodies and minds, but are not always easy to handle by the handful, Tor had the idea to blend fresh liquid forms of natural supplements with a friendly tea base. Produced in the incubator kitchen at the Downtown Market in Grand Rapids, the tonics incorporate healthy ingredients like ginger, turmeric and mushroom extract. The results are both tasty and good for you.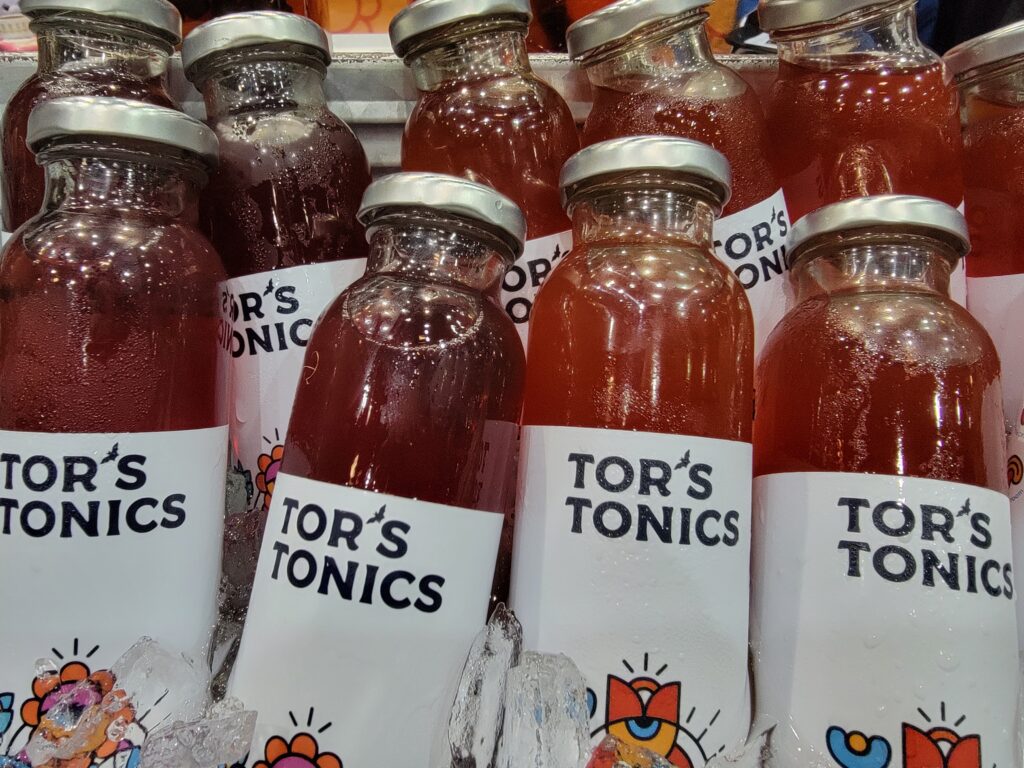 While these products are also rich in nutrients, there are several other factors that make this entity truly unique. First off, it's a nonprofit venture. Why? Because in addition to creating a delicious product that might be helpful to folks on the go, their mission is to make Nuttycal, which is a nutritionally complete meal, available for free to those who need it most. That would be children and adults who face challenges due to low calories or poor dietary intake due to poverty, displacement, wars, etc.
Designed by a pediatrician and a pharmacist, Nuttycal is a nutrient-packed peanut and quinoa spread. It comes in original, chocolate and raspberry flavors. Each contains 22 essential vitamins and minerals. It's gluten-free, cholesterol free, without added sugar, without additives or preservatives, and rich in antioxidants. Imagine this as an option for seniors who have lost their appetite or malnourished children who lack access to healthy foods.
This product is just plain fun. With an ongoing rise in people looking to reduce their carbs, eat gluten-free, or stay on a Keto diet, this chip is crispy and versatile. It's the brainchild of a couple of caterers who worked together for over 20 years. They start with thinly-sliced salami. Then cook it in perfectly heated oil. The chips are then placed in state-of-the-art packaging to preserve the taste and texture. The taste is definitely that of salami, while the texture is delicate and crispy. These chips, while tasty on their own, will definitely kick any charcuterie board up a notch. Plus, you kind of have to appreciate the meat the crunch slogan.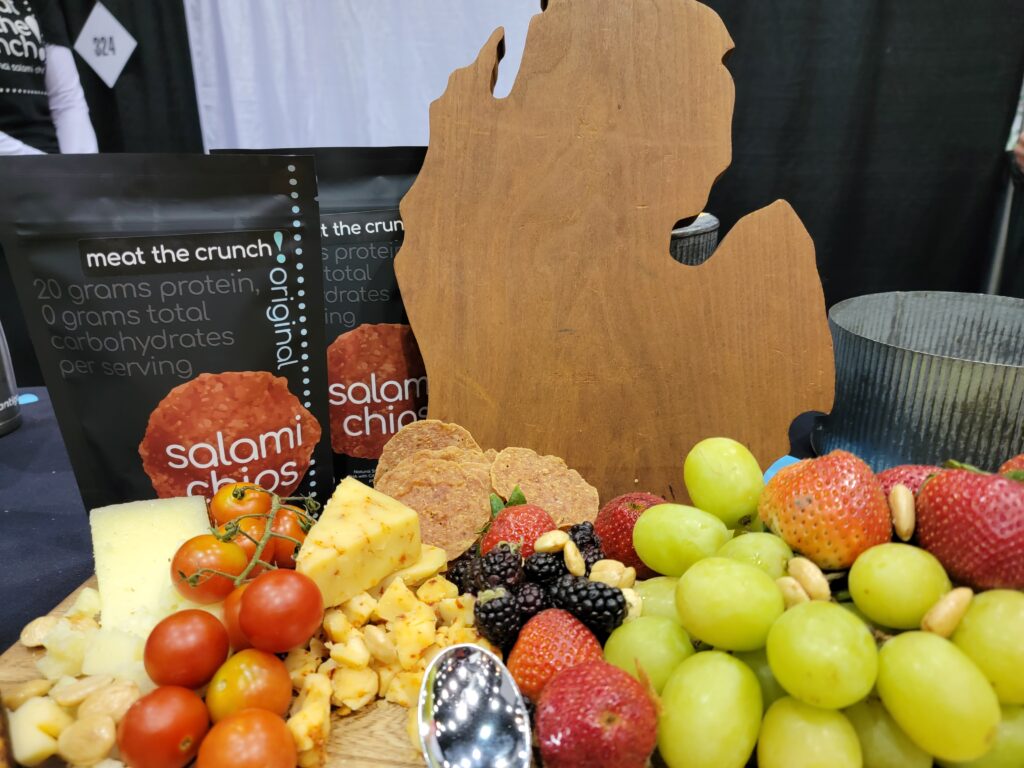 To many Americans this company's bevy of products will be completely foreign, but in Asia, popped water lily seeds are a much more common treat. Found in ponds throughout Asia, these seeds start out as pea-sized kernels which are harvested and roasted. The result is a puffed snack that packs a crunch that rivals popcorn. Karma Wellness Kitchen has enhanced them to create rich flavors like Spicy Masala, Tumeric, Vegan Cheese, and even Chocolate. These addictive treats will definitely up your snack game.
Talk about two things that don't seem to go together–Aruba and freezing? In this case, they certainly do. It makes sense for an idea that was born in Aruba and made in Michigan. While vacationing in Aruba, the founders got to wondering what they could bring to the island that didn't already exist. The answer was flash frozen ice cream. It's fun to watch to watch them hit the ingredients with Nitrogen, but eating it is even more fun. Flavors include Ooh La La Lemon, Coco Loco, and the crowd favorite Aruba Mango Bango. Look for this family venture coming to a store near you, or at an event where their ice cream truck, Nelly, is ready to serve.
This show has helped launch popular brands like Ethel's Baking Co., Pop Daddy Snacks, and Little Diablo Salsa. At the end of the event, several of the MSU Product Center's retail partners offer store shelf opportunities to company's whose products they really liked. Look for products like those highlighted here, and more, coming to a store or event near you. Or, you can be among the first to try them by buying online.