What was once a small chain of Plum Market grocery shops has gradually expanded into several go-to destinations around Metro Detroit. The latest of these Plum Market Kitchens has now opened in the Henry Ford Museum of American Innovation.
Plum Market Kitchen is a small-format spin-off of the full organics-focused grocery stores with which the company started. It now has Plum Market Kitchens at several universities, Detroit Metropolitan Airport, the Henry Ford Detroit Pistons Performance Center, the Ally Detroit Center downtown, and now in Dearborn.
The partnership with The Henry Ford is in keeping with each entity's goals and values. Like Plum Markets, the museum complex has long been known for its dedication to locally-grown and produced goods as well as innovative concepts.
The new dining experience opened to Henry Ford Members only on February 12, and to the public on the following day. It features Plum Market Kitchen's chef-crafted cuisine and Zingerman's coffee and baked goods.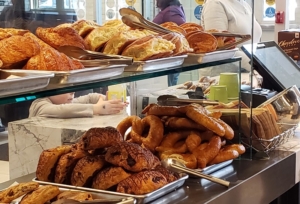 In addition to an aesthetically impressive dining space with windows facing the outside on one side and the museum on the other, one of the coolest aspects of the new space is that it has its own entrance to the public. That means there is no admission fee to be able to go in and enjoy the eatery. In fact, the bar area includes outlets underneath the counter, making it an ideal destination for working with one's tech devices, while soaking up inspiration from some of the greatest innovators in history.
Taste and take-home products are available from a variety of local vendors, including The Henry Ford's Hobo Bread, Greenfield Village specialty foods and other Michigan favorites from producers like Sanders and Great Lakes Potato Chip Co.
For more significant fare, there's a carving station featuring options like golden shrimp, cedar plank salmon, and beef pot roast. Exclusive legacy recipe dishes include Street Tacos, Soy Bean Apple Salad, Baked Party Potatoes, Grandma's Potato Salad, Cali Kale Wrap, Fruit & Cottage Cheese, Chef's Salad, and All Natural Housemade French Onion Soup.
Plum Market Kitchen at the Henry Ford Museum of American Innovation is located at 20900 Oakwood Blvd, Dearborn, MI 48124. It is open daily from 7am-5:30pm. Henry Ford Members are invited to show their card to save 10% on fresh menu items, Zingerman's coffee and pastries, and kid-friendly options.