You don't have to adore cars or racing to truly enjoy the latest exhibit to make its home at the Henry Ford Museum of American Innovation, but if you do, then you'll really love it. Appropriately nestled between the Heroes of the Sky and Driving America exhibits, you'll find the new attraction, Driven to Win: Racing in America, which is presented by General Motors. From soap box derbies to drag racing to Indy cars, and many more, this is an interesting look inside the technology, innovation, and heart that it takes to cross a finish line first.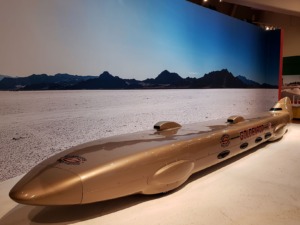 Right off the bat, the cars are pretty cool to see close up. You can get a real feel for the size of what is more or less a cockpit in each of them, in a way that is more revealing than on a TV screen or from a grandstand. My personal favorite was the shockingly long, yet slender, Goldenrod, poised in front of salt flats. It held the wheel-driven land speed record from 1965 to 1991.
If you're an auto enthusiast, then you'll appreciate the detailed descriptions of innovations that took a car from barely contending to winning. If you're a racing aficionado then it's thrilling to relive memories of past victories or just imagine yourself behind the wheel of one of these remarkable vehicles.
Fortunately, you don't have to just imagine it though. A simulator experience at the center of the exhibit gives 6 participants an opportunity to test their racing acumen against each other. Entrance to the Driving to Win exhibit is included with your museum admission, but participating in the simulation requires a fee of $8 per person or $6.75 for members of The Henry Ford. Bystanders can walk around to an open area for a glimpse inside the competition, or watch it unfold on a large screen.
Nearby the simulator is an equally entertaining, but easy to overlook area labeled Driver Training. There you can test some of your own driving skills for free and, at least in my case, find out just how far away you are from being the next Scott Dixen or Danica Patrick. Interactive games give you the opportunity to test your eye-hand coordination, and steering wheel reaction times. It's a fun, and potentially humbling experience.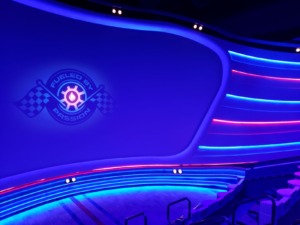 Another element not to miss is a 15-minute film that follows the trials and tribulations of some drivers and pit crew members. The unique, multisensory theatre created for this spectacle truly enhances the experience. The sounds and lighting are exceptional, and you just may feel a crash if it happens.
All in all, this new permanent exhibit to the museum is a must see on your next visit. It contains 225 artifacts, 22 racecars, and plenty of interactive experiences. The stories are stirring. The technology is ever-evolving. The subject of cars and racing is merely a vehicle to inspire our own dreams, whatever road they take us down.