Consumers in all 50 states and 18 international markets know the convenience of Little Caesar's Hot-n-Ready pizzas. I personally can make a meal out of their Crazy Bread. It was quite interesting to me to find out that this famed chain all started with a blind date.
Mike Ilitch was born in 1929, in Detroit, to Macedonian immigrants Sotir and Sultana. Sotir was a tool and die maker, and the family lived quite modestly. Mike graduated from Cooley High School and served in the US Marine Corps for four years. When he returned home, he signed with the Detroit Tigers and played in the minor leagues from 1952 until 1955, when he was forced to retire due to a knee injury.
In 1954, Mike Ilitch headed off on a blind date, arranged by his father. The young lady, Marian Bayoff, was also the daughter of Macedonian immigrants, only four years younger than Mike. It must have been magical because they were married in 1955. Their oldest child, Denise, was born later that year, and son, Ron, was born two years later.
In 1959, Mike and Marian invested their life savings into their first pizza store located in a strip mall in Garden City, a suburb of Detroit. The establishment started simply. Marian even recorded their first sales in a spiral notebook. They sold 49 pizzas on their first day open, where they also offered hot dogs, shrimp, chicken and fish. Mike wanted to name the store Pizza Treat, but Marian wanted to name it Little Caesars, which was her nickname for Mike. They compromised and the first official name was Little Caesars Pizza Treat, but it was eventually shortened to Little Caesars. The first logo was created by Mike and Marian's friend Don Silverstein, who sketched the iconic character on a napkin.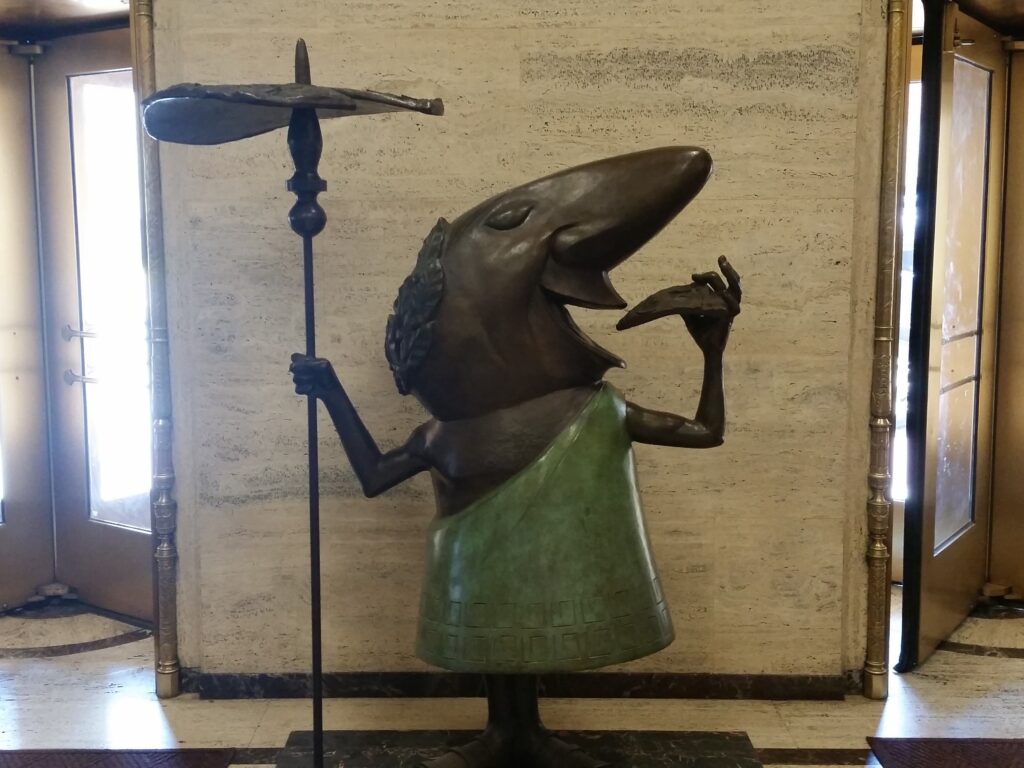 In 1962, the first franchise opened in Warren, Michigan. The decision to make their restaurants a franchise allowed Little Caesars to become the fastest-growing pizza chain in the United States. That same year, the logo became a 3D figure that was used in the outdoor signage. In 1967, Little Caesars opened their first Detroit location, and it continued to grow from there. In 1969, the chain celebrated the opening of their 50th restaurant, and also went international with a store in Canada.
The Ilitches constantly looked for ways to innovate and make their product better. In 1971, they purchased a mushroom farm to improve on the quality and pricing of their pizzas. Little Caesars Mushroom Farms, Inc. would eventually expand to become a full-service distribution company.
In 1979, the famed Pizza! Pizza! phrase was coined. It came from an offer of two pizzas for the price of one. They were served in a single, long package, sitting side by side, which I found interesting. The expression became Little Caesar's slogan everywhere, except in Canada, where there is an actual pizza chain with that name. The catchphrase fell out of use when the company changed advertising companies.
In 1985, Little Caesars began traveling the country, providing free, hot pizza to the hungry, homeless and disaster survivors. The mobile pizza truck has fed more than 2 million needy people to date.
The Ilitches constantly gave back to the community. When Rosa Parks was attacked in her Detroit apartment in 1994, Mike quietly paid years of her rent so she could live in a safer part of the city. They began the Little Caesars Amateur Hockey League, giving many young athletes a chance to play. That league is one of the country's largest and most respected. They also founded the Little Caesars Veterans Program to provide honorably discharged veterans with business opportunities. This came after Mike was inspired by a veteran who lost both his legs.
By 1988, the company had locations in all 50 states, Canada, and the United Kingdom, so they started with national television ads. A year later, they renovated the Fox Theatre Building in downtown Detroit, and moved their world headquarters there.
In 1997, the Ilitches were innovating again by becoming one of the first chains to use rotary air impingement ovens soon after they were invented. They also introduced Hot-N-Ready pizzas. This started as a brief promotion but soon changed the business model for the company, as they became more of a carry-out restaurant. In 1998, they filled their largest pizza order to date when they made 13,386 pizzas for the VF Corporation of Greensboro, North Carolina for a midday pizza party for 40,000 of their employees. That's a lot of pizzas! Interestingly, in the late 1990s and early 2000s, many Little Caesars could be found in K-Mart stores.
Mike Ilitch died on February 10, 2017, and Marian continued to run the company. A year later, the original Garden City location closed, and in 2000, Chris and Denice Ilitch, Mike and Marian's oldest of seven children, were appointed as co-presidents.
There are now 4,000 Little Caesars stores in the United States, including locations in Asia, the Middle East, Latin America and the Caribbean. What a great accomplishment for one family. I love a quick Hot and Ready Pizza! Pizza! especially when taking my nieces and nephews on a picnic, but still prefer the Crazy Bread.