This will undoubtedly be an unusual holiday season with many event cancellations due to the pandemic, but that doesn't mean there aren't plenty of cool ways to celebrate. This is a particularly good year for drive-thru events. Be sure to check with event organizers to make sure times and availability have not changed. Mask up and head out to enjoy a few of our favorite things like these 12 things to do in Michigan in December 2020.
Pick a weekend and enjoy one of Michigan's finest traditions. Stroll along paths lit with lanterns. Soak in the smells of roasting chestnuts. Warm up by a roaring bonfires. Enjoy carolers, fiddlers and bustling yuletide activity. For safety's sake there are a few changes this year is no ice skating, nor rides by carriage or Model T. Yet you can still enjoy free carousel rides and decorated homes and shops. Watch for holiday vignettes performed by actors in period attire. You'll also find live musical performances, cooking demonstrations, and artists at work. Christmas trees and greens are for sale. Santa and his reindeer are there too. Plus, a fireworks finale and sing-along. The event runs Dec 4-6; 11-13; 15-23; and 26-28. There is a limited capacity so get tickets soon.
Make memories to last all year on an evening drive through historic Crossroads Village, which is magically vibrant with over one million twinkling lights. See displays of your favorite holiday scenes as Christmas music fills the air. The drive-thru spectacle is open from 5PM-9PM Dec 4-7; 11-14; 17-24; and 26-30. Admission is just $10 per vehicle.
For over two decades this annual tradition has been providing glee while it glows. Explore nearly two miles of festivities featuring over two million lights and more than 50 animated displays. The event runs from 5:30pm-9:30pm Sunday thru Thursday and is extended until 10pm on Fridays and Saturdays. Drive your own vehicle through for $25, or for a 360-degree view underneath the night sky, hop aboard the Memory Lane Train experience. A $60 ticket buys a row, which seats 4 adults comfortably, and small children may sit on laps for free. There are only 3 rows of seats available for each train ride to allow for social distancing, so make a reservation fast before they sell out.
Dec 1-Dec 31 Nite Lites – Brooklyn

NASCAR speedsters aren't the only ones that have a reason to head to Michigan International Speedway this year. Jump in your car or truck and race on over for some holiday cheer. Admission is $25 per vehicle Sunday thru Thursday and $30 on Fridays and Saturdays. There are two US-12 entrances. For westbound use the Lot 8 entrance or for eastbound use the Graves Farm entrance.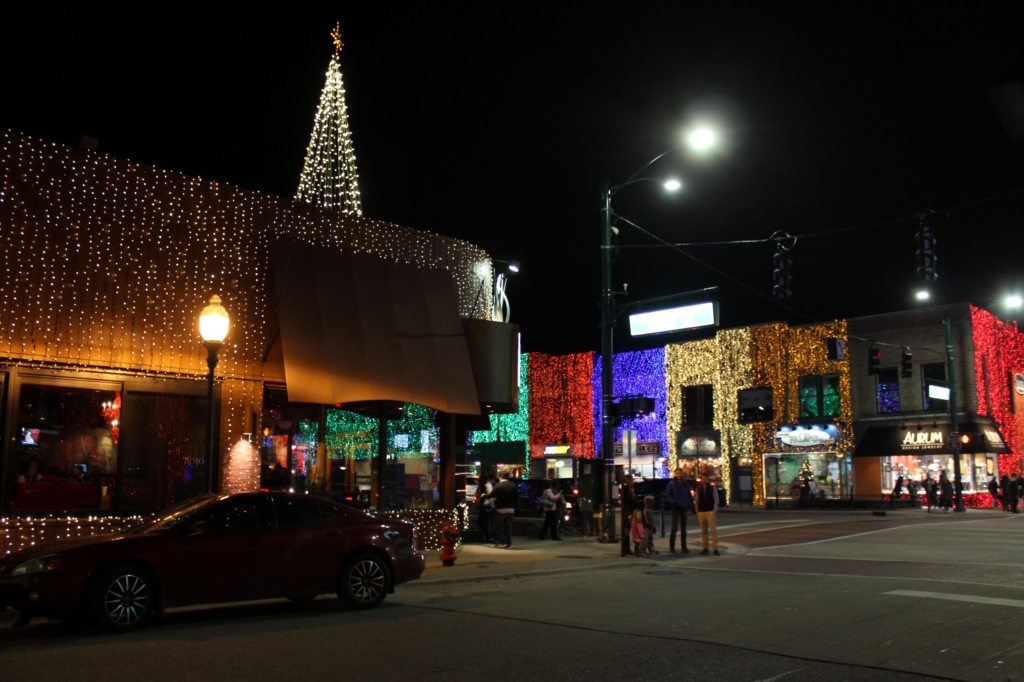 Many towns in Michigan create festive light displays for the holidays, but few do it quite like this one. The buildings in downtown Rochester will be covered with more than 1 million points of glimmering holiday light. Order a carryout from one of the many fine eateries in town, then bring the whole family to see the spectacle when you pick it up; or choose an evening for some shopping at their small, independent stores. Check with your favorite shop or restaurant in advance to determine guidelines and hours.
Dec 1-Jan 3 Wild Lights – Royal Oak

The Detroit Zoo will be aglow for 32 magical nights with more than five million LED lights illuminating trees, buildings and over 280 sculptures throughout the front half of the park. Experience the magic of the Detroit Zoo in winter as you take in the lights, sights, and sounds of the season. Due to the pandemic capacity is limited nightly to 2,000 guests with no more than 1,000 in the park at any one time. Dining locations will be open for outdoor seating only. The 4D Theater experience and Winter Rink will be closed, yet the joy of the season will abound.
In its 16th year, Sparkle in the Park features more than 80,000 lights set up in nearly 50 holiday displays including angels, Christmas trees, Santa and his reindeer, a salute to troops, snowmen, various animals and several Christmas scenes. It's all arranged in Bear Lake's Hopkins Park, US 31 corridor, and village homes. Sparkle in the Park is free, though donation boxes are available near Toyland Bear Lake for those who wish to make a contribution to help buy material for next year's event. Enjoy it daily from 5pm-10pm, and leave a little contribution behind if you're able.
If you're in the Upper Peninsula, arguably the best lights to see are those of the Northern persuasion, namely the Aurora Borealis, but that takes a bit of luck. A sure bet is to head to the Carter's place. This generous family has been inviting people to their home for years to walk through their display. The house is nestled in a heavily wooded area that is chock full of lights and decorations. Bundle up and enjoy some good old fashion Yooper hospitality.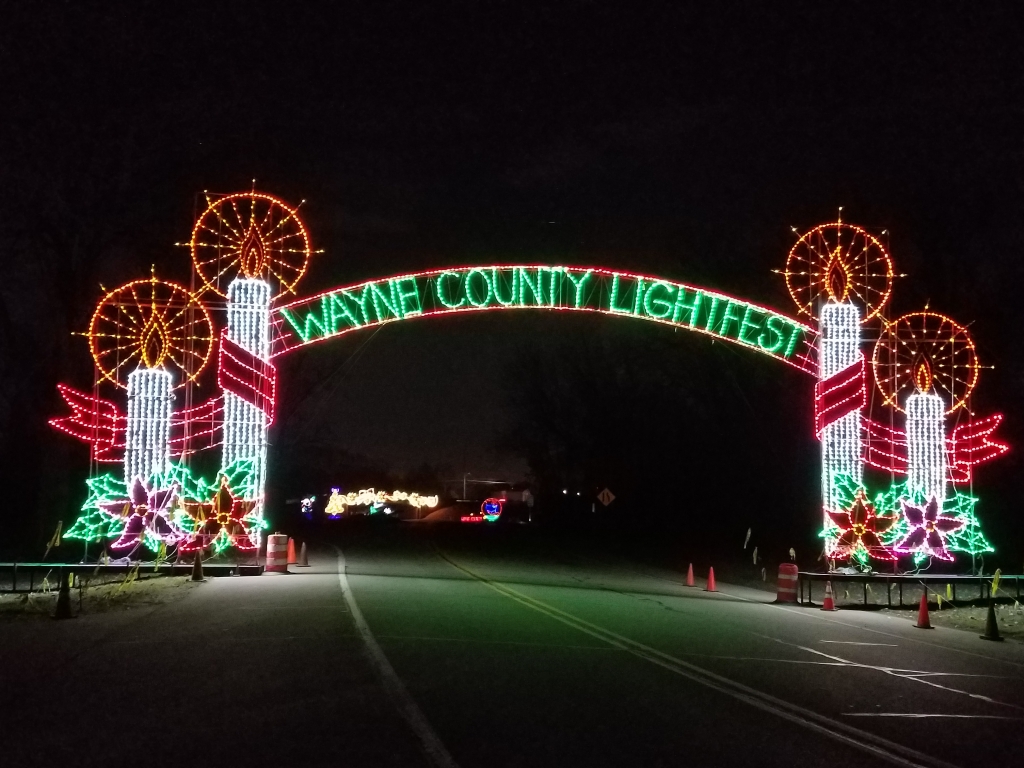 One of the lengthier illuminated drives is this four-mile stretch through Hines Park. It features nearly 50 animated themed displays and more than 100,000 lights. The cost is only $5 per car, and tickets are not purchased in advanced so pack some snacks and warm beverages to keeps things festive while you wait for your turn to start. The entrance to the Lightfest is 7651 N. Merriman Road, which is between Ann Arbor Trail and Warren Avenue in Westland, about 2 ½ miles south of I-96. The hours are Wednesday thru Sunday from 6pm-10pm.
Dec 1-Dec 27 Merry Mile – Marshall

This year the Merry Mile is bigger with more lights than ever before. It takes place at the Calhoun County Fairgrounds daily from 6pm-9pm. Tickets are $10 per car, truck or van. If you want to spread a bigger group out in a bus for some extra social distancing, you can head in for a $20 ticket per bus.
Come walk with the family through a winter wonderland of unique, interactive high-tech light shows, holiday displays and characters throughout the historic Coan Lake area, Heritage Park Petting Farm, and the Taylor Conservatory and Botanical Gardens. This year the Taylor Winterfest is being powered by the same group who brought to life Glenlore Trails, and The Haunted Forest. Some familiar items will return as well, such as a photo opportunity with Santa and available refreshments. This event is open on weekends, and each has a different theme like Holiday Carnival, Frozen or Harry Potter. Check the website for more details. Proceeds benefit the Taylor Goodfellows.
Winemakers have had to get very creative this year with so many closures, but the fine folks at Black Star Farms have not let that dampen the fun. This year the Inn at Black Star Farms will welcome guests for a drive-thru visit with Santa. From the safety of your open car windows, children can share their wish lists with the jolly man in red, who will be seated on his front porch wearing a face shield. While secret lists are being shared, pop your trunk, and Santa's elves will load brunch into your car to enjoy safely at home. For $75 you'll get a scrumptious meal for four featuring Christmas Quiche, Elf on the Shelf Pancakes, Applewood Smoked Bacon, Yuletide Casserole, and fresh fruit. While you're there, add a bottle of sparkling juice or wine to your order to make it even more festive, or stock up on a case of your favorites for those cold winter nights.
Tweet @BuyMichiganNow to tell us about the holiday fun you're having around the state. Of course, we really like knowing which of our 12 things to do in Michigan in December 2020 get out and try. Tag @BuyMichiganNow on Instagram when you share pix. For next month's events, or to get ideas for your Great Lakes State bucket list, be sure to visit our Michigan Tourism page.