Some things may be different this October, but we're still a state filled with crisp autumn air, stunning shores, spectacular fall foliage, and of course cider and doughnuts. Fall means plenty ways to have fun, even this year. Here are our 12 things to do in Michigan in October 2020.
Each weekend in October the Glass Academy in Dearborn is the place to be. Artists dazzle guests with live glassblowing. Plus, you can buy stunning harvest and Halloween décor for your home. Safety is, of course, a priority. So, shopping is available in the Dearborn gallery with the purchase of a $10 timed ticket. Tickets are by the hour so that there are only 10 customers in at a time. Your ticket fee is subtracted from the cost of your pumpkins at checkout. Also, don't worry, the stock is replenished every two hours. If you can't make it in person, they've still got you covered by taking it online this year. Enjoy live glassblowing every Tuesday and Friday. You can even custom order your own one-of-a-kind pumpkin. Then watch artists make it on the live stream via Facebook and YouTube. Each show reveals a new pumpkin, which can then be purchased online.
Each year downtown Northville is overrun by over a hundred life-sized skeletons. Yet, one of the best parts about this annual tradition is that you can easily enjoy it at your own pace. As an added bonus this year, roads are closed on North Center between Main and Dunlap and East Main between Center and Griswold. Consequently, guests can dine outside at one of the town's many scrumptious eateries. Adults can also purchase an alcoholic beverage, then stroll through the designated downtown Social District. Hence, despite the skeletons, it's a much more entertaining time in Northville, than it is scary.
Leave it to a Yooper to create a holiday that is based entirely on wearing plaid. Believe it or not, this tradition is celebrating its tenth year on the first Friday of October. While the concept is whimsical, its also rooted in the idea that we're all connected by a common thread. Join in on the fun by wearing something plaid. Throw on a plaid shirt, skirt, dress, or jacket. Alternatively, just add an accessory like a scarf, socks, handbag, or even a face mask. Then post some pix on your social media of choice using #plaidurday. Organizers also encourage plaid-clad Zoom sessions. It's also a good time to clear closets and donate to a charity. How about baking plaid cookies or cakes? You could even surprise friends and family with plaid presents. Get creative, have fun, and share it all with the rest of us.
For the sixteenth year, Visit Muskegon is inviting tourists and locals alike to join in on its Depot to Depot Fall Color Tour any Saturday in October. Drive your car or ride your bike along this self-guided route that stretches from the Muskegon South Pier Light to the White River Light Station. Travel on some of Muskegon's most scenic roads along Lake Michigan and the West Michigan Pike Byway. Visit historic sites, enjoy nature and of course snap some selfies along the way if so inclined. Download this year's map for hints on ideal places to stop and explore.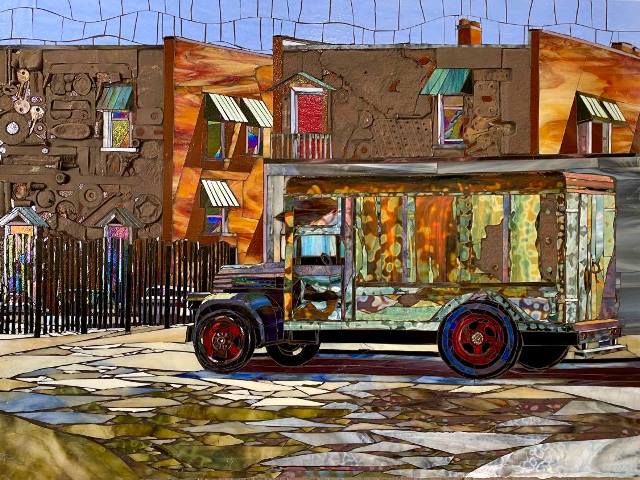 Many museums and galleries have finally reopened so this is an excellent month to take in some art. Start by heading to the Northville Art House for Kaleidoscope City, an exhibit featuring the work of Detroit-based artist Darcel Deneau. This body of work reflects the degradation and renewal of the city of the Motor City. Using found glass and objects, she transforms the debris into beautiful mosaic urban landscapes. The show runs most of the month, with an opening reception on Saturday, the 10th from 1pm-3pm.
One of the great pleasures of autumn is visiting orchards like those at Friske Farm Market, and especially during their weekend celebration of the incredible, edible apple. The site now features a huge new outdoor play area. Festivities also include yard games and live music, but food and drink really take center stage, starting with an apple pie pancake breakfast. You can also enjoy newly-pressed cider, caramel apples, caramel apple pie, and fresh-baked doughnuts. Pumpkins are on site too, in their natural state, and in doughnut form. Kids will love to take a wagon ride, shoot some apples from the giant slingshot, or bounce in the apple balloon. Pick your own apples or just buy a bunch to take home.
This event is a really creative take on our current reality. The idea is to inspire local artists to create pieces that can be displayed or performed while on the move. Traditional festivals have a calendar of events and locations that can draw large crowds to a specific spot, which is exactly what we're all trying to avoid in the age of COVID-19. Instead, this fresh fest will take place in a geographic zone of ever-shifting activity within the Monroe North neighborhood of Grand Rapids. A music performance could take place on one street corner, then move to another. A work of art might pass by as you stroll down a sidewalk or dine outdoors. Perhaps an actor will perform a monologue from a bicycle. You'll never know what to expect, nor when, as RAM explores how art can be attached to the body, put on wheels, or performed while in motion.
It's unfortunately not often enough that a creature makes it off of the endangered species list, but that is exactly what happened at this time last year. One of Michigan's favorite native chirpers, the Kirtland's Warbler, exited that notorious list, but of course that doesn't mean the job is done. Join William Rapai, author of The Kirtland's Warbler: The Story of a Bird's Fight for Survival and the People Who Saved It, on an exploration of the northern Michigan forests that the Kirtland's Warbler calls home. The talk will delve into the details of this conservation success story, what remains to be done, and how this mini miracle is being used as a national model for other endangered species.
With a few adjustments, John Ball Zoo is eager to greet little pumpkins for this annual tradition filled with decorations, costumes, candy, and, of course, the zoo's amazing animals. Kids will be able to get Halloween treats via a designated path instead of the typical treat stations. The treat trail will have decorated booths that are socially distanced from one another and from other guests in the zoo. This will allow for a one-way path and fewer people congregating. The treat booths will also have plexiglass separating guests and staff, along with enhanced sanitization for hands and surfaces. Tickets are free for members. Otherwise, admission is $13 per adult, and $11 for children or seniors, with kiddies under 2 admitted for free.
There's never a bad time to visit this charming town. Spend your day enjoying the great outdoors at Saugatuck Dunes State Park or eating, drinking and shopping in town. Then gather some chairs and take the family on a jaunt to the Saugatuck Center for the Arts for the 7pm showing of a family-friendly Halloween treat, Hotel Transylvania. The parking lot will be transformed into a socially-distanced seating area for you and your family or friends. Tickets are $15 and include a bag of locally-sourced gourmet popcorn. Tickets for ages 5-13 are just $5.
October is one of the most enjoyable times to visit Michigan wine country. You can tantalize your palate with new releases and old favorites, while taking in vistas ablaze with a palette of fall color. Some things are different this year so be sure to check out our tips for winetasting in the age of COVID to know what to expect before heading out. One thing that isn't different is the culinary magnificence of the Black Star Farms Harvest dinner. They honor seasonal bounties, with a farm to fork practice of growing, raising, and sourcing from both their own and regional farms. The evening begins at 6pm with a welcoming reception featuring a specialty-themed craft cocktail. During dinner the culinary team shares the inspiration behind the evening's menu and a winery representative talks about the wine pairings with updates on new releases and vintages. Tickets are $125 each, and typically sell out quickly.
This spooktacular tradition is also carrying on with one significant adjustment—it's a drive-thru version. A not too spooky laser light show by Iluminatus Lasers will dazzle guests along the Scofield Park drive. There will also be lots of trick-or-treat spots along the way. Don't worry, organizers will provide butterfly nets to promote social distancing during the candy hand-offs. Registration is required in advance and is just $15 per car.
We hope you're finding some ways to have fun, despite the health crisis.  Tweet @BuyMichiganNow to tell us about activities you're getting out and enjoying. We'd definitely like to know which of our 12 things to do in Michigan in October 2020 you get a chance to experience. For next month's events, or to get ideas for your post-pandemic travel bucket list, be sure to visit our Michigan Tourism page.