As trips to beaches give way to cider mill visits, the craving for the fruits of one of Michigan's fastest growing industries naturally increases. In recent years, hard cider has become a quintessential component of our craft beverage industry. Stop by a hard cider tasting room, and you'll find it's just as much fun as seeking out wine or beer flights. The wide range of apples, not to mention other locally-grown ingredients, makes for some very creative flavor profiles. Traveling virtually from Southeast Michigan to the Upper Peninsula, these noteworthy destinations are serving up Michigan's best hard ciders.
A trip to family-owned Blake Farms in Armada, has something for everyone. There are all kinds of activities available including u-pick produce options, a petting farm, a cornfield maze, and an entire Funland area for kids. For grown-ups, the tasting room is the land of fun. The staple of the Blake's line is Flannel Mouth, a classic apple version, which is also widely available in many local pubs. You can also get adventurous trying Grizzley Pear (pear and elderflower), Rosé (strawberries and rose hips) or Triple Jam (strawberry, blackberry and raspberry). Don't miss the sublimely fiery El Chavo made with mango, and featuring a habanero kick. Of course, you'll likely find Blake's on tap in a local pub or in a store near you too. Try a 12-pack of cans with a variety of flavors to create your own flights of some of Michigan's best hard ciders.
It's not unusual to catch people watching films or playing games in this tiny tap room. Located in downtown Ann Arbor, Bløm Meadworks's (pronounced "bloom") creates small-batch ciders and meads crafted from locally-sourced ingredients. Because of the local-sourcing, Bløm's flavorful cider selection often changes, so check online before visiting, or just arrive and await a surprise.  They specialize in session ciders, which are light, dry, carbonated, and easy to drink throughout the day.
Boss Cider Company touts that it was created with the intent of giving people a new perspective on what hard cider is all about. Perhaps that's why their rotating tap has 20 flavors (ciders and seltzers). They are always experimenting to add new options. Their classic flavors include Razdale (raspberry), Purple Hershal (grape) and Full Auto (jalapeno). This cidery likes to work with a lot of different fruits when creating its flavors. Be forewarned, if you fall in love with a flavor, it may only be around for a short time. Fortunately, they have growler options so you can take a short-term favorite home with you.
Hudsonville may be better known for ice cream, but there's also another sweet treat in town. The Farmhaus Cider Company is rooted in a fifth-generation family farm. When you visit, you have the opportunity to sit at one of the outdoor tables in their Cidergarten and sip exclusive flavors that are only available on site. There is a revolving profile of flavors on tap. If you prefer to stay traditional, enjoy a Classic, but if you want to shake things up, look for Brunch (cinnamon maple) or  Lake Effect Zest (ginger and blood oranges). Many are also available in cans for purchase in person, or can be ordered online and shipped.
Nestled amidst farm country, Virtue Cider is a bit off the beaten path, but well worth the trip. Creating quality cider takes time and patience, which is of course a virtue, hence the name. Virtue's expansive catalog of flavors features lots of different styles. One of the most popular flavors is The Mitten, a blend of last season's pressed apples, aged in bourbon barrels for up to one year, then back sweetened with this year's fresh pressed apple juice. It has notes of vanilla, caramel, and charred oak. There is also a Cherry Mitten, made in a similar way. Many flavors are available in cans or bottles for later consumption, or for purchase in a store near you.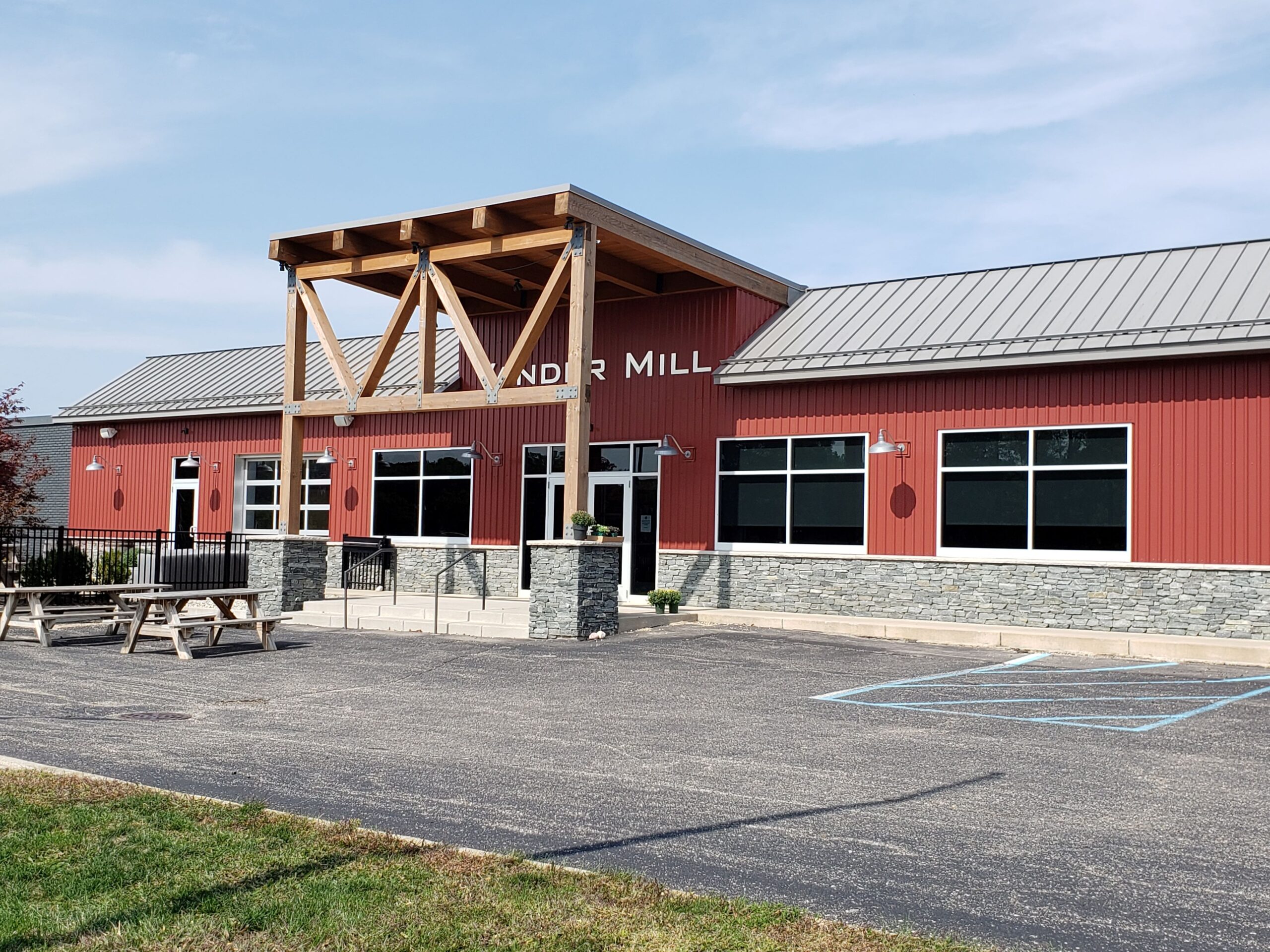 Vander Mill – Spring Lake & Grand Rapids
Vander Mill has become one of the most commonly-found hard cider brands around the state. Great hard ciders aren't the only thing on the menu when you make a visit either. Both Vander Mill locations serve up a scrumptious food menus to enhance the experience. That said, cider is still the star. Try their staples like the crisp Vandy, Ginger Zero or the spiced and nutty, Totally Roasted. You will also likely find some new and fun selections that are only available on site. Plenty of stores carry cans of Vander Mill as well, if you are unable to make a visit in person. Most of their standard ciders are available in cans. Cysers and Heirloom blends tend to be sold by the bottle.
Now it's time to head north and explore cider options out on Leelanau Peninsula. Suttons Bay is the place to be. You'll know you've arrived at Tandem, just off of M-22, when you see the signature bike hanging above the entrance. Founders Dan Young and Nikki Rothwell went on a European tandem-bike adventure, and got inspired by ciders they found in pubs along the way. After their trek, they settled in this agriculturally-rich part of the state and went to work. If you're looking for a traditional option, go for the Smackintosh, or experiment with a flight of the many other options they have on tap like Clear Conscience, which is a clean, dry cider made from Northern Spy, Honeycrisp, McIntosh, and a blend of traditional cider apples from VerSnyder Orchards.
After the northern stop at Tandem, you can drop back down to find Two K. Whereas many people associate hard ciders more with beer, they are actually classified in the wine category due to their fruit base. Perhaps nowhere will you find that more evident than at this stop. Two K Farms uses estate-grown and cider-specific apple varieties to brew their hard cider, which provides tannins and acidity resembling the flavor of white wine. Especially noteworthy are the European-style Old World and the Cherry, which of course draws its flavor from the thriving cherry orchards of the Traverse City area. Cans, and in some cases bottles, are available for purchase.
In addition to offering some of Michigan's best hard ciders, the views from the deck at Suttons Bay Ciders are truly breathtaking. The friendly team makes this another reason why this cider house has become a must stop on nearly any visit to the Leelanau Peninsula. Their award-winning Cherry Fest! cider is one of the signature tastes, though there are several other unique options. Try Mosaic, which is Mosaic is a semi-dry cider flavored with the floral notes of Mosaic hops infusion. The character is light and tangy. Take a walk on the wilder side with Sidra-LaPeño, a Spanish style cider, infused with Jalapeño and Habenero peppers.
The Altonen Family has been growing apples for 60 years, and making cider for around 20. Two things that make these ciders unique are the produce in them and the people behind them. Every ounce of fruit in their products is grown in their own orchards making for a truly fresh-tasting drink. Each cider is named after a member of the family. Big John, named for the current patriarch, is a blend of Jonathon, Jonagold, and Gala apples, aged in American oak. For a sweet treat, try Sandra Dee, made from Yellow Delicious, Ida Red, and Crispin apples with just a hint of vanilla and scrumptious Montmorency cherries. For a unique twist, there's Jay Bird, which has a base of Ida Red, Yellow Delicious, and Crispin apples, accented with locally-grown Cascade hops from MI Local Hops.
The tip of our cider journey takes us across the bridge and into the Yoop, though this is not about a stop so much as products worth finding. Located on the Keweenaw Peninsula, Gitche Gumee Ciderworks sets itself apart in one really unique way. The peninsula possesses an abundance of wild apples and feral orchards. Since most of that vast harvest wasn't collected, owner Phil Kelm saw an opportunity to begin using these fruits. To complement the apples harvested from the wild, he utilizes other local agricultural products like honey, fruit and maple syrup. Entropy is one of the country's only ciders made entirely from wild apples. Meanwhile, Carmelita, which is a collaboration with Carmelita's Southwest Grille in Calumet, is believed to be the first commercial thimbleberry cider anywhere. Every year's product is a bit different from the last. You can find these ciders in various locations around the Keewenaw Peninsula.
Many of these destinations also include opportunities to eat, pick your own apples, or try other locally-crafted beverages like beer, wine, and traditional cider. Whether you journey around the state, or not further than you're local market this fall, add some Michigan's best hard ciders to your list. Your taste buds will thank you.