Any time is a fun time to visit Glass Academy in Dearborn, but this July may be one of the best times ever. Guests can try their lungs at glassblowing, support a local community organization, and help break a Guiness World Record, all at the same time. The project is aptly-named Breath of Michigan, and it runs from now until July 31st.  
The glassblowing studio is attempting to create 1,000 glass bubbles over 6 weeks that will eventually end up in an art installation in the studio's Michigan Room. It will feature the state of Michigan in wood, surrounded by the Great Lakes, which will be comprised of the blue glass bubbles made by Michiganders. Before that, though, they are working to set a new World Record for the largest display of blown glass objects.
Participants in the project will have the opportunity to tour the studio, watch a glassblowing demonstration, and then work with the artists to create two unique bubbles. You'll get to help turn the pipe as you blow through it, knock the final product loose, and even use a torch to finish it off.
To participate in the world record attempt, fly solo, or gather some friends and sign up online for the Breath of Michigan Experience. This introductory glassblowing class is only $25. Students must be 17 or over, or 16, if accompanied by an adult. If you've got a group that wants to go together, book a block of tickets online or call 313-561-4527. Don't hesitate to go by yourself, as the experience alone is well worth it, and the Glass Academy staff says strangers often leave as friends after enjoying a class together.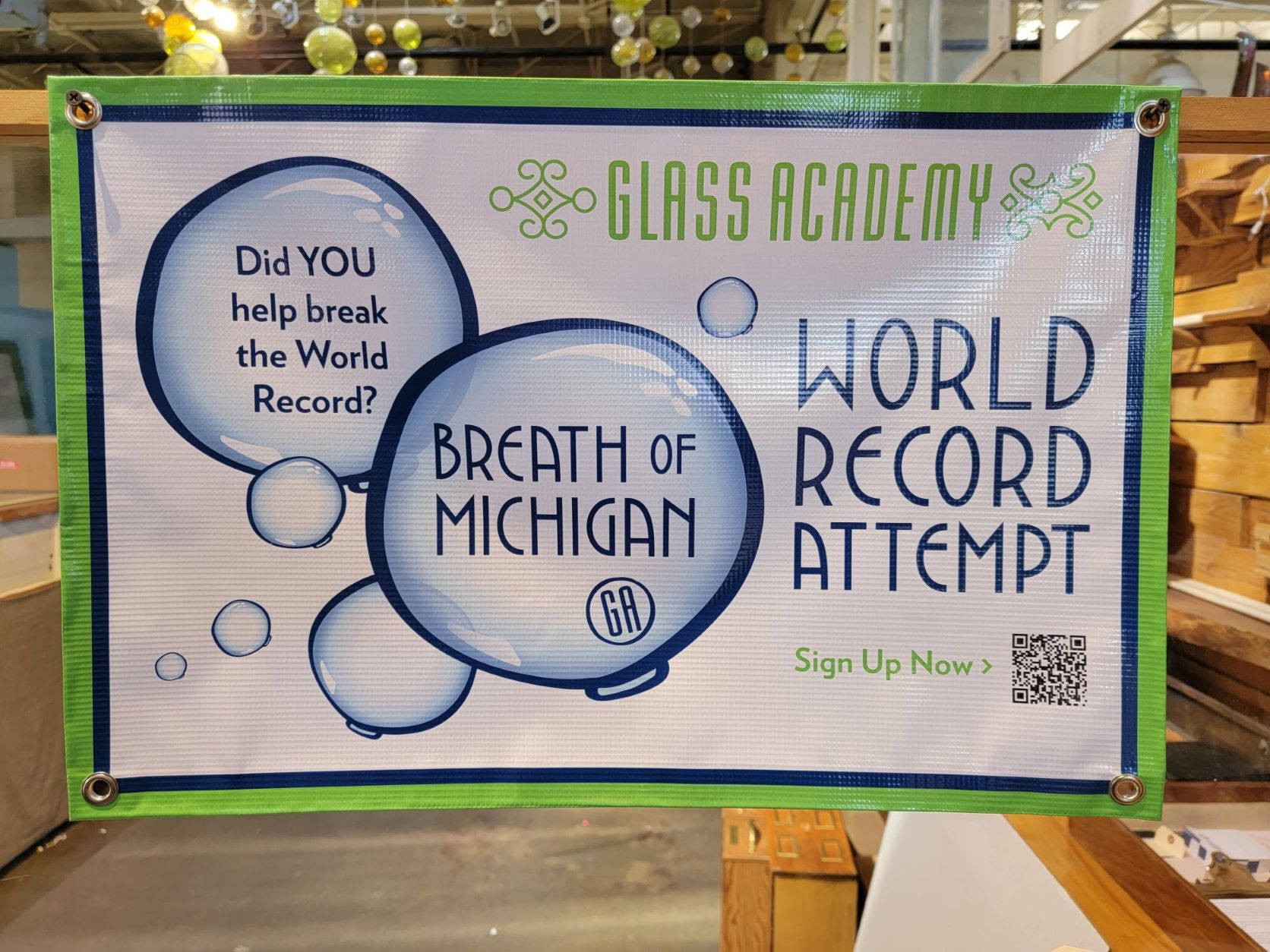 Each Breath of Michigan participate will create one bubble for the art installation and will take another home as a souvenir. Plus, the studio's gallery will be open during the classes and students will receive a 20% discount coupon to shop the incredible handcrafted products highlighted in the gallery.
As if all of that wasn't enough, there's an added goodness bonus. $5 of every ticket will support one of ten community organizations the project is supporting, including Buy Michigan Now, we're grateful to say. Participants can choose where they want their five bucks to go.
"We've been doing givebacks with non-profits since the start of our business in 2004."  Explains co-founder Michelle Plucinsky.  "It's time to go big now and get everyone involved in this fun community event!"
Have fun, flex your creative muscle, and do some good. What a great way to heat up the summer.
The Glass Academy is located at 25331 Trowbridge St, Dearborn and is open Thursday & Friday 4-7pm, Saturday & Sunday 11-4pm.
They'll be blowing glass bubbles for the next several weeks, with the final jurying on July 31st, 2022 at 2pm. At that time, an official Guinness World Record judge will officiate the final count and an award ceremony will follow. Event details and updates can found on their Facebook page, where you can also frequently view live demonstrations of these talented artists creating anything from mugs to slugs.