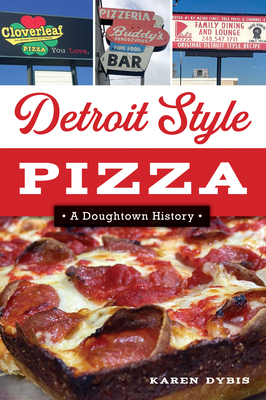 By Karen Dybis of Metro Detroit
Karen Dybis is a reporter with more than 20 years of writing experience, and author of five local history books. See the Product Description below for more details about this book.
Product Description
With its airy crust, cheesy corners and distinctive red sauce on top, Detroit Style pizza is enjoyed worldwide. How did this Motor City delicacy transform from a singular kitchen in Detroit to an international sensation? Travel with author Karen Dybis through this pizza's humble origins from Gus Guerra's first square pie at Buddy's to Shawn Randazzo's stunning win at the International Pizza Expo through today as new chefs put their own spin on this style.
With in-depth research and great storytelling, Detroit Style Pizza: A Doughtown History takes readers into the kitchens that developed, fought over and sought to perfect this delectable dish that put Detroit up there with New York, Chicago and New Haven when it comes to pizza.