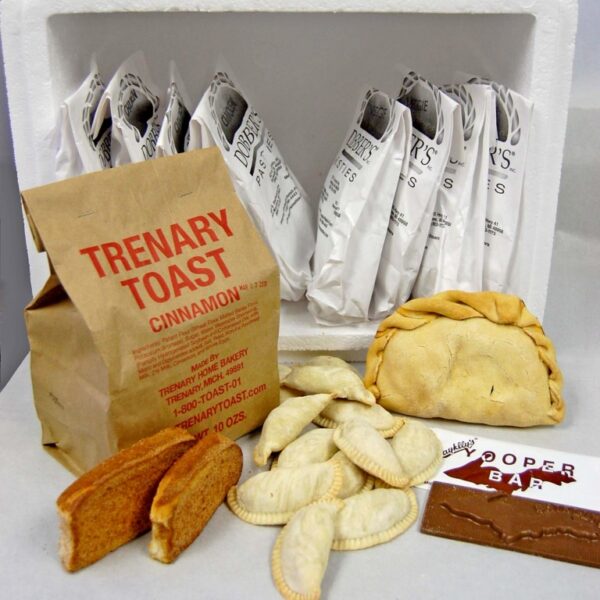 By Dobber's Pasties of Escanaba
Originally by Bob Homeier in 1975, as The Red Onion Pasty Shop, this family business is now owned by Bob's daughter and her husband . In 1988, second generation owner Bonnie Mantela and her husband, Doug, decided to trademark their business. Doug's nickname was Dobber, so they went with the name Dobber's Pasties. Same fantastic recipes, now served up in the original Escanaba location and Iron Mountain, as well as online. See the Product Description below for details about this specific gift suggestion.
Product Description
Treat someone you love to the best of the Upper Peninsula with this delectable gift. Dobber's offers combinations starting from a Sampler Package at $44.60 up to the Grand Package at $110.80. Each includes a combination of their pasties as well as treats from Trenary Toast and Sayklly's. Regular size pasty options include any combination of beef, chicken, veggie, pizza, breakfast, or ham and cheese. Combo #3 is ideal for a family. It includes 8 pasties, 12 mini beef pasties, 1 bag of cinnamon Trenary Toast, and 1 chocolate Sayklly's Yooper Bar.