Winter got off to a bit of a sleepy start in 2018, but it sure has finished with a kick in 2019. It's almost enough to make us think that, despite the date, spring will never really arrive. Yet, we know it will, and when it does, here are ten moments to look forward to as Michigan melts into spring.
Flowers Burst
Somehow just when you've forgotten where you even planted them, crocuses, daffodils, and tulips begin to emerge. Their thin green leaves sprout up, often debuting through snow. There are some states that have flowers year-round, and as glorious as that seems, it's also easy to overlook that beauty when it's there every day. Here in Michigan, on the heels of a long winter, it's a delight to see those little buds rise and shine. Forests are about to be alive with trillium, and yards dotted with blooming trees. Those who live in warmer climates seldom appreciate the true magnificence of a single bud appearing, let alone a tree full of flowers, where once it was just a living log.
Shanties Give Way to Boats
In February you cannot pass an inland lake and not see an ice shanty. Frequently, they are accessed by snowmobilers careening across what appears to be a frozen tundra. Gradually, though snow may still abound, the ice begins to crack and become unstable, and the shanties disappear. By early April, those natural skating surfaces turn back into shimmering pools of water, and not long after that, it'll be time to drop the boats in and take a dip.
Fowl Friends Fly Back
No, I'm not talking about politicians, though we're already seeing plenty of those this season. Ornithologists (that's a ten dollar word for bird experts) say that robins winter anywhere from southern Canada to central Mexico, so it is always possible to spy a few in Michigan during winter, yet most make a triumphant return at this time of year. They are joined by sparrows, warblers and hummingbirds so get the feeders ready. You don't have to be a birdwatcher to get a thrill from seeing your first hummingbird of the year.
Golf Courses Open
Fore! A select few operate all year, but most of Michigan's 800+ golf courses open up again come spring. Whether it's a decadent move like taking off from work to hit the links, or getting up early on a weekend, for golf aficionados there's nothing quite like shaking the rust off with that first swing.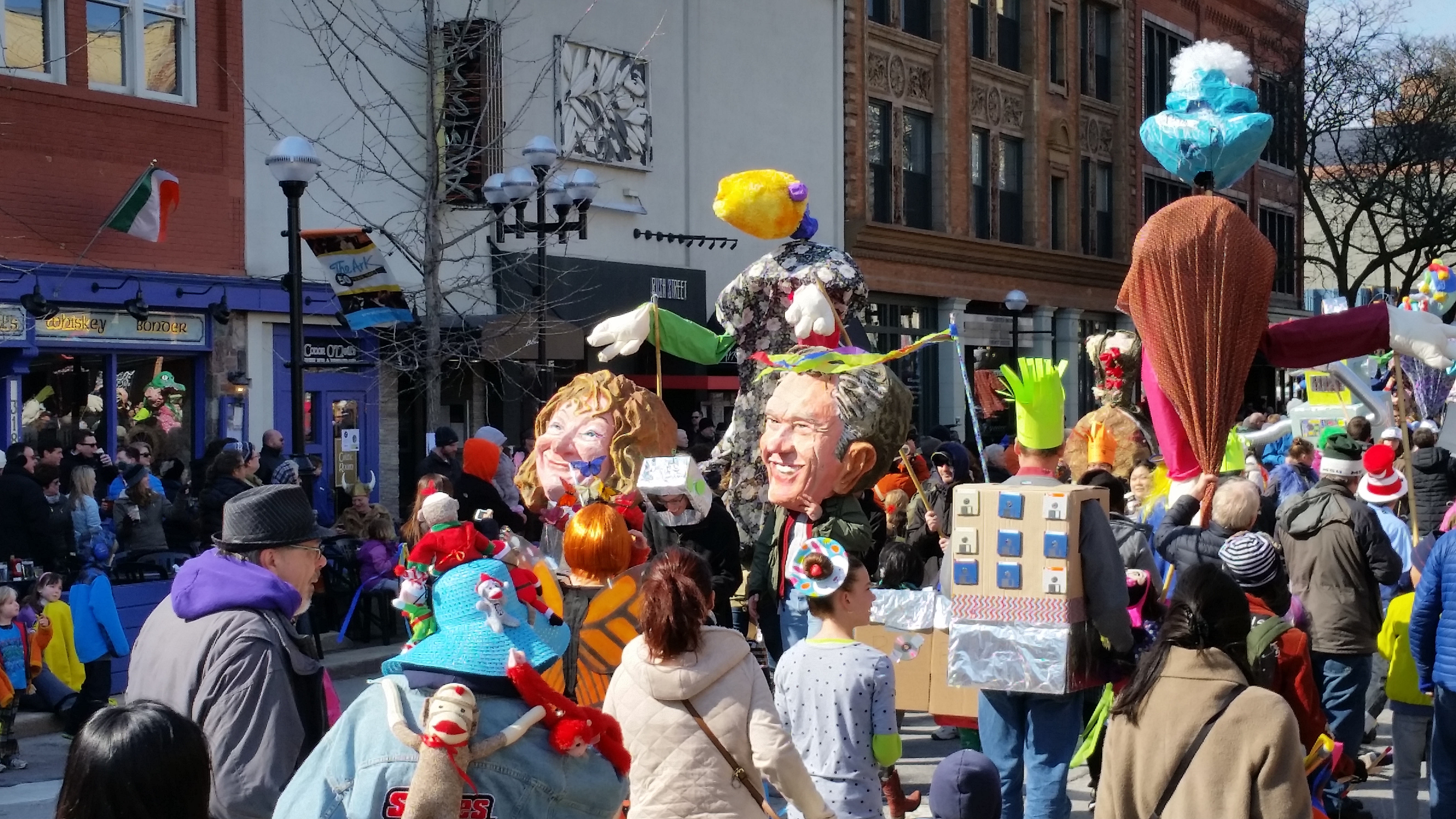 April Fools Take to the Streets
This state is chalk full of events that are uniquely our own. One of the more unusual takes place in Ann Arbor each April. FestiFools is a wacky public art spectacular, created by members of the community and U of M students. Magnificent, colorful, bizarre, human-powered papier-mâché puppets and those that love them, frolick about downtown for one fun-filled hour. It's a sight to behold.
Shorts Weather Returns
One day it's sunny and cloudless, the next day there are flurries again. Such is life in a northern state in early spring. The first day that feels warm enough to bust out the shorts could probably be considered a holiday. It's a welcome reminder that soon we'll trade in our downhill boards for water skis, snowmobiles for wave runners, and boots for sandals.
College Campuses Become Beaches
Aside from sand and surf, the only ingredient needed to turn a random plot of land into a beach is people willing to lay there and soak up the sun. As soon as the mercury hits sixty, you'll find no shortage of brave sunbathers on campuses all over the state. It's a mystery to me how the same temperature can feel so warm in April and so cold in October, but it just does.
The Boys of Summer Hit the Field
Perhaps no day marks the joy of spring more than Opening Day. In Detroit it's arguably the biggest unofficial holiday of the year. Those who love baseball, and those who don't bother to watch a single inning, gather at pubs and parties all across town to celebrate. While most of us adore our Tigers, warts and all, the truth is we're really celebrating the knowledge that no matter how cold it is on opening day, one day very very soon we can look forward to picnics, beaches, boating, and people complaining that it's "just too darn hot."
Seasonal Beers Are Released
First it's March Madness then baseball season. Do you know what goes really well with sporting events? A Michigan-brewed beer, of course. There are many from which to choose, but you know the flavor of spring is upon us when you get your first taste of seasonal favorites like Bell's Oberon or Founders KBS. Plenty of light and fruitier beers start to hit the shelves and taps too.
Ferries Cross the Straights
There may be a few times during the winter when it's possible to take a ferry over to beloved Mackinac Island, but April means the return of a consistent ferry schedule. Before you know it lilacs will bloom, fudge will be flowing, and the clomp of horse hooves will be heard around every corner.