There are so many wonderful experiences to have in Detroit, especially in the summer. Most people who enjoy the city have at some point shopped Eastern Market, taken a stroll along the riverfront, watched a sunset from Belle Isle, taken in a Tiger game, and/or biked the Dequindre Cut. Those are all wonderful things to do. If you want to add some exciting new adventures to your list, I'm betting one or two of these may catch you by surprise.
Play Miniature Golf
Just across the street, east of Campus Martius, you'll find the Monroe Street Midway, a cool and colorful addition to summer in the city. Bring your smartphone to scan a QR code and you'll be able digitally sign a waiver, or sign ahead of time online. Then you'll be all set for the whole summer. Play the Midway Mini Golf course, hit the Rollout Detroit roller-skating rink, or shoot hoops on the Rocket Mortgage Sports Zone basketball courts. Lots of free fun for the whole family.
Climb the Walls
Rock climbing may very well be a thing you didn't know you could do in Detroit. Located on the northern end of the Dequindre Cut, not far from Eastern Market is a relatively new gem in the city. Dyno Detroit is home to climbing walls ranging from 12 to 45 ft high. They are expertly designed to encourage and challenge all levels of climbers, so no experience is required. Reservations are encouraged for new guests. It's not exactly rocks, but the thrill and challenge will still may still make your heart skip a beat.
Kayak the Canals
Yes, that's right, I said the canals. Known to insiders as Detroit's Little Venice, there are a series of canals that cut through the city's eastern neighborhoods. Detroit River Sports offers a variety of tours for exploring the area by kayak. While it's mostly a serene residential neighborhood, there are some inspiring highlights like the Fisher Mansion and Harbor Island. You can also catch some lovely and unique glimpses of the city skyline. Brave souls may want to hold out for a fall Dark Side of the Canals tour, which heads out around dusk and returns after dark. To add to the spooky appeal, it features some darker tales and folklore from the city's past.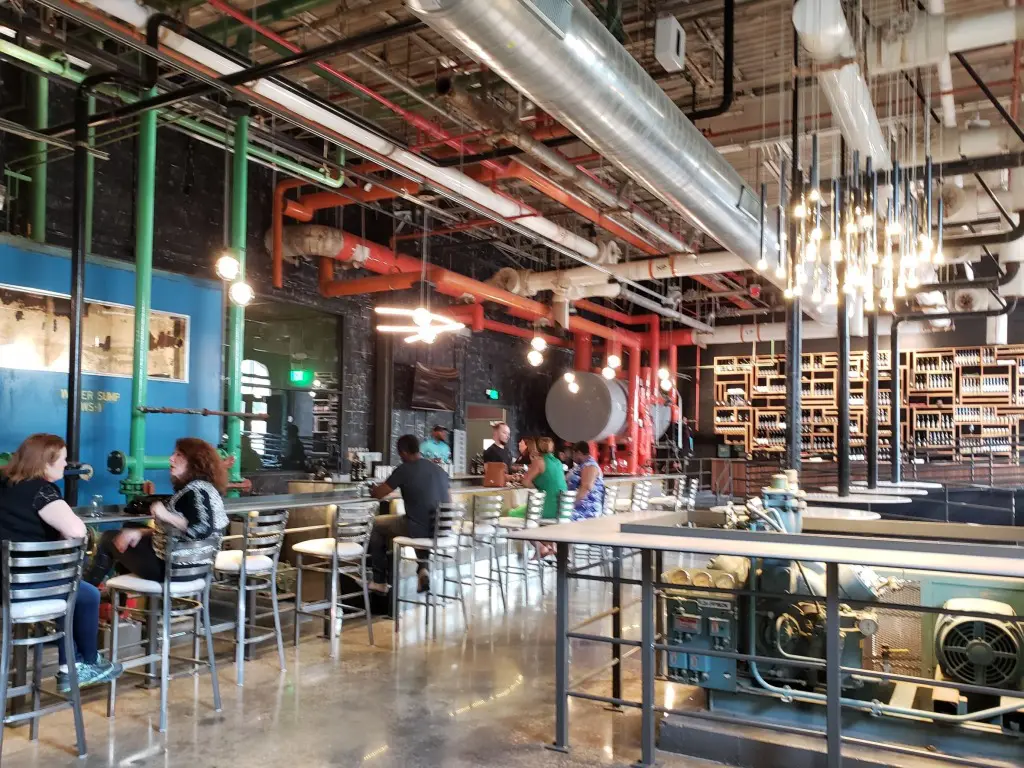 Go Winetasting
Detroit is certainly well known for its beer, from old classics like Stroh's or Goebel to current favorites like Atwater and Jolly Pumpkin. Yet, many people are unaware that wine is now also being made in the city. In fact, it's being produced from grapes grown right here at home. Pop into Detroit Vineyards at 1000 Gratiot Avenue for a friendly welcome and scrumptious winetasting. You can even book a winery tour for $40 per person and get inside the cellar. There your hosts will explain their ethos and winemaking process and invite you to a tasting while seated in the cellar. You'll also get 15% off of all wine purchases, if you find some bottles you want to take home.
Tour the City's Oldest Bars
One of several fun excursions offered by the Detroit Bus Company, Drunks of Antiquity, is a unique tour featuring a few of the city's most notorious saloons.  The bus makes stops at some of Motown's oldest, and most interesting bars, one of which dates back to 1874! Your guide will share stories along the way, as you share a few pints with friends, old and new. Tickets typically run $48.99 per person with departures from in front of One Eyed Betty's in Ferndale or the Checker Bar in Detroit. Each tour lasts about three hours and is a fascinating way to spend a Saturday evening.
Coast on a Peddle Boat
Lots of people have seen peddle bars careening about town, but did you know you can take to the river for an even livelier experience? Hop aboard Detroit Cycle Boat, Michigan's first and only 16-passenger floating pedal bar, and you'll explore the city from a whole new perspective. There are ten pedal stations, a large bench seat, and room to walk around. Use it as an opportunity to charter the pontoon boat you don't own, or for a festive celebration. Excursions last 2 hours and guests are invited to bring their own food and drink on board.
Sail in a Tiki Hut
If you want to get even wackier, grab some friends and charter a tiki boat. You may look like you're finally escaping Gilligan's Island, but really, you'll just be capturing a little island flavor while on a staycation. Aloha Tiki Tours offers 2-hour excursions on the tropical boats, each of which can accommodate up to 6 passengers. You bring the refreshments of your choice on board, and they'll supply the captain.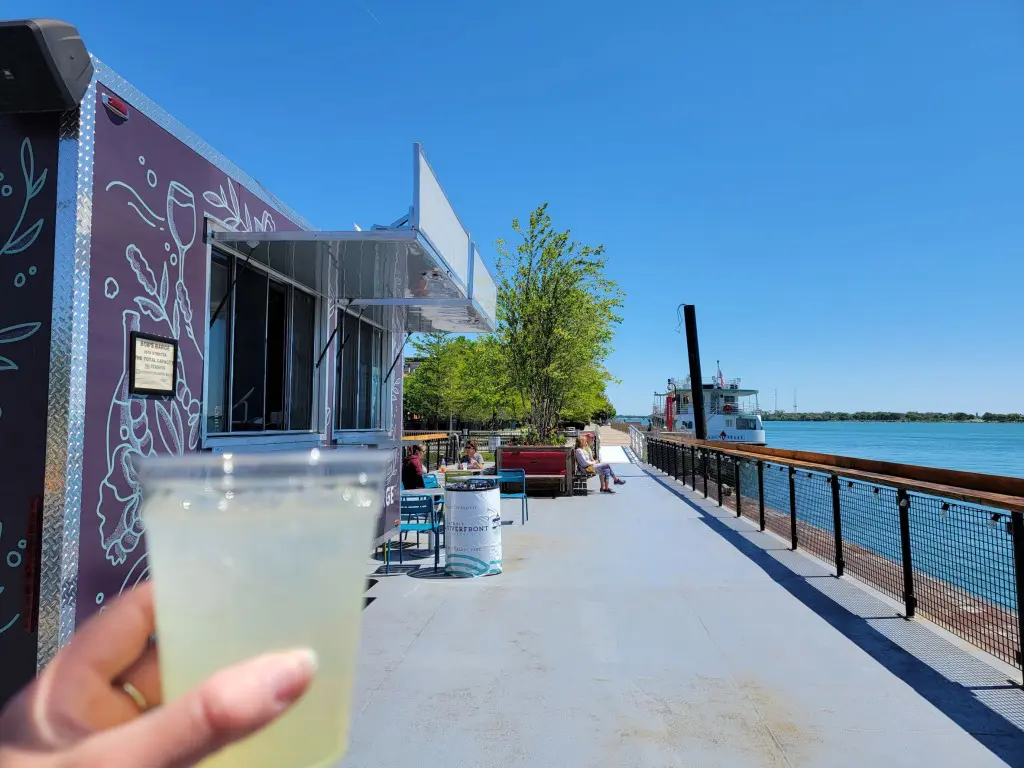 Sip a Cocktail on a Floating Bar
For the past few years, Detroit's Riverwalk has taken the top spot for Best Riverwalk in the USA Today 10 Best Reader's Choice poll. It's really no surprise. Stretching from Joe Louis Arena to Gabriel Richard Park, it includes several restaurants, splash pads, natural areas, and parks. What can come as a surprise, are new additions you find along the way, like my recent discovery of a floating bar. Nestled on the riverfront at Robert. C. Valade Park, Bob's Barge is the only floating bar in the city. It offers a limited drink menu including some cocktails, along with unlimited views of the river, bridge, and Canada. You can even play beach volleyball in the adjoining park.
Ride a Model A around Belle Isle
I feel like I've been going to Belle Isle forever, and yet, not long enough to have seen Model As jaunting around the island. That is, until now. The Antique Touring Company offers Belle Isle trips as one of its unique tour experiences. This private two-hour tour begins at the Antique Touring Company garage, 461 Piquette Avenue, under the Ford Piquette Avenue Plant. In addition to the incredibly unique transportation, guests learn fun facts about the island like why there is an elephant buried there. Discover where the booze was stashed during prohibition, and when the island's first lighthouse was forever extinguished. The company also has a few other tours and antique vehicles available.
Hop on a Segway
Detroit's relatively flat terrain, wide sidewalks, and bike paths make it a great place for first-timers or experienced Segway riders. If you're looking for a fun way to get to know the city better, call on Detroit Segway for their Whole Shebang tour. It goes all over. You can get to know the Riverfront, Lower Downtown, Upper Downtown and even Brush Park. Alternatively, you can simply Cruise the Cut for an hour. Prices range from $58-$98.
Get out and enjoy Detroit this summer, and be sure to tell us what new discoveries you make as you explore this centuries-old, yet trendy, city by the river.