Michigan's Lower Peninsula has an obvious resemblance to a hand, making the region around Port Austin the tip of the Thumb. It is an area riddled with small towns you may not have heard of like Ubly, Pigeon and Sebewaing, along with wind farms, and plenty of access to lovely Lake Huron.
You can get to the tip of the Thumb by traveling on M-25 either from the east or the west, but if you're coming from the south you can also go straight up the center via M-53. Along the way you'll find the new and improved Country Smoke House, in Almont, which is an absolute must-stop. It's hard to miss with the giant steer out front.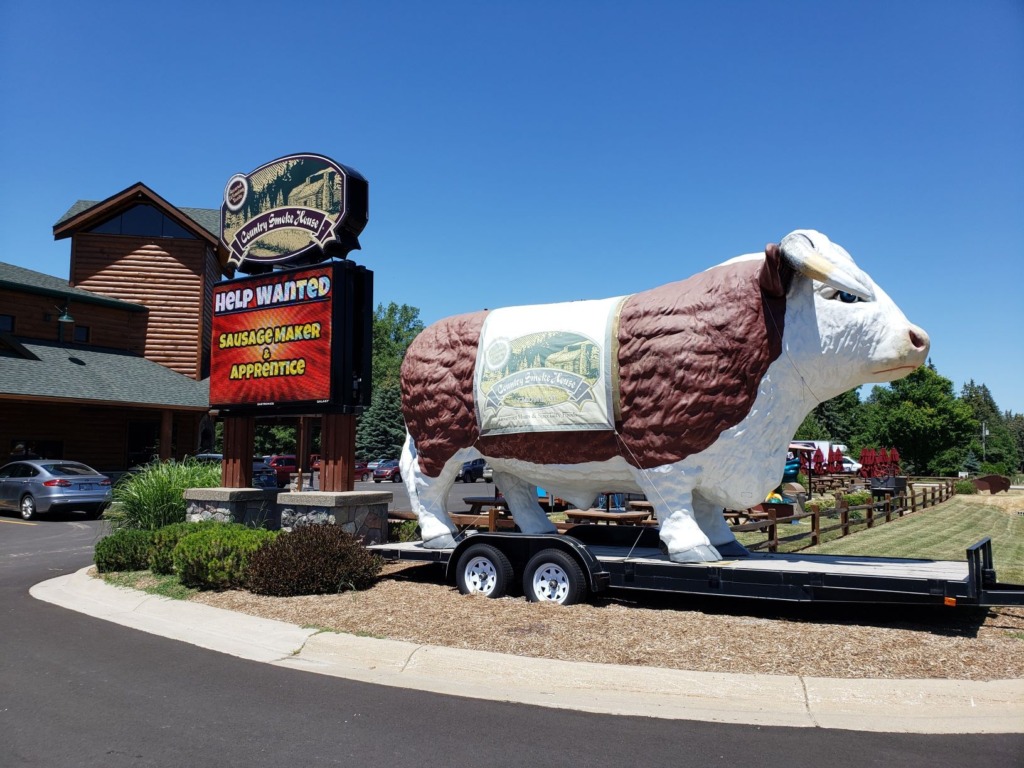 Devastated by fire in 2019, followed by pandemic closures in 2020, this miraculous new facility is a sight to behold. You'll find an abundance of Michigan-made products to enhance the rest of your journey. You can also enjoy a tantalizing meal at their roadside BBQ pit.
After Almont, you can head north for about an hour and discover our least visited state park–Sanilac Petroglyphs Historic State Park. Jointly run by the Michigan Department of Natural Resources and the Saginaw Chippewa Nation, it is home to the largest collection of Native American petroglyphs in Michigan. The carvings were created several centuries ago and represent aspects of Native American spirituality. Informational tours are free and happen every half hour. The park also features an interpretive hiking trail along the Cass River.
Continue briefly north and you'll find yourself in one of the most uniquely-named cities in the state–Bad Axe. While surveying the first state road through the Huron County wilderness in 1861, Rudolph Papst and George Willis Pack made camp in the area and found a badly damaged axe. Papst used the name "Bad Axe Camp" in the written minutes of the survey as well as on a sign he placed along the main trail. By the time he returned from the Civil War, the name was on the map, where it has remained ever since.
Sure, it sounds cool to say you're going to Bad Axe, but it's not the only reason to visit. It's a surprisingly large town by comparison to others in the area. There are more places to stay, making it a nice base if you want to explore different aspects of the region. While in town, stop by local favorites like Rachel's or the Peppermill for some good eats. If you'd rather just sip, pop over to Dizzy Daisy Winery, where you'll find a variety of wines and hard ciders handcrafted from locally-grown fruit. If you like sweet in your sip, then Dizzy Daisy will make you smile.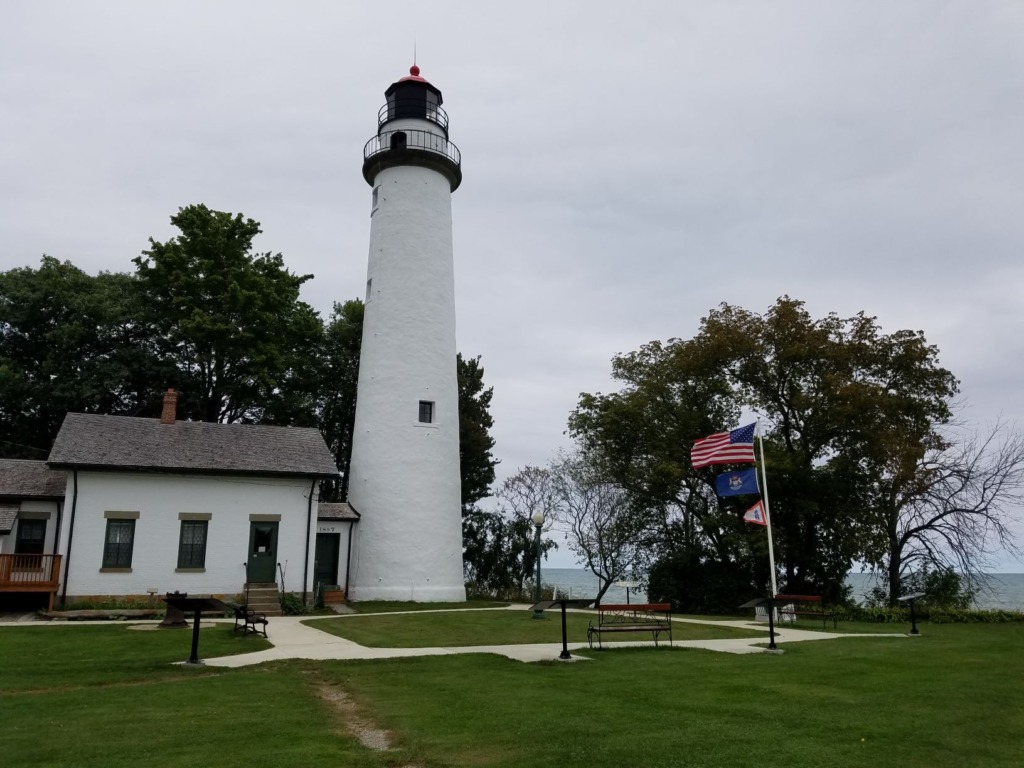 Next it's time to start hitting the shore. You can head east to Harbor Beach for a first glimpse of beautiful Lake Huron. They don't call it the sunrise side for nothing, so consider getting a really early start and picking a spot to watch dawn break. Head north on M-25 through Port Hope until you arrive at the Pointe aux Barques Lighthouse, located 12 miles south of Port Austin. There are only two places in the Great Lakes with eighty or more shipwrecks concentrated in their areas, one is Thunder Bay near Alpena, and the other is here at Pointe aux Barques.
Erected in 1857, the lighthouse has been completely restored. Its lantern operates year-round, shining up to 20 miles onto Lake Huron. There is a museum in the former lightkeeper's house. Both buildings are located in Lighthouse Park, and admission is free. The park has facilities for camping, if that's in your wheelhouse.
The next spot worth exploring is lovely downtown Port Austin. If you arrive on a Saturday morning in the summer, between 9am-1pm, you can visit one of the state's most robust farmers markets. You'll find the market along West State and Line streets. It features one hundred fifty different vendors selling meat, fish, eggs, cheese, fruits, veggies, herbs, snacks, sauces, dips, fudge, and more. Stock your pantry, pick up some supplies for your campsite, or just nibble your way through.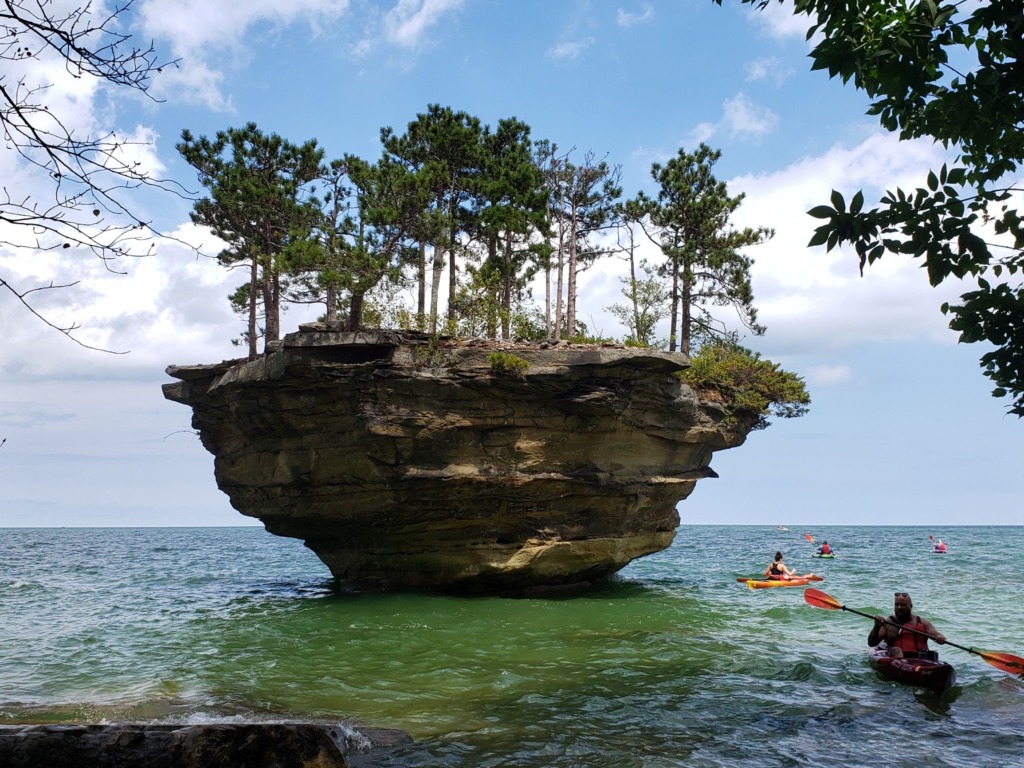 Situated between the lighthouse and the town of Port Austin is the Thumb's most famous natural attraction, Turnip Rock. This wonderous rock formation is a tiny island that separated from the mainland during prehistoric times after thousands of years of waves pounding away at it. Remarkably, trees still inhabit the tiny landmass, helping to shape its signature look.
You might be wondering why I didn't suggest stopping to check it out before going all the way to Port Austin. Unfortunately, private property makes viewing the scenic rock from shore out of reach for most people, but it is readily accessible by water. The most common, and adventurous way to get a glimpse is by kayak. Port Austin Kayak has vessels available for one-hour, two-hour, four-hour or full-day rentals. If you want to just get in the water and casually explore then a one or two-hour rental is the way to go. If you want to make it out to Turnip Rock then choose the four-hour rental. Most people easily complete the roundtrip in about 3.5 hours, but if you want to take the pressure off then the full day rental is only a few dollars more. That also affords an opportunity to also explore nearby sea caves and more of the Lake Huron shore.
Perhaps kayaking is not your forte. You may not get a glimpse at Turnip Rock, but you can have plenty of fun renting paddle boards and bicycles to help you explore the lake or land. Alternatively, nearby Bird Creek Golf Club offers an 18-hole course that gets its name from the creek that meanders from the south through the course toward Lake Huron.
Before, or after, an active adventure, you can grab a bite, quench your thirst, and soak in a view of the lake from the deck behind Pak's Backyard Cage & Beer Garden. For a larger selection of slightly fancier fare in a unique setting, dine at The Bank 1884. The name tells the story. The eatery is housed in an old, and beautifully restored brick building that was once the town bank founded in 1884. For a truly local dinner experience, visit The Farm Restaurant, where everything is made from scratch using whatever is in season. The menu is always changing based on ingredient availability, but is consistently delicious comfort food.
You'll also find some unique shops in Port Austin, two of which are particularly worth noting. Five local artists recently joined forces to open Mermaids Cove, which features their own jewelry, pottery, tiles, and hand-turned wood products, along with gifts and goodies made by other local creators. Then there's Grindstone General Store, the last existing business from what was once Grindstone City. It is over 130 years old and serves up scrumptious homemade ice cream and sorbet. It also houses a Made in Michigan gift shop offering locally-produced art, crafts and collectibles.
As the day winds down, scoot out of town to Port Crescent State Park. By day it offers incredible opportunities to view a wide range of bird species, along with fishing, canoeing, hiking, and hunting. By night, it is best known for stargazing. Located along three miles of sandy shoreline, this official dark sky preserve is one of only seven in the state. The park is protected against light pollution. The best location in the park for viewing stars is near the day use parking lot, where a viewing platform is available.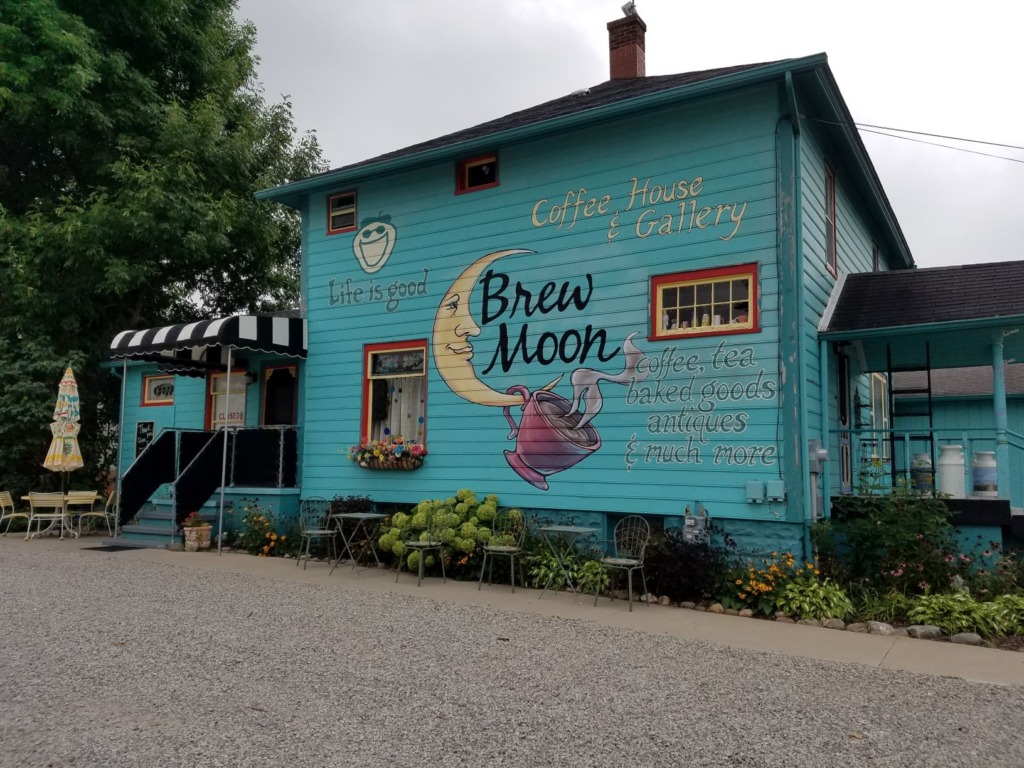 Continuing southwest on M-25 there are plenty of opportunities to stop along the shore and soak in a view or, weather permitting, jump in the lake. Eventually, you'll hit the tiny metropolis of Caseville, best known for throwing an annual 10-day salute to Jimmy Buffet each August. If you happen to get there for Cheeseburger in Caseville, you'll find hundreds of campers, people donning tropical attire and parrotheads, flamingos, floats, concerts, and of course, cheeseburgers. If you come at any other time, you'll find a sleepy town with great views, good fishing, and friendly people.
Grab a java and have a chat at the adorable Brew Moon Coffee House. For afternoon or evening fare, head to the aptly-named Thumb Brewery to quench your thirst and get a bite. Nestled in a charming old house, it features several house brews along with an unusually large selection of guest taps with other Michigan beers. The proprietors also serve up some salads, wings, sandwiches, flatbread pizzas, and some really good burgers.
Whether you have a day, a weekend or a week to explore, there are plenty of delights on hand in the tip of the Thumb.