If you live in Michigan, you have most likely heard the Meijer name. The company pioneered the modern supercenter concept in 1962, but the beginnings are much humbler than that. It all started in June of 1934 when founder Hendrick Meijer opened a small grocery store in Greenville and the company grew from there.
Hendrick Meijer's Early Years
Hendrick Meijer was born on December 28, 1883, near the German border in Hengelo, Netherlands. He was the third oldest of seven children born to Frederick and Maria Meijer. His father worked at a Stork BV mill, a cotton manufacturing company. The town of Hengelo and the mill had recently been industrialized, yet the conditions were harsh for the workers. Hendrick joined his father working at the mill when he was only twelve years old.
Being in that cruel environment at such a young age, Hendrick developed anarchist and socialist views and became active in his support of these beliefs. When old enough he joined the Dutch military, essentially to avoid working in the factories. Later, after serving his enlistment, Hendrick met Gezina Mantel, the daughter of a prominent Dutch anarchist. The two quickly became close because of their shared political views.
Migrating to America
In the summer of 1907, more than 7,000 citizens from the Netherlands were permitted to immigrate to the United States. More than half of them settled in Holland, Michigan. They included twenty-six-year-old Hendrick, his parents, and one of his sisters. Hendrick and Gezina, who was still in the Netherlands, continued to correspond, especially in regard to their political views. Hendrick seldom agreed with the conservative Christian Reformed Church community in Holland and quickly joined a socialist group. Among other things, this group met on Sundays to counter the CRC's beliefs of resting on the Sabbath.
There was much unrest among laborers in Michigan at this time, and Hendrick moved from job to job, but all this experience would contribute to his history-making future. Among these occupations were chicken and dairy farming, working in a pickle and furniture factory, cloth salesman, a mill worker, and even running his own barbershop. All this time, he continued to keep in touch with Gezina. The long-distance was difficult for both of them and at one point, they considered breaking their engagement, but their mutual feelings for one another held them together.
In 1912, Gezina finally arrived in the United States to join Hendrick. The two were married on November 11th of that year and they settled in Greenville. The Meijers had their first child, Johanna in 1917, and Frederick was born on December 7, 1919, both in the family farmhouse.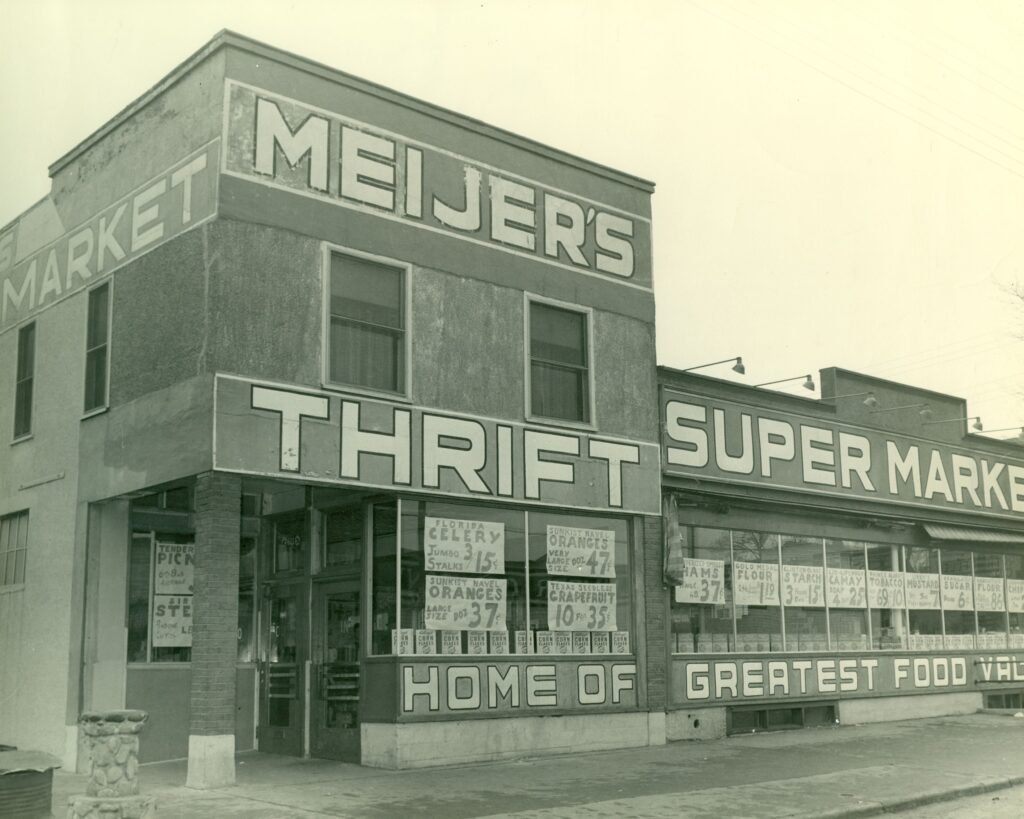 Meijer Becomes a Grocer
Hendrick decided to try something different in his business life. He was still interested in agriculture. He already had a milk delivery service with Frederick as his delivery boy. So, in 1928, he decided to open a small grocery store to sell his milk and other foods.
In 1934, Hendrick opened his first main grocery store, North Side Grocery, which was located next to his barbershop. Considering this was during the middle of the Great Depression, Hendrick took a real chance, by borrowing $338.76. He used it to purchase goods for the store. The first employee of the new store was, of course, fourteen-year-old Frederick. By 1942, a second grocery store was opened in Cedar Springs. Hendrick's daughter, Johanna was chosen as the manager.
Impressive Growth
In 1946, the Meijers were set to open a store in Ionia but sadly the Greenville store caught fire, which was a setback for the franchise. The year proved to end positively when young Frederick married Lena Rader, a farm girl with German immigrant parents. Lena had studied to be a teacher and was working at the original Meijer store when she met Frederick. Also Johanna married Don Magoon, who became active in the running of the grocery stores.
In the 1950s, four more stores were opened. By the 1960s, there were fourteen stores in and around the Grand Rapids area. The business continually worked to stay at the forefront of the shopping industry, with innovations like self-service shopping, shopping carts, and using conveyors at check-out counters. In 1951, Hendrick's workers unionized, which oddly frustrated him.
Family Roles
Though he tended to have more radical leanings, the family was patriotic, after immigrating to the United States. It was not blind loyalty, however, as Hendrick was known for criticizing American policy when he saw fit. The members of the Meijer household didn't smoke or drink and they always advocated for the respect of all people, regardless of race or social class. Hendrick didn't affiliate with organized religion but focused on the overall morality of current affairs.
Hendrick was aging, and by 1948 at the age of 65 he allowed Don and Fred to run the company although he continued to have an active voice and assisted wherever he could. Unfortunately, in 1960 Don and Fred had a falling out regarding a merger with another grocery store chain. The quarrel caused Johanna and Don to make the decision to leave the company.
America's First Superstore
In 1962, Frederick and Hendrick opened the first hybrid superstore in Grand Rapids, at the corner of 28th Street and Kalamazoo Ave. The 180,000-square-foot store was named "Thrifty Acres" and was the first in the United States to combine groceries with a large selection of general merchandise. They also had a cafe and pharmacy in their new retail stores, as well as the beloved Sandy the Pony, who made her debut and continues to be an icon in the stores. Many said the concept would never work, yet in the first few years, the stores slowly began expanding. Not only were critics vocal, but the Meijers were also personally attacked by their competitors for having lower prices.
Philanthropy
Hendrick continued to be active in his business up until his death on May 31, 1964, when he is believed to have died of a heart attack in his sleep in Grand Rapids. Gezina lived on until her death on February 1, 1978. As the leader of the company, Frederick became a philanthropist and began investing millions of dollars into the West Michigan area including hospitals, colleges, nature trails, the arts, and feeding the hungry.
He is very well-known for the beautiful Frederick Meijer Gardens and Sculpture Park, a destination for many visiting Michigan and a favorite place of mine. Under his leadership, the Thrifty Acres stores continued to expand and be successful. The business was renamed Meijer in 1986, and by 1988 many Meijer stores began to stay open 24 hours a day, 364 days a year. The number of stores climbed into the 50s.
Legacy
Today, the company remains family owned and is run by Frederick's sons, Doug and Hank.  Frederick and Lena's third son, Mark, is a businessman involved in many other local endeavors. There are now over 200 Meijer stores throughout the Midwest with over 60,000 employees and I would not hesitate to bet that you have visited one.
The stories of Hendrick, Gezina, Frederick, Lena, Johanna, and Don are great examples of attaining the American Dream. Hard work and determination can accomplish much, and many great achievements can be made. Like thousands of people, I do most of my shopping at the local Meijer store, or as my mother still calls it: MTA (Meijer Thrifty Acres). It truly is "the store built on common sense," as one-stop shopping is the way to go!