I've been fortunate enough to travel all over the country and enjoy autumn. There's the brilliant gold of the Aspens in the Rockies. You can watch the morning mist reveal a cornucopia of color in the Smokey Mountains, or drive through an abundance of beauty in the Berkshires of Massachusetts. All are incredible, but no autumn destination exceeds our own Keweenaw Peninsula. Everyone should experience fall on the Keweenaw at least once, but I'm betting once you have, it will call you back again.
Getting Started
From the east side, at the base of the Keweenaw, you'll find L'Anse Bay. You may even want to start your journey by popping into the Hilltop Restaurant in nearby L'Anse Township for one of their infamous, gigantic, sweet rolls. As you travel west on M-41, you'll come upon the Bishop Baraga Shrine. It's an incredibly serene site, and particularly beautiful in the fall. Even if you're not spiritual, it will give you some excellent historic context for the peninsula you're about to explore.
You can't go wrong on nearly any road in the area in the fall, but continuing on M-41 will keep you along the water, which I always prefer. It also allows for a stop at the picturesque Sand Point Lighthouse. ding upon what stops you make along the way, you'll find yourself in Houghton typically in well under an hour. This is a great place for another stop.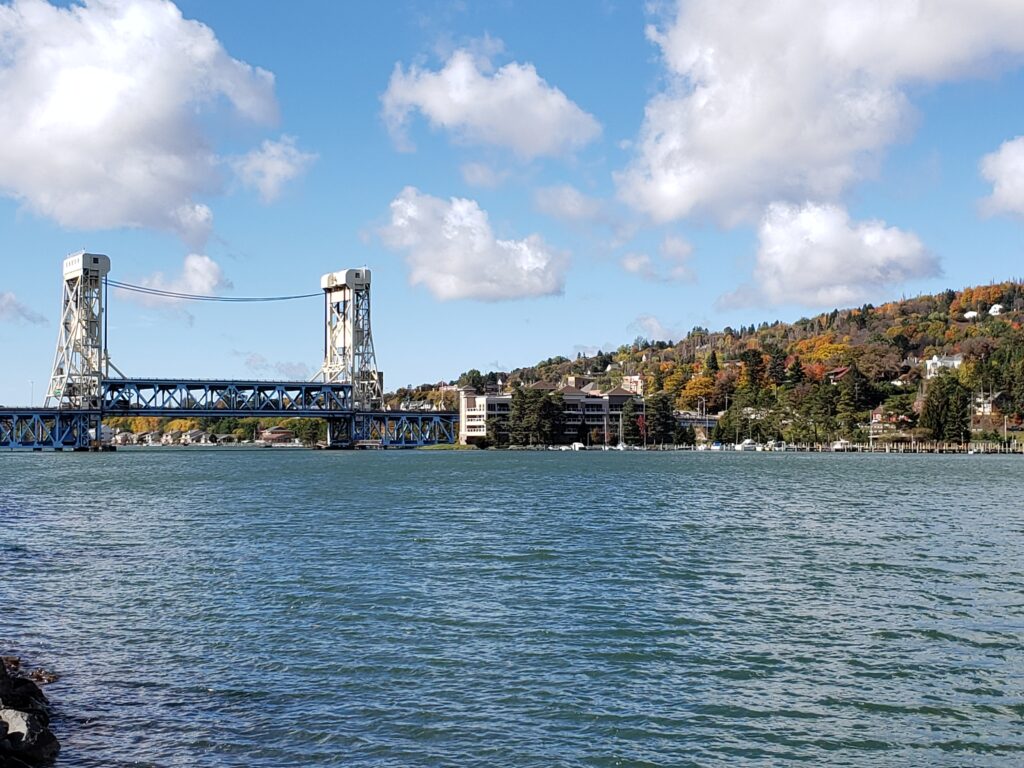 The Portage Lift Bridge connects the neighboring communities of Houghton and Hancock.
Exploring Houghton
Originally, the ancient Portage River and Portage Lake provided a natural water pathway across most of the Keweenaw Peninsula. The short portage at the north end was opened into a canal in the late 1800s, which enabled ships to travel through the Keweenaw Waterway instead of around the peninsula. That meant larger vessels could travel to Houghton and Hancock, and also be protected from Lake Superior's violent storms. Interestingly, completion of the Keweenaw Waterway made the Keweenaw Peninsula an island rather than a peninsula, but it'll always remain a peninsula in my heart.
While in Houghton, take a stroll along the river, with its lovely views of the Mont Ripley Ski Hill, ablaze with color. Check out the campus of Michigan Tech, which runs along the Portage. Be sure to visit Michigan Made for souvenirs of your excursion, or to discover products made in the U.P. and around the whole state. It's an excellent place to find some unique, locally-made gifts for those holidays that are just around the corner. If you're a beer aficionado, then definitely spend some time in front of a cozy fireplace at Keweenaw Brewing Company or enjoy great eats, good brews, and lovely views at The Library Restaurant.
If you're lucky enough to have a few days to spend on Keweenaw, Houghton is a wonderful place to stay. There are plenty of lodging opportunities, though reservations well in advance is a wise decision. It's an ideal jumping off point for exploring all kinds of trails and scenic drives. You can even take a sea plane over the area for a magnificent autumn adventure.
Leaving Houghton
Head west to Covered Drive for a stunning trip through dense forests. This is a fall drive that truly doesn't disappoint, as trees bend across the road.
Alternatively, cross that cool Portage Lake Lift Bridge to Hancock, then venture eastward on M-26 toward the state's less famous Torch Lake, and nearby Lake Linden. Then follow signs to Gay and take Linden Lake-Gay Road to the east coast of the peninsula. Much of the drive includes water views on the way to Copper Harbor, with stretches that are surrounded by colorful trees. This is a particularly spectacular choice if you can do it at sunrise.
Personally, my favorite route out of Houghton is north on M-41 and includes a stop at the Quincy Mine, just outside Hancock. Stay briefly, at this historic treasure of the copper mining industry, or take a few hours and enjoy the full tour. You can go underground and explore the machinery and mineshafts. Wander through the ruins above ground. Take a mini-fall color tour on the cogwheel. Plus, don't miss the gift shop if you want to find some U.P. treasures. It has a lot more than just mine-related items.
Stop in Calumet
Next stop on the M-41 route is lovely Calumet. It's filled with friendly people and copper-era buildings that have been lovingly restored. This is a fun place to shop, eat, and learn more about the area. Try the  Michigan House Café and Red Jacket Brewing Company for great burgers and sandwiches. Carmelita's offers up delicious Mexican and Southwestern fare. There are plenty of places to grab a bite or wet your whistle, and shops as well. Be sure to pop into Copper World if you're seeking books, apparel and souvenirs reflecting the area.
Should you find yourself with enough time to really enjoy the town, there are some fun attractions. Check out the Coppertown USA Mining Museum for a deeper understanding of life during the copper boom. The Calumet Colosseum is considered the oldest continuously operating ice rink in North America, dating back to 1913. The Calumet Theatre offers tours, and a variety of live performances. The opulent Larium Manor Inn also offers tours for a taste of the copper mining boomtown era, and is a lovely lodging option. If you, or someone you know, is a whiskey fan, don't leave town without picking up a bottle of Copper Queen.
Eagle River and Harbor
As you continue north on M-41, you'll eventually face a fork in the road. The question is whether to turn west onto M-26, or to continue straight to Copper Harbor. Both can be delightful, so you may want to choose one for the arrival and one for the departure. Opting for M-26 will provide some excellent sights and fun diversions.
First, is the village of Eagle River. It is located on the shores of Lake Superior, and is home to Fitzgerald's Hotel & Restaurant, which is a destination in its own right. The tiny hamlet also includes a beautiful waterfall at the dam, that is worth a stop. Plus, there is a lighthouse and a lovely beach.
A few miles up the road is the ever-popular Jampot Bakery run by the brothers of the Holy Protection Monastery. It's a must-visit while in the area. Prepare for a small line as people gather up the last of the season's baked goods, fruit butters, and legendary thimbleberry jam. The Eagle Harbor Lighthouse, just up the road, is another gem, especially if you love a good photograph. Keep an eye out for Bald Eagles as you continue toward the top of Keweenaw.
Brockway Mountain Drive
As you continue north on M-26, you'll face another quandary just past the Silver River Falls Trailhead. That's where you'll see an option to turn onto Brockway Mountain Drive. It's a tough call. Understandably, you may want to continue along the picturesque shore into town. If you do, don't miss an opportunity later to experience this journey to the top of the mountain. It eventually lets back out into Copper Harbor, so you can always start the drive from town instead.
This 9-mile leisurely drive up Brockway Mountain alone, is one of the key reasons why everyone should experience fall on the Keweenaw. It has incredible scenic vistas that change with every visit. Depending on what Lake Superior is doing, how many clouds are present, how colorful the trees are and a variety of other elements, the sights change, but the majesty does not. This drive alone, accompanied by the view from the top, makes Keweenaw an incredible place to enjoy fall. It's one of the best kept secrets in the nation.
The road is at times bumpy, and curvy, so take your time. Stop at each of the viewpoints along the way. If at all possible, take in a sunrise or sunset from Brockway Mountain, or both. Sunsets are incredible there, as is the stargazing, if you care to linger. In fact, you may just see those elusive Northern Lights. Atop the mountain, you will find a breathtaking 360° view of Lake Superior, along with incredible fall foliage and inland lakes.
Copper Harbor
The tip of the Keweenaw Peninsula is home to this charming little town. It's another wonderful option for lodging, if you plan in advance. The Keweenaw Mountain Lodge now even features one of the most recently designated Dark Sky Parks, for another exceptional opportunity to be awed by the twinkling night.
There are also wonderful eateries ranging from the causal and scrumptious Tamarack Inn to the upscale Harbor Haus with its lakefront dining. If you love local history, then make a point of visiting Fort Wilkins, and take a self-guided tour of the Delaware Mine, just south of Copper Harbor.
As you make your way back off this magnificent peninsula, choose a few of the roads less traveled. Something stunningly beautiful awaits around nearly every bend in the road, especially during the glory that is autumn in Michigan.