Throughout the years of running this campaign I've met many food producers across the state with remarkably similar origin stories. It all starts with a phenomenal family recipe, followed by the encouragement of loved ones, and then some innovative twists of their own. Granny's Confections in Howell is no exception to this path to success. In their case it begins with a grandma's peanut brittle recipe (hence the name), and before you know it, leads to flavors like the latest addition to the line, Macadamia Nut Brittle.
"For the holidays I would make my Granny's Peanut Brittle and give it to my friends and family. They always ranted and raved about how good it was and that I should sell it," said Co-Owner Robert Page. "When it would get close to the holidays, people began asking me if I was bringing peanut brittle. Others offered to give me money to make it for them. It was then that I decided to start Granny's Confections and sell some of the best brittle people had ever eaten."
Together with his partner, Patrick Taylor, they have created a line of delectable nut brittles that includes peanut, pecan, cashew, jalapeno peanut, and macadamia options.
"Macadamia nuts are one of my favorite nuts. I love the texture and flavor of the nuts," said Page. "For the past year we have been working with macadamia nuts tying to deliver a product that my granny would be proud of. Two months ago, we released our new Macadamia Nut Brittle. People are loving it.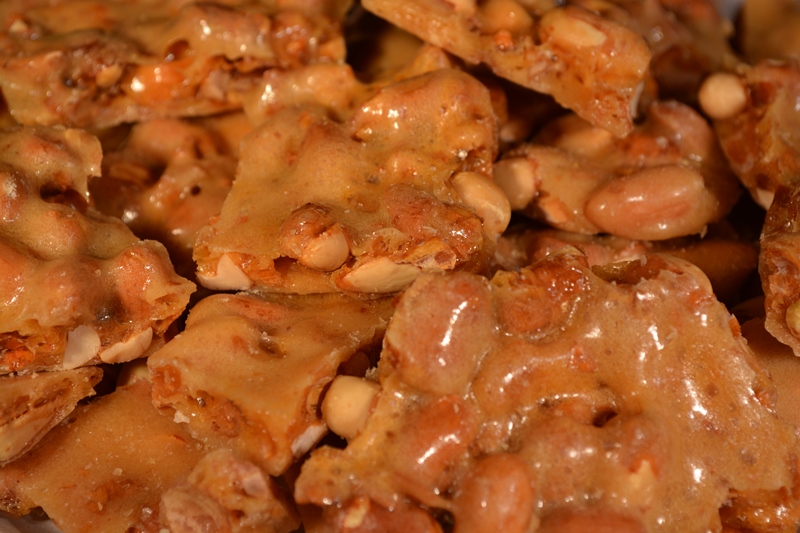 To me, what makes Granny's Confections such a uniquely scrumptious treat is the surprising softness of it. Often nut brittles are hard, challenging to chew, and stick to your teeth. In this case, the crunch is provided primarily by the nuts, and the sweet brittle nearly melts in your mouth. It is an amazing texture, and not surprising why friends and family wanted more.
Granny's Confections can currently be found in their storefront in Howell, at The Mason Jar in Grand Rapids, and surprisingly at Santa Fe Sweets in Santa Fe New Mexico.
"We are very selective as to which stores we will put our product in," said Co-owner Patrick Taylor. "We also sell our handmade brittle on Amazon, and are currently looking for new vendors that want to carry our products."
If you want to try it for yourself, come out to the Buy Michigan Now Festival in Northville August 2-4, or our Fall Fest in Jackson on September 21. Robert and Patrick will be on hand with samples and plenty of jars available to purchase.
"The best thing about being an entrepreneur is having something that is yours.  I still walk in the door in the morning and I am in awe that this is mine. Seeing all the hard work pay off really makes it all worth it," said Taylor. "Our customers continue to tell us what a great product it is and how they love it. Many people tell us that it reminds them of their granny's brittle. When I hear stories like that, I know I made the right decision."