To most locals, it simply isn't fall in Michigan until we've visited a cider mill. Of course that unbeatable combination of cider and donuts is a huge part of the draw, but I think it's more than that. There is something about the setting as well, that nourishes our souls while the other stuff fills our bellies.
I recently welcomed some old friends to town for a class reunion. Thinking we might relive some fun destinations from our past, I asked if I could plan the day for us before the reunion. Regardless of where we would end up, I knew we had to start at a cider mill. I mean, how can you entertain friends from out of town at this time of year, and not pop by one of our state's magnificent orchards? Well in advance, my friends agreed to an unknown plan for the day, with just a question or two about wardrobe.
Then the night before, we met up for dinner. My buddy, Jim, who was in from Georgia, said he was excited about the mystery that would unfold the next day, providing he could make one simple request. Could we visit a cider mill? I couldn't help but laugh, and let him in on the plan. I wasn't sure any of them would even have thought about doing that, but naturally I was wrong. Cider mill experiences live on in our hearts and memories for years to come, so of course he was hoping to go. Besides, Jim told me there is only ONE in all of Georgia.
With so here many to choose from, the hardest part for me was selecting the right one. It needed to be in the vicinity of our other destinations, and of course, have top-notch cider and donuts. I wanted to go old school, so we went to the slightly off the beaten path, Diehl's Orchard in Holly. The Diehl family has been happily running their operation throughout four generations.
Jim opted to drive, with me up front as navigator. His wife, Susan was in the back, along with our pal, Jon, who was in from Chicago. As we set out, Jim had an ear-to-ear grin and confided that he had his heart set un a cider slush. (Secretly, I panicked a little not knowing if Diehl's made those, but of course they do).
As we got on the road, Jim shared a story that he had once come to Michigan at a different time of year, and was equally as excited as this day, to visit a mill. Turned out, the season had not opened yet, and he said he literally wept. Looking over at his graying hair and 6' 4" frame that might seem so surprising to some people, but it wasn't to me. I think if I had lived away from this glorious state for decades, I would crave a cider mill trip just as much. Afterall, I live here, and I crave it.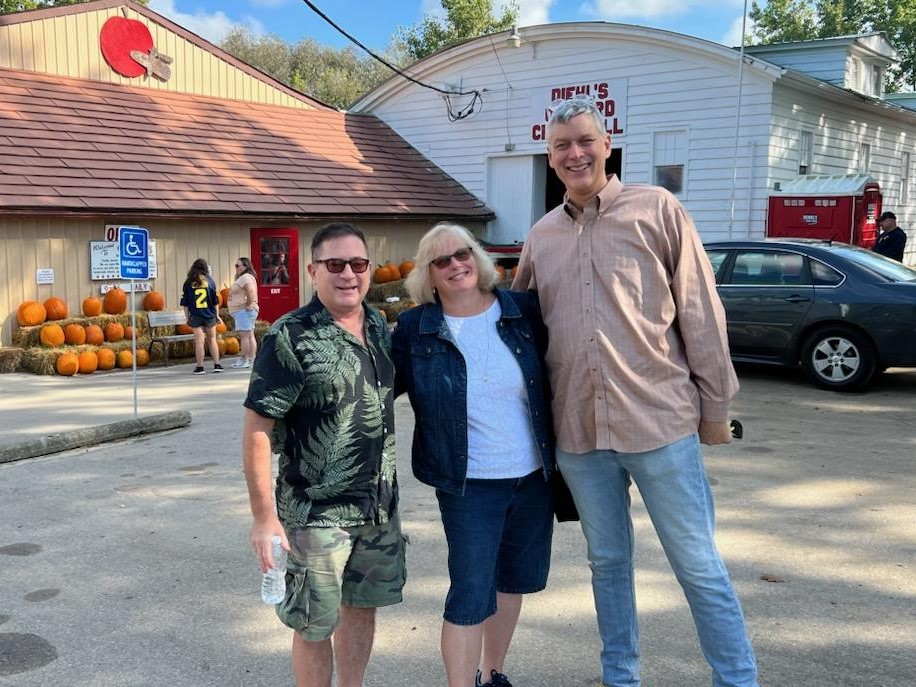 When we got to Diehl's we spent a few moments admiring the adorable goats. I mean, it's a cuteness overload, especially as they jump over one another. However, we had serious business to attend to, we needed cider and fast. So, we headed inside.
The decadent aroma of donuts hit me first, but then I noticed a new addition. There was a coffee bar. Fourth generation daughter Samantha, and her husband Jon, have started Untethered Cafe and were serving up friendly greetings and lovely tales to start the day. They also provided one of the best chai lattes I've ever had.
Jon told me a story about an acquaintance he met quite by chance. They got to talking about Diehl's and the gentleman told him that he had incredibly happy memories of being there when he was a kid. His childhood had been tough, but his grandparents were the bright star. They used to make and sell fruit butters at the orchard. Amazingly, Jon came across an old photo of a couple doing just that. He shared it with the man, who proclaimed that it was indeed his grandparents in the pic, which he would treasure. It's just another example of the simple joy that places like Diehl's provide.
Co-owner, Mike Diehl, told me that making people happy is one of the things he loves most about his job. Well, that, and fixing things that break down, which is an inevitable part of a business that has been around for over sixty years.
Fortunately, all went well while we were there. Jim got his slushie, Susan shopped the crafters on site, and Jon and I met some delightful people while working our way through the corn maze. Along the way, we saw families enjoying a hayride, adults laughing at the goats, and kids getting on a pony for the first time. What an easy, yet magical way to start a day.
​​​Do yourself a favor, and don't let fall slide by without a trip to Diehl's, or a cider mill near you. It's one of the few places left, where people seem to instantly disconnect from the fast-paced world (and their devices) and reconnect with other people. PLUS, it comes with cider and donuts!