There are so many ways to enjoy fall leaves in Michigan. Take a walk through the woods, and smile as a leaf picks that moment to drop in front of you. Drive one of our many winding roads and marvel at the colors as they run alongside. Occasionally you'll happen upon an open area where the palette of hues spreads out before you like a painting, but then quickly gets blocked from view. Thankfully, there are spots where you can go and soak in those broad vistas for as long as you'd like. Here are some spectacular places and ways to view Michigan's fall color from up above.
Explore River Road
One of the best destinations for sweeping vistas of autumn wonder, is the River Road Scenic Byway. The road itself is not the treasure, it's the stops along the way. At several points you can look out upon the winding Au Sable River and all its spectacular surroundings. There are several places to have a picnic or take a hike, and around 30 designated attractions along the way. For spectacular fall color, don't miss the Westgate Overlook, Largo Springs Interpretive Site, and Foote Pond. If you get really lucky, you may even spot some Bald Eagles soaring above.
Be sure to also take in Lumberjack Monument. Not only does it offer one of the best views in the area, it's an excellent learning experience. The site is filled with information about Michigan's once booming lumber industry. In fact, I'm betting you won't believe what those guys used to eat in just one meal!
Get Thee to Gaylord
Well, get yourself to the Gaylord area anyway. First of all, fall is also elk breeding season so it's the best time to view these majestic creatures, especially in nearby Pigeon River Country Forest. Heading west from Gaylord you'll find two of the best overlooks in the state. First up is Deadmans Hill, which is still surprisingly unknown, hence the tiny parking area. Walk up a little hill for an incredible view of the Jordan River Valley. There is also a nice 3-mile hiking trail if you're up for it. To get there you'll want to head to the intersection of 131 and M 32. Then travel South 1.5 miles to Deadmans Hill Road. Go west on that road about 2 more miles.
The other must stop while in the area is Landslide Hill Scenic Overlook. It's also in the Mackinac Forest and offers a magical vista of the Jordan River Valley. Go to Alba, which is a few miles south of Deadmans Hill, or about 20 minutes west of Gaylord. Then take County Road 620 west for one mile, and turn north onto Landslide Road. Just follow that until it ends.
Stand atop Some Sand Dunes
If you are along a Great Lake shore, chances are high that there is a sand dune waiting to provide you with an incredible view. All of them give us amazing looks at a lake below, but some also position us to see spectacular foliage. The Log Slide at Pictured Rocks is an incredible spot for just such a view.
In the Lower Peninsula, definitely head to Sleeping Bear Dunes. Views atop the dunes offer stunning glimpses of Lake Michigan, but if you look east from many spots, you'll also see miles of autumn splendor. While there, definitely take the 7-mile Stocking Pierce Drive. In particular, Overlook No. 11, will take your breath away in the fall. It looks back over North Bar Lake and Empire Bluff, to reveal a scene filled with color.
In the Southwestern Michigan Warren Dunes State Park is the place to be. There you can hike up a 260-foot dune for impressive auntum views.
Take a Chairlift Ride
For an even easier trip to the top, ride a chairlift. If you've ever skied in our state, then you know that many lifts provide wonderful views of the forest and distant lakes below. It's no surprise then that these lifts also provide incredible opportunities to view Michigan's fall color from up above. Several area ski resorts offer the opportunity to catch such a glimpse at this time of year. Plus, you don't have to know how to ski to get off the lift. They just stop it for you to get off. Check with these ski areas for lift viewing opportunities: Treetops, Crystal Mountain, Shanty Creek, Mount Bohemia, and The Highlands.
An exciting new attraction to take in alongside a chair lift ride this year, is the new Skybridge Michigan at Boyne Mountain,  Guests will ride the historic Hemlock Scenic Chairlift to the mountain's top, then venture out along the exhilarating 1,200-foot long and 118-foot high pedestrian bridge. It's slated to open on October 15, and become a year-round attraction.
Tackle the Copper Peak Adventure Ride
If you want to experience a chairlift, yet kick it up a notch, then this is the journey for you. Head to Copper Peak in Ironwood. It's the only ski flying hill outside of Europe. Your adventure begins with an 800-foot chairlift ride to the crest of the hill. The views will already be stunning, but it gets better. Board an elevator for an 18-story ride to the main observation deck, where, on a clear day, you can see three states and parts of Canada. A sea of amber and orange lays out before you in the fall.
The truly brave may climb the metal stairs another 8 stories, as the athletes did, to the starting gate. The upper observation platform is 1,782 feet above sea level and, 180 feet above Lake Superior. Not only is the view incredible, but it feels as though one can imagine the courage it would take to slap on some skis and fly down that steep incline. Unfortunately, that's not an option at the moment, but you can do the next best thing. Walk all the way down from the top. Pro tip: don't wear heels like I did.
While in the area, be sure to check out the glorious waterfalls along the National Black River Scenic Byway, and drop by the famous Stormy Kromer factory.
Visit Lake of the Clouds
From Ironwood, you're about a scenic hour's drive from what is widely regarded as one of the best views in all of Michigan, at any time of year. Don't miss Lake of the Clouds. It doesn't disappoint. You'll find the overlook about 30 miles west of Ontonagon. From this overlook in the Porcupine Mountains, you can see Lake of the Clouds surrounded by blazing color in one direction, and the Big Carp River cutting through in the other.
Drive Brockway Mountain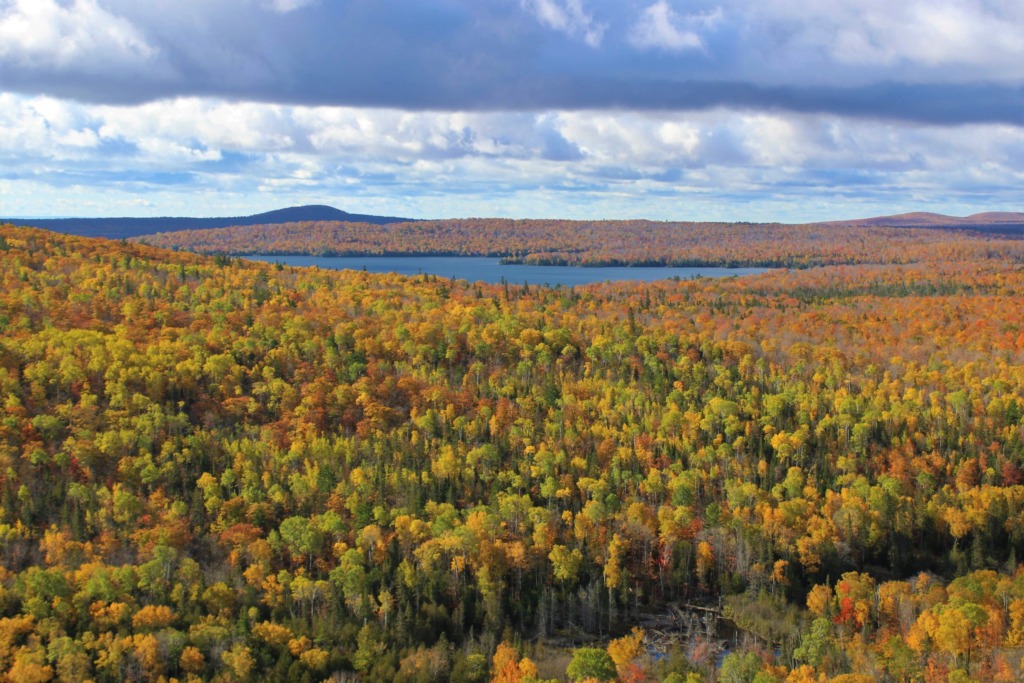 Northeast of Ontonagon you'll find what is, for my money, the best destination in the state, and perhaps the nation, for enjoying fall color. It is, of course, the Keweenaw Peninsula. There is a bevy of beautiful roads and trails to explore. In fall, none are better than the 8.8-mile drive up Brockway Mountain. Stop along the way for spectacular views overlooking Copper Harbor. Once you get to the top, it feels like the entire Upper Peninsula is laying out before you, alongside Lake Superior. It's a particularly incredible place to view a sunset.
There are a couple other fun new options for 2022. This year Isle Royale Seaplanes is offering flights over the fall colors of the spectacular Keweenaw Peninsula. The 30-minute flights will start out cruising along the canal to the north entry, up the shoreline just shy of Eagle River. They'll continue across the peninsula to Mohawk, over Lake Linden, and Dollar Bay. If you can't make it to the U.P. then try a visit to Ludington, where the Big Sable Lighthouse is staying open for tours and climbs daily from 10am-5pm until October 30.
Whether you're ready to travel across the state, or want to stay closer to home, make a plan to view Michigan's fall color from up above. It really does take your breath away.