After months of unprecedented fear and misery around our nation, today I had the refreshing opportunity to witness unbridled joy. Scarlet's Playground in Commerce Township opened up to welcome a gaggle of giggling kids.
The barrier-free, all-inclusive playground has been a primary mission for Scarlet's Smile, a local 501(c)3 organization. The heart of the nonprofit, and the play area, is Scarlet, a charming, spirited 7-year old who was diagnosed with Spinal Muscular Atrophy at the tender age of 8-months old.
The disease put Scarlet in a wheelchair, and over the years, she and her family visited several playgrounds that separated children with disabilities from other kids. They knew it didn't have to be that way. Together they set out create a playground that all children, regardless of ability, could enjoy together for years to come.
The result, located near the new Commerce Township Library in Dodge Park, is the largest ramped playground in the Midwest, and likely one of the largest in the nation. The idea behind this engineering marvel is to take something as simple as play and make it available to all kids. Every piece of equipment is wheelchair and handicap accessible.
It is an 18,000-square-foot area with a specialized rubberized surface to accommodate wheelchairs. The equipment includes double-wide ramps for easy passage of wheelchairs, shaded play decks and tunnels, zip lines, swings, sensory play equipment, teeter-totters, merry-go-rounds, climbing structures, special slides that don't create static electricity, a learning wall with brail letters, an imagination table, and, per Scarlet's request, a rocket ship.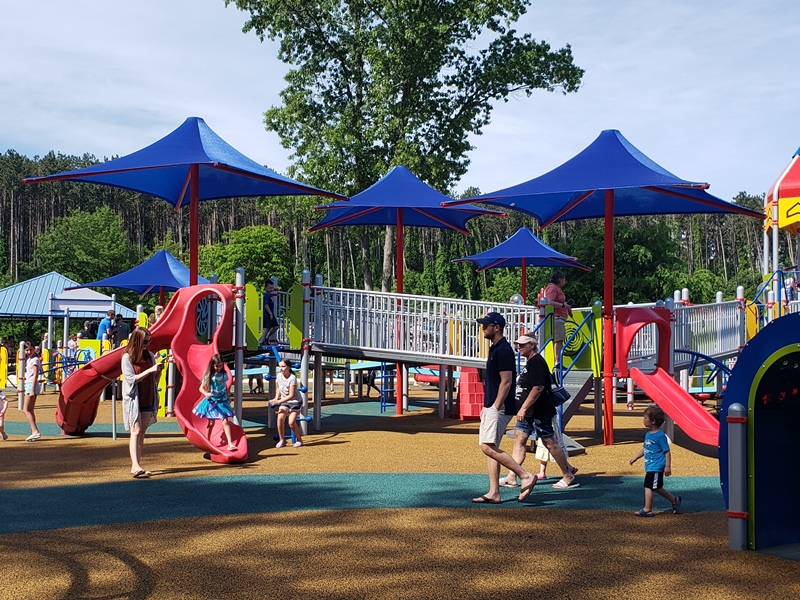 Making Scarlet's dream come true was a phenomenal community feat. First there was the need to raise over a million dollars. Then an early winter delayed construction, followed by a pandemic that shut down all of the area parks. To add insult to injury, the playground was then victim to vandalism by a teen that destroyed thousands of dollars in equipment. Undaunted, Scarlet and her family found a way, and they had a lot of help.
Former Detroit newscaster, Stephen Clark, is Scarlet's grandpa. According to Clark, they approached Ideal Contracting in Detroit in the hopes of borrowing some equipment and possibly getting a few people to help with the project. What they got instead, was a huge commitment. The family-owned company stepped in to build the park at its own expense, even without experience with this type of project, which Vice President Jesse Venegas described as one of the more complex projects he has undertaken.
The next big assist came from GM Cares. The group is comprised of General Motors employees who volunteer in their communities. They brought approximately fifty people out over the course of one week to assemble all of the playground equipment. Clark joked that the funniest part was watching these engineers try to assemble a whimsical playhouse that is intentionally crooked because it just wasn't in their nature to make something uneven.
The amount of people and organizations that raised money and put in time to make this project happen is nearly immeasurable, as is the joy it brings. Next up, according to Clark, is a nearby splash pad and public restrooms. For now, what lies ahead is a summer of fun for all kinds of kids.
"It's so cool, I don't even know how to explain it," said Scarlet.