Once upon a time, Frankenmuth was a relatively ordinary little hamlet in Saginaw County that had been founded by German settlers. That is, until local businessman William "Tiny" Zehnder had an idea. He wanted to add atmosphere to what was then Fischer's Hotel, by adding Bavarian Architecture. The idea took hold in the late 1950s, and before long the town became one of the state's most popular tourist destinations. Michigan's Little Bavaria, may be better known for Christmas, but Easter is an ideal time to visit.
Let's face it, we could all use a getaway after a long winter, but it's not quite beach weather yet. It's also a little late for those final ski runs. Head to landlocked Frankenmuth and immerse yourself in some German culture instead. Turns out the architecture isn't the only aspect of the town that harkens back to its European roots. Naturally in the fall, there's Oktoberfest, but in the spring it's all about Easter.
For more than 200 years it has been a Bavarian tradition to decorate fountains and wells with Easter décor. The tradition honors the value of water to life. In Bavaria, some believed that children baptized with water drawn on Easter night, would be very talented. Drinking that water was even thought of as a miraculous medicine. Frankenmuth embraces this tradition known as Osterbrunnen.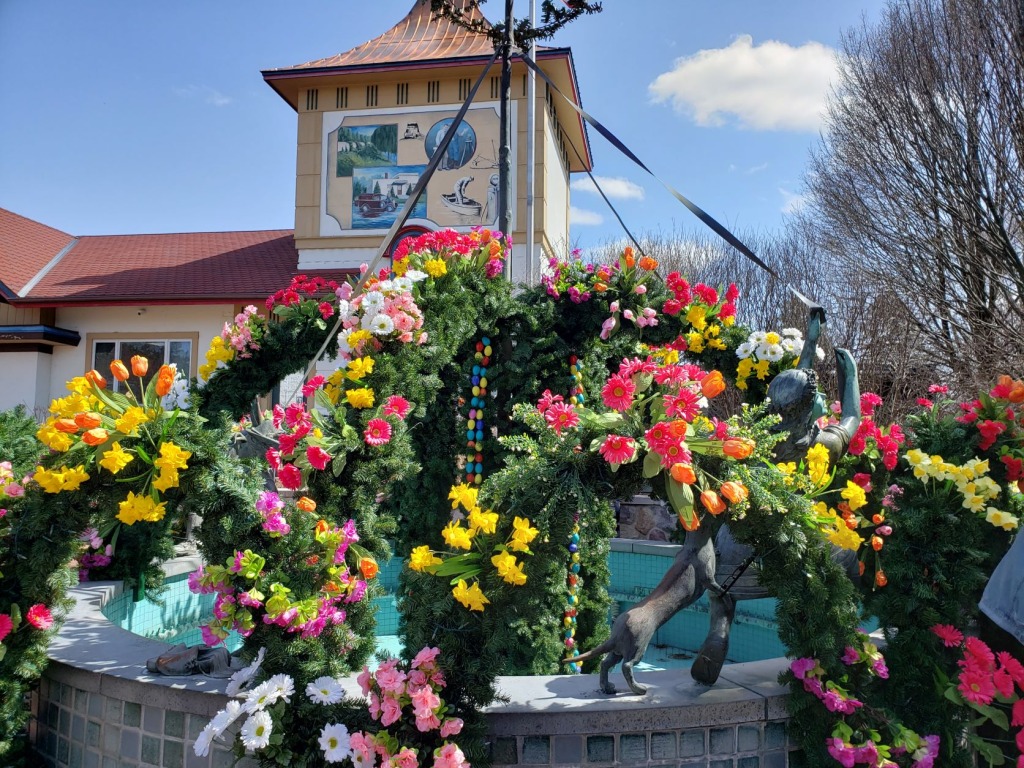 The fountains aren't the only areas visitors will find decorated. In fact, most of the town takes on a new look and feel at this time of year. There are colorful Easter eggs, flowers, and traditional green garland all over. The décor stays up until May, so there's plenty of time to go explore.
Spring also means some particularly fun events that are also worth checking out. Naturally, chicken is always on the menu, but there are also several options for a Friday night fish fry throughout the month. The Easter Bunny will be making appearances at both Zehnder's and the Bavarian Inn. There are also Easter Egg and scavenger hunts on the agenda. Plus, Zehnder's Ragtime Festival hits town April 19-21. Alternatively, the giant dance party that is Bringin' Back the 80s can be found at the Kern Pavilion on April 21-22.
While in town, pop into Frankenmuth Brewery to try some of the best beer in the state. Fresh, locally-sourced eats and drinks can also be found at Michigan on Main. Take a horse and carriage ride. Go for a walk, ride, or run in Heritage Park. Springtime in Frankenmuth is also a wonderful excuse for visiting Grandpa Tiny's farm to meet the new babies.