With its multi-year designation as Beer City USA, there is no doubt that Grand Rapids is one of the best places to experience frothy goodness, but make no mistake, it's not the only awesome beer town in the state. Kalamazoo is another must-visit destination for true brew connoisseurs.
It's almost difficult to imagine in the Great Beer State that we know now, but once upon a time, nearly the all American-made beer was mass-produced, Pilsner-style light lager. By the 1980s, the top ten brewers in the United States accounted for 93% of total domestic beer production. Nowadays, American craft beer production is a $26 Billion piece of the industry and accounts for nearly 13% of all U.S. beer sales, including imports.
That makes it all the more remarkable that a young entrepreneur from Kalamazoo went into the brewing business, armed only with a recipe, a 15-gallon soup pot, and a $200 birthday gift from his mom, back in 1983. That man was Larry Bell, and his company is now the largest craft brewer in Michigan, and ranks among the top ten in the nation by sales volume. Hence, if you have time for only one beer stop in Kalamazoo, Bell's Brewery is it.
In addition to an incredible portfolio of brews ranging from the ever-popular Two-Hearted Ale and Oberon, to the more obscure like Larry' Latest Sour Ale or Am I Right or Amarillo, the destination's Eccentric Café serves up delicious apps, soups, and sandwiches. Not every beer joint offers up deviled eggs and poutine as standard fare.
The Back Room, features a state-of-the-art sound and lighting system and hosts local musicians as well as acts from across the country. Located just outside is the Beer Garden, which is a spectacular place to hang out and take in brews and tunes in the summer.
While in the area, three other non-brewery destinations warrant a stop. Neighboring Shakespeare's Pub, often home to an Oberon release party in the spring, offers up a solid selection of craft beer from around the state. You'll find typically find options, not only from Bell's but Atwater, Dark Horse, Founders, Perrin, Short's and more. The staff is friendly and the Fish Soft Tacos are worth the trip.
A quick hop across Kalamazoo Avenue from Bell's will find you in a bar that captures the heart of Grand Rapids, Hopcat. A newer addition to the Kzoo scene, Hopcat has several locations around lower Michigan and a reputation for taps a plenty of Michigan brews. The selection makes HopCat arguably the best bar in the state (regardless of location) for exploring local beers. In addition, the infamous Crack Fries are nearly as addicting
Down the street and around the corner you'll find one of the most unique beer tasting experiences on the planet. With a collection that varies from around the world and just down the street, the Kalamazoo Beer Exchange is consistently populated with 28 incredible draught beers at remarkable and changing prices. Up-to-the-minute popularity determines pricing for each brew and in the most hilarious moments, a Market Crash plunges prices lower than you ever thought possible! Order a tried and true favorite, or watch the big electronic board to see prices rise and fall like the stock exchange, to choose a bargain.
One great aspect about the aforementioned venues is their close proximity to one another. Catch a ride to the general area and explore by foot. Uber drivers are plentiful so take advantage if you don't have a designated driver.
Slightly further out from Kalamazoo's beer foundation, are some other notable stops. Chief among them is the spacious Arcadia Ales tasting room along the river. Chicagoan, Jon Findley, who was checking out the Kalamazoo beer scene found it to be a particular favorite. "Arcadia has been a highlight of the weekend for me. I love the deck, with views of the river and the train line."
Findley employed a strategy that will serve you well throughout your brew tour. "My friend suggested that the best strategy for visiting an unfamiliar brewery is to order a flight or two.  Overall, we were quite happy with our choices.  The stand-out was Arcadian Starboard, an Irish Oat Malt Stout with full body and a thin, tan head.  The nitro treatment ensured its smoothness, and the chocolate flavor was the perfect end to our session."
Arcadia specializes in barbecue to compliment its brews. Weekends also often include employees coming by to offer tours of the brewery. If you go in warm weather, definitely check out the patio.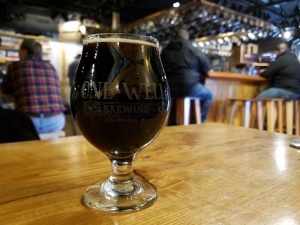 While there are quite a few other beer-related destinations to explore in town (it's certainly worthy of more than one trip), the other stand out is One Well Brewing. Located in a bit of a strip mall on Portage Street, it can be easy to miss if you're not paying attention. The menu is small but mighty in both food and drink, and the preponderance of board and pinball games gives it some extra charm. If you like a porter try their uniquely local version, Sweet Water Street. It's a nod to two of the town's most loved companies, having been brewed with load of donut holes from Sweetwater's Donut Mill and a special roast of coffee from Water Street Coffee Roaster. It's a true taste of Kalamazoo.
With this many choices, I think you'll find that you've got a brew in Kalamazoo.